1st Women's Ronde van Vlaanderen - CDM
Belgium, April 4, 2004
First time in Vlaanderen for women's WC
By Kristy Scrymgeour
Oenone Wood crosses the line in Round 1
Photo ©: John Veage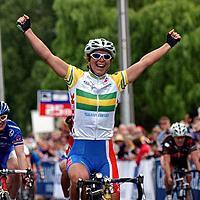 Ronde Van Vlaanderen is a World Cup race for women for the first time this year and takes place as the fourth round of the World Cup Series. The women have raced over this course before but never as a World Cup. Henka Kupfernagel won the race in 1996 in front of Cathy Marsal (Nobili Rubinetterie/Guerciotti) and local rider Heidi Van de Vijver has also been successful in winning on this course in front of her home crowd.
In the third round of the World Cup last week, Oenone Wood (Australian National Team) increased her lead in the series with a second place in Castilla y Leon in Spain. Wood is maintaining the remarkable form she has had all season, with her first win being the Bay Series in Australia in early January. Since then she has won four major races and she will be a definite favourite this weekend. She has proven that she has both the sprint and the climbing ability to be able to win on any type of course and with a strong team behind her, she will be hard to beat.
Challenging her will be Miriam Melchers (Farm Frites-Hartol), who has also proven to be in fine form this year. Melchers came third in round three behind Angela Brodka (German National Team) and Wood, and now sits second in the World Cup standings and is ranked number one in UCI points in front of World Champion Suzanne Ljungskog (Team S.A.T.S).
Ljungskog took sixth in Castilla y Leon and is also one to watch this weekend, as her style is very suited to a course like this. Other major contenders will be Nurnberger's Judith Arndt, Edita Pucinskaite (S.C. Michela Fanini) and finally Fabiana Luperini (Team Let's Go Finland) who is also in good form. It is likely that her team will be racing for her this weekend.
Last year's World Cup Series winner, Nicole Cooke, who thrives on tough races like this, winning both Fleche Wallone and Amstel Gold last year, is still out of action due to a knee injury. It is uncertain when she will return to the circuit.