98th Paris-Tours - CDM
France, October 10, 2004
2003 results Live coverage Preview Start List Past winners
More success for Oscar in Tours?
No Zabel/Petacchi rematch
By Jeff Jones
Zabel dethrones Petacchi
Photo: © C.Henry/CN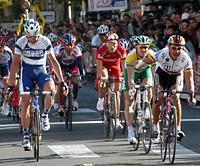 Taking place after the World Championships this year is Paris-Tours, the ninth round of the UCI World Cup. Approaching its 110th birthday, this late season classic is traditionally one for the sprinters, although several times in recent history it has been won by breakaways. Last year, thanks to the strength of T-Mobile and Fassa Bortolo, the race did finish in a bunch sprint, but instead of Alessandro Petacchi claiming his first ever World Cup win, it was Erik Zabel who snuck around him to grab the honours.
Unfortunately, Zabel will not be able to defend his title this Sunday after falling off a ladder this week and breaking a bone in his heel. Petacchi won't be back either, and the pressure in Fassa Bortolo will likely fall on the shoulders of Juan Antonio Flecha or even Petacchi's lead out men Guido Trenti and Marco Velo.
One of the biggest challengers this year is likely to be recently crowned World Champion Oscar Freire (Rabobank), who will have the support of Erik Dekker, Marc Wauters (1999 winner) and Steven de Jongh, among others. Cofidis will be led by sprinter/all-rounder Stuart O'Grady, who will count on Jimmy Casper, Matt White and Cedric Vasseur for support.
The Quick.Step-Davitamon challenge will be mounted by Paolo Bettini, who has just two more races to try to close the three point gap to Davide Rebellin in the World Cup standings. Normally, Quick.Step's victory chances would lie with Tom Boonen, but the latter's stomach problems this week have forced him out of Sunday's race.
World Cup leader Davide Rebellin (Gerolsteiner) will not find the flattish Paris-Tours course to his liking, but all he needs to do is stay close to Bettini to ensure that his rival doesn't overtake him in the points. Gerolsteiner may also play the Danilo Hondo card in the sprint, but it's likely that the team's resources will be focused on Rebellin.
The race begins southwest of Paris in Saint Arnoult-en-Yvelines, working its way south to the Loire Valley and the traditional finish on the Avenue de Grammont in Tours. Covering 252.5 kilometres, Paris-Tours contains no notable climbs, though a number of short shills and rolling terrain help give the racing some character. The peloton may not have time to admire the scenery, but the race passes near several Loire Valley landmarks, including the chateaux in Amboise and the Pagode de Chanteloupe, the region's answer to Pisa's leaning tower.
Paris-Tours will be preceded by an Espoirs (U23) race from Bonneval to Tours, which celebrates its 62nd edition this year. The espoirs will race over the last 186.5 km of the elite parcours.
Live coverage
Cyclingnews will be covering the Paris-Tours live, with coverage starting at 14:30 CEST (Europe)/8:30 EDT (USA East)/5:30 PDT (USA West)/22:30 AEST (Australia East).
Past winners
Year Winner                    Second              Third           kms   avs


PARIS-TOURS

2003 Erik Zabel (Ger)          Petacchi (Ita)      O'Grady (Aus)   257  47.55
2002 Jakob Storm Piil (Den)    Durand (Fra)        Zabel (Ger)     257  45.46
2001 Richard Virenque (Fra)    Freire (Spa)        Zabel (Ger)     254  36.484
2000 Andrea Tafi (Ita)         Tchmil (Bel)        Nardello (Ita)  254  38.3
1999 Marc Wauters (Bel)        Faresin (Ita)       Kirsipuu (Est)  254  41.281
1998 Jacky Durand (Fra)        Gualdi (Ita)        Kirsipuu (Est)  254  44.231
1997 Andrei Tchmil (Ukr)       Sciandri (GB)       Vogels (Aus)    254  48.400
1996 Nicola Minali (Ita)       Steels (Bel)        Lombardi (Ita)  249  44.860
1995 Nicola Minali (Ita)       Tchmil (Rus)        Teutenberg (Ge) 250  43.363
1994 Erik Zabel (Ger)          Bortolami (Ita)     Spruch (Pol)    250  39.934
1993 Johan Museeuw (Bel)       Fondriest (Ita)     Gontchenkov     251  38.142
1992 Hendrik Redant (Bel)      Henn (Ger)          Ludwig (Ger)    286  46.745
1991 Johan Capiot (Bel)        Ludwig (Ger)        Verhoeven (Ned) 286  38.406
1990 Rolf Sorensen (Dan)       Anderson (Aus)      Fondriest (Ita) 283  39.601
1989 Jelle Nijdam (Ned)        Vanderaerden (Bel)  Museeuw(Bel)    283  39.402
1988 Peter Pieters (Ned)       Goessens (Bel)      Kelly (Ire)     290  34.202

CRETEIL-CHAVILLE (Grand Prix d'Automne)

1987 Adri Van Der Poel (Ned)   Van Vliet (Ned)     Fondriest (Ita) 255  38.734
1986 Phil Anderson (Aus)       Peillon (Fra)       Mottet (Fra)    253  40.765
1985 Ludo Peeters (Bel)        Argentin (Ita)      Kelly (Ire)     249  38.607

BLOIS-CHAVILLE (Grand Prix d'Automne)                       

1984 Sean Kelly (Irl)          Rooks (Ned)         Wojtinek (Fra)  249  41.411
1983 Ludo Peeters (Bel)        Van der Poel (Ned)  Raas (Ned)      237  43.431
1982 Luc Vandenbroucke (Bel)   Gavazzi (Ita)       De Wolf (Bel)   228  40.777
1981 Jan Raas (Ned)            Van den Haute (Bel) Colyn (Bel)     228  40.113
1980 Daniel Willems (Bel)      Vigneron (Fra)      Vanhaerens (Be) 228  40.449
1979 Joop Zoetemelk (Ned)      Saronni (Ita)       Raas (Ned)      228  41.838

BLOIS-MONTLHERY (Grand Prix d'Automne)

1978 Jan Raas (Ned)            Jacobs (Bel)        Van Calster (B) 271  38.896

Grand Prix d'Automne

1977 Joop Zoetemelk (Ned)      De Muynck (Bel)     Kuiper (Ned)    259  44.531
1976 Ronald De Witte (Bel)     Poulidor (Fra)      Bouloux (Fra)   253  43.519

TOURS-VERSAILLES

1975 Freddy Maertens (Bel)     Van Looy (Bel)      De Vlaeminck    247  41.241
1974 Francesco Moser (Ita)     Danguillaume (Fra)  Leman (Bel)     254  43.268

PARIS-TOURS

1973 Rik Van Linden (Bel)      De Vlaeminck (Bel)  Verbeeck (Bel)  264  42.076 
1972 Noel Vantyghem (Bel)      Huysmans (Bel)      De Geest (Bel)  292  40.679
1971 Rik Van Linden (Bel)      Basso (Ita)         Karstens (Ned)  285  40.766
1970 Jurgen Tschan (Ger)       Pijnen (Ned)        Reybroeck (Bel) 286  41.011
1969 Herman Vanspringel (Bel)  Verbeeck (Bel)      Jochmans (Bel)  286  43.038
1968 Guido Reybroeck (Bel)     Godefroot (Bel)     Leman (Bel)     249  44.584
1967 Rik Van Looy (Bel)        Hoban (Ang)         Samyn (Fra)     249  41.720
1966 Guido Reybroeck (Bel)     Van Looy (Bel)      Lemeteyer (Fra) 249  43.355
1965 Gerben Karstens (Ned)     Desmet (Bel)        Deferm (Bel)    247  45.029
1964 Guido Reybroeck (Bel)     Van Looy (Bel)      Desmet (Bel)    248  36.466
1963 Jo De Roo (Ned)           Simpson (Ang)       Poulidor (Fra)  255  39.162
1962 Jo De Roo (Ned)           Melckenbeeck (Bel)  Beheyt (Bel)    267  44.903
1961 Jos Wouters (Bel)         De Smet (Bel)       Novak (Fra)     267  38.407
1960 Jo De Haan (Ned)          Stolker (Ned)       Otano (Spa)     267  40.001
1959 Rik Van Looy (Bel)        Niesten (Ned)       Noyelle (Bel)   267  37.791
1958 Gilbert De Smet (Bel)     De Bruyne (Bel)     Mahe (Fra)      251  37.148
1957 Alfred DE Bruyne (Bel)    Bobet (Fra)         Conterno (Ita)  251  42.842
1956 Albert Bouvet (Fra)       Schepens (Bel)      Bobet (Fra)     251  40.844
1955 Jacques Dupont (Fra)      De Bruyne (Bel)     Cieleska (Fra)  253  43.766
1954 Gilbert Scodeller (Fra)   Bobet (Fra)         Michel (Fra)    253  40.881
1953 Jozef Schils (Bel)        Kubler (Swi)        Gilles (Fra)    253  43.529
1952 Raymond Guegan (Fra)      Schotte (Bel)       Caput (Fra)     253  40.861
1951 Jacques Dupont (Fra)      Martini (Ita)       Redolfi (Fra)   251  41.691
1950 Andre Mahe (Fra)          Caffi (Fra)         Lapebie (Fr)    251  39.536
1949 Albert Ramon (Bel)        Neri (Ita)          Geus (Bel)      251  41.377
1948 Louis Caput (Fra)         Mignat (Fra)        Idee (Fra)      251  43.096
1947 Brik Schotte (Bel)        Idee (Fra)          Sercu (Bel)     251  35.678
1946 Brik Schotte (Bel)        Prevotal (Fra)      De Muer (Fra)   251  37.714
1945 Paul Maye (Fra)           Goutorbe (Fra)      Idee (Fra)      253  37.161
1944 Lucien Teisseire (Fra)    Gauthier (Fra)      Thietard (Fra)  253  41.452
1943 Gaby Gaudin (Fra)         Buysse (Bel)        Hendrickx (Bel) 241  37.422
1942 Paul Maye (Fra)           Virol (Fra)         Rossi (Ita)     248  36.024
1941 Paul Maye (Fra)           Goutal (Fra)        Cloarec (Fra)   249  36.096
1939 Frans Bonduel (Bel)       Storme (Bel)        Pirmez (Bel)    251  39.655
1938 Jules Rossi (Ita)         Disseaux (Bel)      Maye (Fra)      251  42.097
1937 Gustave Danneels (Bel)    Bonduel (Bel)       De Caluwe (Bel) 251  41.092
1936 Gustave Danneels (Bel)    Mithouard (Fra)     Coelaert (Bel)  251  41.455
1935 Rene Le Greves (Fra)      Lapebie (Fra)       Di Paco (Ita)   251  37.900
1934 Gustave Danneels (Bel)    Gijssels (Bel)      Vervaecke (Bel) 243  38.358
1933 Jules Merviel (Fra)       Magne (Fra)         Geyer (Ger)     243  37.528
1932 Julien Moineau (Fra)      Sieronski (Ger)     Viarengo (Fra)  253  37.251
1931 Andre Leducq (Fra)        Parioleau (Fra)     Pelissier (Fra) 240  31.276
1930 Jean MarechaL (Fra)       Bidot (Fra)         Bonduel (Bel)   253  34.112
1929 Nicolas Frantz (Bel)      Deolet (Bel)        Ronsse (Bel)    253  27.355
1928 Den. Verschueren (Bel)    Pelissier (Fra)     Gallotini (Fra) 253  34.746
1927 Henri Suter (Swi)         Van Slembroek (Bel) Ronsse (Bel)    253  35.324
1926 Henri Suter (Swi)         Notter (Swi)        Frantz (Lux)    324  28.230
1925 Den. Verschueren (Bel)    Mortelmans (Bel)    Hilarion (Fra)  342  27.469
1924 Louis Mottiat (Bel)       Frantz (Lux)        Huyvaert (Bel)  342  28.423
1923 Paul Deman (Bel)          Sellier (Bel)       Thiberghien (B) 342  25.014
1922 Henri Pelissier (Fra)     Suter (Swi)         Jacquinot (Fra) 342  29.653
1921 Francis Pelissier (Fra)   Mottiat (Bel)       Christophe (Fr) 342  22.893
1920 Eugene Christophe (Fra)   Barthelemy (Fra)    De Jonghe (Bel) 342  25.570
1919 Hector Thiberghien (Bel)  Vandenhove (Bel)    Rossius (Bel)   342  27.178
1918 Charles Mantelet (Fra)    Cazalis (Swi)       Michiels (Bel)  248  30.182
1917 Philippe Thys (Bel)       Godivier (Fra)      Christophe (Fr) 246  34.009
1914 Oscar Egg (Swi)           Engel (Fra)         Thys (Bel)      316  32.147
1913 Charles Crupelandt (Fra)  Passerieu (Fra)     Luguet (Fra)    246  33.931
1912 Louis Heusghem (Bel)      Deruyter (Bel)      Petit-Breton    246  26.348
1911 Octave Lapize (Fra)       Van Hauwaert (Bel)  Georget (Fra)   248  27.054
1910 Francois Faber (Lux)      Trousselier (Fra)   Engel (Fra)     248  32.105
1909 Francois Faber (Lux)      Alavoine (Fra)      Paul (Fra)      248  30.680
1908 Omer Beaugendre (Fra)     Saillot (Fra)       Faber (Lux)     248  30.690
1907 Georges Passerieu (Fra)   Pottier (Fra)       Georget (Fra)   245  32.186
1906 Lucien Petit-Breton (Fra) Trousselier (Fra)   Cornet (Fra)    234  29.557
1901 Jean Fischer (Fra)        Lorgeou (Fra)       Wattelier (Fra) 253  26.982
1896 E. Prevost (Fra)          Ouzou (Fra)         Bouvet (Fra)    250  31.200