59th Vuelta a España - GT
Spain, September 4-26, 2004
Main Page Live report Results Stage Details Previous Stage Next Stage
Stage 17 - September 22: Plasencia - Estación de Esquí La Covatilla (Béjar), 170 km
Epa! Que Chebere - Cardenas crowns Covatilla
By Martin Hardie in Covatilla
Felix Cardenas (Cafes Baque)
Photo ©: Unipublic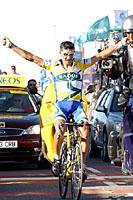 The Plan Colombia of Durango based team Cafes Baque came good today on the road to the ascent of the ski station of Covatilla, high above the home town of Roberto Heras. Today the persistence of the peloton's more modest outfits paid off when its experienced Colombian climber Felix Cardenas crested the mountain first to take the stage. It is the third stage Cardenas has won in La Vuelta, with previous victories last year on Sierra Nevada and in 2000 at La Molina. He also has to his credit a Tour stage win in 2001 at Aix Les Thermes.
Cyclingnews spoke to Felix Cardenas after the stage and he told us that, "I am very happy because it has been especially difficult. I wasn't in the right condition prior to La Vuelta because 15 days before I fractured an arm and had to have it operated on. The doctors put in four screws, but I have recovered and with hope and will, things have turned out well. The victory is important also because we want this team, this project, to continue and it is also very important for my country and for my family.
"I attacked with seven kilometres to go where the ramps of 10 percent become very tough. The aim was to win a stage, but we will now defend this [mountains] jersey as well".
The victory of Cardenas was timely. Whilst other teams with budgets immeasurably much grander than Baque's fight it out to gain entry to the new UCI super league, the Colombian-Basque connection is fighting for its very survival. A few years ago, many a Spanish pro director continually scouted the Baque amateur line up in order to secure some of the best and brightest youngsters on their way up. Presently Iban Mayo is probably the most notable rider that has passed through Baque's ranks and into the pro peloton. But the pro teams could never take all of Baque's jewels, there have been just too many promising kids coming through. So as ex-Euskaltel rider Erkaitz Elkoroiribe looked towards life after racing, he commenced the process of transforming the team from not only an amateur squad but to having its own pro outfit as well.
Cardenas and Arrieta
Photo ©: Unipublic

Erkaitz explained to Cyclingnews that, "We got into the idea of having a professional team as an opening for the talented amateur riders in our part of the Basque Country, as many have serious problems in finding opportunities in the highest category. The initial idea was for Baque to back the team for two years and after that time hope to have consolidated the position. We were thinking that if the team went well, other co-sponsors would join Baque. Unfortunately we haven't got a co-sponsor big enough to help us, and without one the team probably won't be able to continue.
"Cafes Baque is a small family company based in Durango in the Basque company, amongst other things they import coffee from Colombia. They don't have the economic muscle to back a pro team forever without the collaboration of other sponsors and although the team has a number of smaller co-sponsors they are not sufficient for the team to continue without more".
Last year, the team made up of young inexperienced local riders started, like its sponsor, importing from Colombia. It is in many ways a likely union. Both countries have a strong following for cycling, and cycling has throughout the modern history of both played its role in galvanising their peoples. The Basques and the Colombians also have in common an attacking style full of flair. The union paid off in last year's Vuelta with Felix Cardenas taking the stage to Sierra Nevada and the mountains jersey in Madrid. With a reinforced lineup for this year's race Erkaitz hoped that a victory here or there and a strong showing by the team might help attract some more financial backers.
Roberto Heras (Liberty Seguros)
Photo ©: Unipublic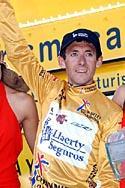 With all of this weight on their collective shoulders the Baque boys haven't been laying low. La Vuelta has seen many a breakaway this year and for a change a few have succeeded. The Baque boys have made every break so far in the race bar two, and amongst them Felix Cardenas has been prominent in going out on the road in search of mountain points - a little a la Virenque. Since the first day in the mountains, on the road to Aitana, Felix has been in the hunt. Mancebo has got in his way, Fernandez and Ferrio from Paternina have made things messy at times, Heras has picked up a few points of course and Santi Perez just won't stop finishing in the front on those mountain stages. So today Felix had to start again. He was at the start of the day 29 points behind the official mountain jersey leader, Roberto Heras.
How it unfolded
Felix Cardenas (Cafes Baque)
Photo ©: Unipublic

In the first kilometre of today's stage, Felix Cardenas got himself into a break that formed quickly and rolled away even quicker. The group comprised a few other good escapees: Constantino Zaballa (Saunier Duval), Volodimir Gustov (Fassa Bortolo), Tadej Valjavec (Phonak), José Luis Arrieta (Illes Balears) and Alberto Lopez De Munain (Euskaltel). It was surprising because the peloton was moving pretty fast at the time and at later stages set a fairly hectic rhythm. The gap grew and got up to about 8'30 at its peak. It was more than enough for Cardenas to take the points on the first two Cat. 1's, Piornal and the Honduras along with the Cat. 3 Cerro. These 32 points had him in the lead. The problem was that Liberty Seguros, who led the peloton behind, set a mighty rhythm up the narrow bare face of the Honduras. The road was barely a Humvee wide and the blue train of Saiz and Co. commenced to really turn the screws on Valverde, who suffered in the absolute tail of the peloton.
For a while, the Liberty onslaught made it look impossible for the Cardenas group to survive, but by the top of the Honduras, Valverde had reinserted himself in a more respectable position fixed to the rear wheel of Heras. Over the next climb, the Cat. 3 Cerro, Cardenas upped the pace. It wasn't the easiest Cat. 3 around as Caruso led the Liberty machine climbing in the little ring. This time though Saiz gave the order to conserve forces and instead of spending more than one of his riders, allowed the young Italian to keep the rhythm high but not blistering. The change of pace by Liberty gave the escapees some more room to move and another chance of survival. Cardenas achieved his third object of the day. The points were not huge, only 6 for crossing a Cat.3 first, but every little bit helped.
Jan Hruska
Photo ©: Unipublic

Down into Bejar the country really changed. Gone were the outback plains of Extremadura, the hills and valleys appeared here a little greener. Not verdant green but with enough green mixed up with the yellow and brown to make it feel like you are no longer passing through an eternal drought. The climb to Covatilla started immediately on the edges of Bejar. Just before it, at the meta volante, the Cardenas group had managed to roll their gap out again to close to five minutes. With 18 kilometres of climbing staring them in the face, it was still not a good bet that they might arrive in front. Certainly if they did, it would not be together.
Cardenas attacked where La Covatilla really started to kick in after 11 kilometres of climbing and with seven left. No-one who was left, and by that time it was only Arrieta and Valjavec, could follow and Cardenas went, mostly out of the saddle, in his 39/12 until the false flat at the top. He crossed the line 29 seconds ahead of Santi Perez, but that was another story.
Santi Perez (Phonak)
Photo ©: Unipublic

Perez of course had been in the peloton with the stated intention of following the wheel of Heras all day. For a lot of the day, Valverde sat behind the Liberty train; Perez sat on the wheel of Valverde and Heras behind him. Behind him was Mancebo. As the final climb got under way, the peloton numbered about 30 units. The first real move was made by Carlos Sastre (CSC) who made a quick gap as they had a little under 10 km to go. Liberty's Baranowski set the pace in pursuit. As the road steepened he let Serrano take over the job, Serrano did so well on one ugly ramp he managed to lose Nozal, his teammate. Serrano halved the peloton with this furious pull and by the seven km to go banner, Sastre was neutralised. His day done.
Paternina's Paco Lara then attacked. The group was now no more than eight. Serrano dragged them to up to Lara and then Heras jumped. He had to on his home turf and with only five seconds buffering him from Valverde, he had to test Valverde today, especially after the way he had suffered on the Honduras.
Heras flew, but guess what? Santi Perez followed him with ease. Ahead, 1'50-odd was Cardenas, still climbing in 39/12. Behind, Valverde couldn't follow, he was in crisis and around him Mancebo and Luis Perez looked to see what would pass. Mancebo left him and set off in pursuit of Heras and Santi P. The gaps widened. Garcia Quesada did his best to animate Valverde and help him set a rhythm with which to chase. Valverde just couldn't get it going. He was wasted but had to do all he could to minimise the damage.
Alejandro Valverde (Comunidad Valenciana-Kelme)
Photo ©: Unipublic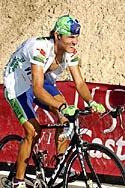 With three kilometres left, Heras and Perez had created a huge hole, Valverde was 2'10 back, Cardenas was 1'01 ahead. Mancebo chased 20 seconds behind Heras. Across a false flat Santi Perez sat on, then as the road kicked up to one of the climb's steeper ramps he jumped. He started to run down the seconds between him and Cardenas. With one kilometres to go, Cardenas was safe with a 41 second gap, but Heras was all body, flailing his arms and shoulders over the bike. He didn't look like a superb climber as he suffered to try and limit the damage caused by Perez.
He did and he didn't is probably the best you can say of the effort of Heras. He made big inroads into Valverde, but lost 32 seconds to Santi Perez, who a few days ago we never even looked at. Then we said maybe he can make the podium, and now he has shaved nearly 30% of Heras's advantage in 3 km and jumped up the GC again to stand in second place.
With three days left of steady climbing, with a few real beasts among them, Heras needs a good minute buffer to feel comfortable next Sunday morning in Madrid. Santi Perez is on fire. Liberty does all the work and when it is time, he follows or leads and continually picks up the profits. Mancebo and Valverde are separated by a second but are now a long way back from Heras. It is not over for either of them, they have fight and one moment of suffering, like today's for Valverde, or Sunday's for Heras could change all that in a blink of an eye.
Tomorrow's four climbs, the last a Cat. 2 at 20 kilometres from the finish and with a nice little kick in the final kilometre will provide another opportunity to shake up the field. Four more days to Madrid, things continue to change and still nothing is certain.
Photography
Images by Unipublic
Results
1 Felix Cardenas (Col) Cafes Baque                                 4.52.08 (34.87 km/h)
2 Santiago Perez (Spa) Phonak Hearing Systems                         0.29
3 Roberto Heras (Spa) Liberty Seguros                                 1.01
4 Francisco Mancebo (Spa) Illes Balears-Banesto                       1.15
5 Luis Perez (Spa) Cofidis, le credit par Telephone                   2.05
6 Angel Gomez (Spa) Paternina-Costa De Almeria                        2.18
7 Jorge Ferrio (Spa) Paternina-Costa De Almeria                           
8 Francisco José Lara (Spa) Paternina-Costa De Almeria                    
9 Carlos Sastre (Spa) Team CSC                                        2.45
10 Miguel A. M. Perdiguero (Spa) Saunier Duval-Prodir                 3.03
11 Samuel Sanchez (Spa) Euskaltel-Euskadi                             3.06
12 Carlos Garcia Quesada (Spa) Comunidad Valenciana-Kelme             3.11
13 José Luis Arrieta (Spa) Illes Balears-Banesto                          
14 Alejandro Valverde (Spa) Comunidad Valenciana-Kelme                    
15 Marcos Serrano (Spa) Liberty Seguros                                   
16 Isidro Nozal (Spa) Liberty Seguros                                     
17 Tadej Valjavec (Slo) Phonak Hearing Systems                            
18 Alexandre Vinokourov (Kaz) T-Mobile Team                               
19 Ivan Parra (Col) Cafes Baque                                       4.06
20 David Plaza (Spa) Cafes Baque                                          
21 Manuel Beltran (Spa) US Postal Service p/b Berry Floor             4.08
22 Cedric Vasseur (Fra) Cofidis, le credit par Telephone                  
23 Stefano Garzelli (Ita) Vini Caldirola-Nobili Rubinetterie          4.26
24 Unai Osa (Spa) Illes Balears-Banesto                               5.07
25 Eladio Jimenez (Spa) Comunidad Valenciana-Kelme                        
26 Daniel Atienza (Spa) Cofidis, le credit par Telephone              5.25
27 David Blanco (Spa) Comunidad Valenciana-Kelme                      5.27
28 Luis Pasamontes (Spa) Relax-Bergasol                               6.17
29 Joan Horrach (Spa) Illes Balears-Banesto                           6.31
30 Joaquin Lopez (Spa) Paternina-Costa De Almeria                         
31 Manuel Calvente (Spa) Team CSC                                     6.43
32 José Enrique Gutierrez (Spa) Phonak Hearing Systems                7.32
33 Juan Manuel Garate (Spa) Lampre                                        
34 Francisco Garcia (Spa) Cafes Baque                                 7.34
35 Hernan Buenahora (Col) Cafes Baque                                     
36 Oscar Sevilla (Spa) Phonak Hearing Systems                             
37 Alberto Lopez De Munain (Spa) Euskaltel-Euskadi                    8.04
38 Roberto Laiseka (Spa) Euskaltel-Euskadi                                
39 Dariusz Baranowski (Pol) Liberty Seguros                           8.07
40 Leonardo Piepoli (Ita) Saunier Duval-Prodir                        8.27
41 Erik Zabel (Ger) T-Mobile Team                                    10.36
42 Iñigo Chaurreau (Spa) Ag2R Prevoyance                                  
43 Rafael Casero (Spa) Saunier Duval-Prodir                          15.36
44 David Cañada (Spa) Saunier Duval-Prodir                                
45 Jose Antonio Pecharroman (Spa) Quick.Step-Davitamon                    
46 Haimar Zubeldia (Spa) Euskaltel-Euskadi                                
47 Klaus Möller (Den) Alessio-Bianchi                                     
48 Floyd Landis (USA) US Postal Service p/b Berry Floor                   
49 Stephan Schreck (Ger) T-Mobile Team                                    
50 Javier Pascual Rodriguez (Spa) Comunidad Valenciana-Kelme              
51 David Herrero (Spa) Paternina-Costa De Almeria                    16.26
52 David Latasa (Spa) Comunidad Valenciana-Kelme                          
53 Koldo Gil (Spa) Liberty Seguros                                        
54 Dario David Cioni (Ita) Fassa Bortolo                             16.53
55 Damiano Cunego (Ita) Saeco                                        19.26
56 Guennadi Mikhailov (Rus) US Postal Service p/b Berry Floor        20.02
57 José Miguel Elias (Spa) Relax-Bergasol                            20.21
58 Constantino Zaballa (Spa) Saunier Duval-Prodir                    21.42
59 Patrick Calcagni (Swi) Vini Caldirola-Nobili Rubinetterie         22.00
60 Johan Van Summeren (Bel) Relax-Bergasol                           22.02
61 Giampaolo Caruso (Ita) Liberty Seguros                            22.18
62 Marius Sabaliauskas (Ltu) Saeco                                   22.20
63 Jose Luis Rebollo (Spa) Relax-Bergasol                            23.35
64 Eddy Mazzoleni (Ita) Saeco                                        24.20
65 Joaquin Rodriguez (Spa) Saunier Duval-Prodir                           
66 Cristian Moreni (Ita) Alessio-Bianchi                             24.27
67 Roberto Sgambelluri (Ita) Vini Caldirola-Nobili Rubinetterie      24.39
68 Thorwald Veneberg (Ned) Rabobank                                  25.59
69 Bert Grabsch (Ger) Phonak Hearing Systems                              
70 Frank Schleck (Lux) Team CSC                                           
71 Josep Jufre (Spa) Relax-Bergasol                                       
72 Vladimir Miholjevic (Cro) Alessio-Bianchi                              
73 Mikel Artetxe (Spa) Euskaltel-Euskadi                                  
74 Pieter Weening (Ned) Rabobank                                          
75 Bram Tankink (Ned) Quick.Step-Davitamon                                
76 Antonio Colom (Spa) Illes Balears-Banesto                              
77 Pablo Lastras (Spa) Illes Balears-Banesto                              
78 Jurgen Van Goolen (Bel) Quick.Step-Davitamon                           
79 Vladimir Gusev (Rus) Team CSC                                          
80 Jan Hruska (Cze) Liberty Seguros                                       
81 Alessandro Cortinovis (Ita) Lampre                                     
82 Kevin De Weert (Bel) Rabobank                                          
83 Cadel Evans (Aus) T-Mobile Team                                        
84 Mauro Gerosa (Ita) Vini Caldirola-Nobili Rubinetterie                  
85 Bingen Fernandez (Spa) Cofidis, le credit par Telephone                
86 Volodymir Gustov (Ukr) Fassa Bortolo                                   
87 Ruslan Ivanov (Mda) Alessio-Bianchi                                    
88 Xavier Florencio (Spa) Relax-Bergasol                                  
89 Benoit Joachim (Lux) US Postal Service p/b Berry Floor            27.58
90 Luca Paolini (Ita) Quick.Step-Davitamon                           28.26
91 Marco Milesi (Ita) Vini Caldirola-Nobili Rubinetterie             28.47
92 Julián Sanchez (Spa) Fassa Bortolo                                28.48
93 Aitor Gonzalez (Spa) Fassa Bortolo                                     
94 Sylvester Szmyd (Pol) Saeco                                            
95 José Garrido (Spa) Quick.Step-Davitamon                                
96 Alessandro Spezialetti (Ita) Saeco                                31.52
97 Mikel Pradera (Spa) Illes Balears-Banesto                              
98 José Garcia Acosta (Spa) Illes Balears-Banesto                         
99 Francisco Cabello (Spa) Comunidad Valenciana-Kelme                     
100 Pedro Horrillo (Spa) Quick.Step-Davitamon                             
101 Joost Posthuma (Ned) Rabobank                                         
102 Dario Andriotto (Ita) Vini Caldirola-Nobili Rubinetterie              
103 Manuel Quinziato (Ita) Lampre                                         
104 Michael Barry (Can) US Postal Service p/b Berry Floor                 
105 Paolo Fornaciari (Ita) Saeco                                          
106 Peter Luttenberger (Aut) Team CSC                                     
107 Marco Velo (Ita) Fassa Bortolo                                        
108 Guido Trentin (Ita) Cofidis, le credit par Telephone                  
109 Aitor Perez (Spa) Cafes Baque                                         
110 Frank Høj (Den) Team CSC                                              
111 Igor Gonzalez de Galdeano (Spa) Liberty Seguros                       
112 Juan Fuentes (Spa) Saeco                                              
113 Jörg Jaksche (Ger) Team CSC                                           
114 Aitor Silloniz (Spa) Euskaltel-Euskadi                                
115 José Julia (Spa) Comunidad Valenciana-Kelme                           
116 Victor Hugo Peña (Col) US Postal Service p/b Berry Floor              
117 Herbert Gutierrez (Col) Cafes Baque                                   
118 Maarten Den Bakker (Ned) Rabobank                                     
119 David Fernandez (Spa) Paternina-Costa De Almeria                      
120 Iñaki Isasi (Spa) Euskaltel-Euskadi                                   
121 Rubén Plaza (Spa) Comunidad Valenciana-Kelme                          
122 Kevin Hulsmans (Bel) Quick.Step-Davitamon                             
123 Antonio Cruz (USA) US Postal Service p/b Berry Floor                  
124 Rene Andrle (Cze) Liberty Seguros                                     
125 Mariano Piccoli (Ita) Lampre                                          
126 Danilo Di Luca (Ita) Saeco                                            
127 Matthew White (Aus) Cofidis, le credit par Telephone                  
128 Guido Trenti (USA) Fassa Bortolo                                      
129 Ellis Rastelli (Ita) Alessio-Bianchi                                  
130 Daniele Righi (Ita) Lampre                                       32.22
DNF Erki Pütsep (Est) Ag2R Prevoyance                                     
DNF Peio Arreitunandia (Spa) Cafes Baque                                  
DNF Alberto Ongarato (Ita) Fassa Bortolo                                  
DNF Jan Boven (Ned) Rabobank                                              
DNF Alberto Martinez (Spa) Relax-Bergasol                                 
DNF Nacor Burgos (Spa) Relax-Bergasol                                     
DNF Brian Vandborg (Den) Team CSC                                         
DNF David Zabriskie (USA) US Postal Service p/b Berry Floor               
 
Points
 
1 Felix Cardenas (Col) Cafes Baque                                      25 pts
2 Santiago Perez (Spa) Phonak Hearing Systems                           20
3 Roberto Heras (Spa) Liberty Seguros                                   16
4 Francisco Mancebo (Spa) Illes Balears-Banesto                         14
5 Luis Perez (Spa) Cofidis, le credit par Telephone                     12
6 Angel Gomez (Spa) Paternina-Costa De Almeria                          10
7 Jorge Ferrio (Spa) Paternina-Costa De Almeria                          9
8 Francisco José Lara (Spa) Paternina-Costa De Almeria                   8
9 Carlos Sastre (Spa) Team CSC                                           7
10 Miguel A. M. Perdiguero (Spa) Saunier Duval-Prodir                    6
11 Samuel Sanchez (Spa) Euskaltel-Euskadi                                5
12 Carlos Garcia Quesada (Spa) Comunidad Valenciana-Kelme                4
13 José Luis Arrieta (Spa) Illes Balears-Banesto                         3
14 Alejandro Valverde (Spa) Comunidad Valenciana-Kelme                   2
15 Marcos Serrano (Spa) Liberty Seguros                                  1
 
Mountains
 
Puerto de Piornal (cat. 1) - km 53
1 Felix Cardenas (Col) Cafes Baque                                      16 pts
2 José Luis Arrieta (Spa) Illes Balears-Banesto                         12
3 Constantino Zaballa (Spa) Saunier Duval-Prodir                        10
4 Alberto Lopez De Munain (Spa) Euskaltel-Euskadi                        8
5 Tadej Valjavec (Slo) Phonak Hearing Systems                            6
6 Volodymir Gustov (Ukr) Fassa Bortolo                                   4
7 Santiago Perez (Spa) Phonak Hearing Systems                            3
8 Rene Andrle (Cze) Liberty Seguros                                      2
9 Jan Hruska (Cze) Liberty Seguros                                       1
 
Puerto de Honduras (cat. 1) - km 100
1 Felix Cardenas (Col) Cafes Baque                                      16 pts
2 Tadej Valjavec (Slo) Phonak Hearing Systems                           12
3 José Luis Arrieta (Spa) Illes Balears-Banesto                         10
4 Alberto Lopez De Munain (Spa) Euskaltel-Euskadi                        8
5 Volodymir Gustov (Ukr) Fassa Bortolo                                   6
6 Constantino Zaballa (Spa) Saunier Duval-Prodir                         4
7 Santiago Perez (Spa) Phonak Hearing Systems                            3
8 Francisco Mancebo (Spa) Illes Balears-Banesto                          2
9 Oscar Sevilla (Spa) Phonak Hearing Systems                             1
 
Alto de El Cerro (cat. 3) - km 131
1 Felix Cardenas (Col) Cafes Baque                                       6 pts
2 José Luis Arrieta (Spa) Illes Balears-Banesto                          4
3 Tadej Valjavec (Slo) Phonak Hearing Systems                            2
4 Alberto Lopez De Munain (Spa) Euskaltel-Euskadi                        1
 
Estación de Esquí La Covatilla (cat. Especial) - km 170
1 Felix Cardenas (Col) Cafes Baque                                      30 pts
2 Santiago Perez (Spa) Phonak Hearing Systems                           25
3 Roberto Heras (Spa) Liberty Seguros                                   20
4 Francisco Mancebo (Spa) Illes Balears-Banesto                         16
5 Luis Perez (Spa) Cofidis, le credit par Telephone                     12
6 Angel Gomez (Spa) Paternina-Costa De Almeria                          10
7 Jorge Ferrio (Spa) Paternina-Costa De Almeria                          8
8 Francisco José Lara (Spa) Paternina-Costa De Almeria                   6
9 Carlos Sastre (Spa) Team CSC                                           4
10 Miguel A. M. Perdiguero (Spa) Saunier Duval-Prodir                    3
11 Samuel Sanchez (Spa) Euskaltel-Euskadi                                2
12 Carlos Garcia Quesada (Spa) Comunidad Valenciana-Kelme                1
 
Sprints
 
1st intermediate sprint at Tejeda de Tiétar km 19.5
1 Tadej Valjavec (Slo) Phonak Hearing Systems                            4 pts
2 Alberto Lopez De Munain (Spa) Euskaltel-Euskadi                        2
3 José Luis Arrieta (Spa) Illes Balears-Banesto                          1
 
2nd intermediate sprint at Hervás - km 114.8
1 Felix Cardenas (Col) Cafes Baque                                       4 pts
2 Volodymir Gustov (Ukr) Fassa Bortolo                                   2
3 Tadej Valjavec (Slo) Phonak Hearing Systems                            1
 
3rd intermediate sprint at Béjar - 151.6 km
1 Alberto Lopez De Munain (Spa) Euskaltel-Euskadi                        4 pts
2 Felix Cardenas (Col) Cafes Baque                                       2
3 José Luis Arrieta (Spa) Illes Balears-Banesto                          1
 
Teams
 
1 Costa de Almeria - Paternina                                    14.43.18
2 Liberty Seguros                                                     0.29
3 Cafes Baque                                                         1.18
4 Illes Balears - Banesto                                             2.39
5 Phonak Hearing Systems                                              4.18
6 Comunidad Valenciana - Kelme                                        4.35
7 Cofidis, le credit par telephone                                    4.44
8 Euskaltel - Euskadi                                                12.20
9 Saunier Duval - Prodir                                             20.12
10 T-Mobile Team                                                     22.29
11 Team CSC                                                          28.33
12 US Postal Service p/b Berry Floor                                 32.52
13 Relax-Bodysol                                                     41.46
14 Vini Caldirola -Nobili Rubinetterie                               44.11
15 Lampre                                                            58.29
16 Alessio - Bianchi                                                 59.08
17 Saeco                                                             59.12
18 Quick Step - Davitamon                                          1.00.40
19 Fassa Bortolo                                                   1.04.46
20 Rabobank                                                        1.11.03
 
General classification after stage 17
 
1 Roberto Heras (Spa) Liberty Seguros                             63.28.41
2 Santiago Perez (Spa) Phonak Hearing Systems                         1.13
3 Alejandro Valverde (Spa) Comunidad Valenciana-Kelme                 2.15
4 Francisco Mancebo (Spa) Illes Balears-Banesto                       2.16
5 Isidro Nozal (Spa) Liberty Seguros                                  5.55
6 Carlos Sastre (Spa) Team CSC                                        7.56
7 Angel Gomez (Spa) Paternina-Costa De Almeria                       10.08
8 Carlos Garcia Quesada (Spa) Comunidad Valenciana-Kelme             11.09
9 Manuel Beltran (Spa) US Postal Service p/b Berry Floor             11.51
10 Luis Perez (Spa) Cofidis, le credit par Telephone                 12.25
11 David Blanco (Spa) Comunidad Valenciana-Kelme                     14.09
12 Stefano Garzelli (Ita) Vini Caldirola-Nobili Rubinetterie         17.23
13 Marcos Serrano (Spa) Liberty Seguros                              19.53
14 Francisco José Lara (Spa) Paternina-Costa De Almeria              19.54
15 Miguel A. M. Perdiguero (Spa) Saunier Duval-Prodir                21.50
16 Floyd Landis (USA) US Postal Service p/b Berry Floor              23.05
17 Samuel Sanchez (Spa) Euskaltel-Euskadi                            25.38
18 Jorge Ferrio (Spa) Paternina-Costa De Almeria                     28.16
19 Luis Pasamontes (Spa) Relax-Bergasol                              29.46
20 David Plaza (Spa) Cafes Baque                                     31.16
21 Eladio Jimenez (Spa) Comunidad Valenciana-Kelme                   32.11
22 Oscar Sevilla (Spa) Phonak Hearing Systems                        32.12
23 Damiano Cunego (Ita) Saeco                                        32.31
24 Unai Osa (Spa) Illes Balears-Banesto                              33.18
25 Manuel Calvente (Spa) Team CSC                                    34.55
26 Tadej Valjavec (Slo) Phonak Hearing Systems                       38.17
27 Juan Manuel Garate (Spa) Lampre                                   40.17
28 Daniel Atienza (Spa) Cofidis, le credit par Telephone             41.18
29 Joan Horrach (Spa) Illes Balears-Banesto                          43.52
30 Aitor Gonzalez (Spa) Fassa Bortolo                                44.22
31 Ivan Parra (Col) Cafes Baque                                      44.39
32 Leonardo Piepoli (Ita) Saunier Duval-Prodir                       44.49
33 Felix Cardenas (Col) Cafes Baque                                  48.26
34 Hernan Buenahora (Col) Cafes Baque                                49.09
35 José Luis Arrieta (Spa) Illes Balears-Banesto                     49.50
36 Dariusz Baranowski (Pol) Liberty Seguros                          51.38
37 Constantino Zaballa (Spa) Saunier Duval-Prodir                    51.46
38 Joaquin Rodriguez (Spa) Saunier Duval-Prodir                      56.15
39 José Enrique Gutierrez (Spa) Phonak Hearing Systems               58.36
40 Johan Van Summeren (Bel) Relax-Bergasol                         1.03.26
41 Rubén Plaza (Spa) Comunidad Valenciana-Kelme                    1.05.49
42 Francisco Garcia (Spa) Cafes Baque                              1.07.24
43 Victor Hugo Peña (Col) US Postal Service p/b Berry Floor        1.07.31
44 José Miguel Elias (Spa) Relax-Bergasol                          1.08.08
45 Jörg Jaksche (Ger) Team CSC                                     1.10.25
46 Iñigo Chaurreau (Spa) Ag2R Prevoyance                           1.10.45
47 Pablo Lastras (Spa) Illes Balears-Banesto                       1.10.57
48 Cedric Vasseur (Fra) Cofidis, le credit par Telephone           1.12.13
49 Alexandre Vinokourov (Kaz) T-Mobile Team                        1.13.41
50 Erik Zabel (Ger) T-Mobile Team                                  1.14.14
51 Haimar Zubeldia (Spa) Euskaltel-Euskadi                         1.15.18
52 Dario David Cioni (Ita) Fassa Bortolo                           1.18.57
53 David Cañada (Spa) Saunier Duval-Prodir                         1.20.27
54 Cadel Evans (Aus) T-Mobile Team                                 1.21.02
55 Roberto Laiseka (Spa) Euskaltel-Euskadi                         1.22.13
56 Jose Luis Rebollo (Spa) Relax-Bergasol                          1.24.16
57 Frank Schleck (Lux) Team CSC                                    1.27.39
58 Koldo Gil (Spa) Liberty Seguros                                 1.29.51
59 Jose Antonio Pecharroman (Spa) Quick.Step-Davitamon             1.30.04
60 Benoit Joachim (Lux) US Postal Service p/b Berry Floor          1.30.41
61 Thorwald Veneberg (Ned) Rabobank                                1.30.59
62 Giampaolo Caruso (Ita) Liberty Seguros                          1.32.10
63 Javier Pascual Rodriguez (Spa) Comunidad Valenciana-Kelme       1.33.03
64 Stephan Schreck (Ger) T-Mobile Team                             1.33.24
65 Guennadi Mikhailov (Rus) US Postal Service p/b Berry Floor      1.34.40
66 Joaquin Lopez (Spa) Paternina-Costa De Almeria                  1.35.55
67 Sylvester Szmyd (Pol) Saeco                                     1.36.44
68 Josep Jufre (Spa) Relax-Bergasol                                1.37.52
69 David Latasa (Spa) Comunidad Valenciana-Kelme                   1.39.22
70 Jurgen Van Goolen (Bel) Quick.Step-Davitamon                    1.39.47
71 Pieter Weening (Ned) Rabobank                                   1.41.32
72 Cristian Moreni (Ita) Alessio-Bianchi                           1.41.46
73 Guido Trentin (Ita) Cofidis, le credit par Telephone            1.44.20
74 Kevin De Weert (Bel) Rabobank                                   1.44.53
75 Bingen Fernandez (Spa) Cofidis, le credit par Telephone         1.46.26
76 Patrick Calcagni (Swi) Vini Caldirola-Nobili Rubinetterie       1.47.33
77 Bram Tankink (Ned) Quick.Step-Davitamon                         1.50.53
78 Alessandro Cortinovis (Ita) Lampre                              1.51.45
79 David Herrero (Spa) Paternina-Costa De Almeria                  1.52.02
80 Antonio Cruz (USA) US Postal Service p/b Berry Floor            1.54.04
81 Alberto Lopez De Munain (Spa) Euskaltel-Euskadi                 1.54.12
82 Roberto Sgambelluri (Ita) Vini Caldirola-Nobili Rubinetterie    1.55.15
83 Eddy Mazzoleni (Ita) Saeco                                      1.55.52
84 Klaus Möller (Den) Alessio-Bianchi                              1.56.21
85 Peter Luttenberger (Aut) Team CSC                               1.56.23
86 Iñaki Isasi (Spa) Euskaltel-Euskadi                             1.57.27
87 Aitor Perez (Spa) Cafes Baque                                   1.57.52
88 Rafael Casero (Spa) Saunier Duval-Prodir                        2.01.12
89 Vladimir Miholjevic (Cro) Alessio-Bianchi                       2.03.03
90 Pedro Horrillo (Spa) Quick.Step-Davitamon                       2.03.58
91 Xavier Florencio (Spa) Relax-Bergasol                           2.04.47
92 Michael Barry (Can) US Postal Service p/b Berry Floor           2.09.47
93 Marius Sabaliauskas (Ltu) Saeco                                 2.11.11
94 Luca Paolini (Ita) Quick.Step-Davitamon                         2.11.46
95 Juan Fuentes (Spa) Saeco                                        2.12.03
96 David Fernandez (Spa) Paternina-Costa De Almeria                2.13.31
97 Danilo Di Luca (Ita) Saeco                                      2.15.26
98 Antonio Colom (Spa) Illes Balears-Banesto                       2.16.14
99 Ruslan Ivanov (Mda) Alessio-Bianchi                             2.16.37
100 José Garrido (Spa) Quick.Step-Davitamon                        2.17.21
101 Mikel Pradera (Spa) Illes Balears-Banesto                      2.23.29
102 José Julia (Spa) Comunidad Valenciana-Kelme                    2.26.43
103 Francisco Cabello (Spa) Comunidad Valenciana-Kelme             2.28.07
104 Jan Hruska (Cze) Liberty Seguros                               2.28.43
105 Igor Gonzalez de Galdeano (Spa) Liberty Seguros                2.29.12
106 Bert Grabsch (Ger) Phonak Hearing Systems                      2.29.42
107 Mauro Gerosa (Ita) Vini Caldirola-Nobili Rubinetterie          2.29.54
108 Volodymir Gustov (Ukr) Fassa Bortolo                           2.29.56
109 Manuel Quinziato (Ita) Lampre                                  2.31.07
110 Kevin Hulsmans (Bel) Quick.Step-Davitamon                      2.31.47
111 Maarten Den Bakker (Ned) Rabobank                              2.31.57
112 Marco Milesi (Ita) Vini Caldirola-Nobili Rubinetterie          2.34.09
113 Joost Posthuma (Ned) Rabobank                                  2.35.07
114 Mikel Artetxe (Spa) Euskaltel-Euskadi                          2.39.48
115 Vladimir Gusev (Rus) Team CSC                                  2.40.10
116 Dario Andriotto (Ita) Vini Caldirola-Nobili Rubinetterie       2.41.25
117 José Garcia Acosta (Spa) Illes Balears-Banesto                 2.44.14
118 Herbert Gutierrez (Col) Cafes Baque                            2.45.38
119 Rene Andrle (Cze) Liberty Seguros                              2.49.28
120 Julián Sanchez (Spa) Fassa Bortolo                             2.51.57
121 Frank Høj (Den) Team CSC                                       2.52.14
122 Mariano Piccoli (Ita) Lampre                                   2.56.58
123 Alessandro Spezialetti (Ita) Saeco                             2.57.00
124 Daniele Righi (Ita) Lampre                                     3.00.33
125 Guido Trenti (USA) Fassa Bortolo                               3.04.25
126 Marco Velo (Ita) Fassa Bortolo                                 3.07.23
127 Paolo Fornaciari (Ita) Saeco                                   3.09.33
128 Ellis Rastelli (Ita) Alessio-Bianchi                           3.10.02
129 Aitor Silloniz (Spa) Euskaltel-Euskadi                         3.14.26
130 Matthew White (Aus) Cofidis, le credit par Telephone           3.19.04
 
Points classification
 
1 Erik Zabel (Ger) T-Mobile Team                                       148 pts
2 Alejandro Valverde (Spa) Comunidad Valenciana-Kelme                  128
3 Roberto Heras (Spa) Liberty Seguros                                  113
4 Francisco Mancebo (Spa) Illes Balears-Banesto                         99
5 Santiago Perez (Spa) Phonak Hearing Systems                           92
6 Isidro Nozal (Spa) Liberty Seguros                                    76
7 Carlos Sastre (Spa) Team CSC                                          57
8 Leonardo Piepoli (Ita) Saunier Duval-Prodir                           52
9 Floyd Landis (USA) US Postal Service p/b Berry Floor                  51
10 Pedro Horrillo (Spa) Quick.Step-Davitamon                            51
11 Angel Gomez (Spa) Paternina-Costa De Almeria                         44
12 Cristian Moreni (Ita) Alessio-Bianchi                                43
13 Manuel Beltran (Spa) US Postal Service p/b Berry Floor               43
14 Aitor Gonzalez (Spa) Fassa Bortolo                                   43
15 Antonio Cruz (USA) US Postal Service p/b Berry Floor                 42
16 Felix Cardenas (Col) Cafes Baque                                     41
17 Luis Perez (Spa) Cofidis, le credit par Telephone                    41
18 Jorge Ferrio (Spa) Paternina-Costa De Almeria                        40
19 Stefano Garzelli (Ita) Vini Caldirola-Nobili Rubinetterie            38
20 Miguel A. M. Perdiguero (Spa) Saunier Duval-Prodir                   37
21 Victor Hugo Peña (Col) US Postal Service p/b Berry Floor             36
22 David Fernandez (Spa) Paternina-Costa De Almeria                     33
23 Alexandre Vinokourov (Kaz) T-Mobile Team                             30
24 Benoit Joachim (Lux) US Postal Service p/b Berry Floor               29
25 Eladio Jimenez (Spa) Comunidad Valenciana-Kelme                      28
 
Mountains classification
 
1 Felix Cardenas (Col) Cafes Baque                                     126 pts
2 Roberto Heras (Spa) Liberty Seguros                                  107
3 Santiago Perez (Spa) Phonak Hearing Systems                          102
4 Francisco Mancebo (Spa) Illes Balears-Banesto                         90
5 Alejandro Valverde (Spa) Comunidad Valenciana-Kelme                   67
6 José Miguel Elias (Spa) Relax-Bergasol                                50
7 Francisco José Lara (Spa) Paternina-Costa De Almeria                  42
8 Eladio Jimenez (Spa) Comunidad Valenciana-Kelme                       42
9 Isidro Nozal (Spa) Liberty Seguros                                    40
10 David Fernandez (Spa) Paternina-Costa De Almeria                     35
11 Constantino Zaballa (Spa) Saunier Duval-Prodir                       35
12 Tadej Valjavec (Slo) Phonak Hearing Systems                          34
13 Leonardo Piepoli (Ita) Saunier Duval-Prodir                          32
14 Jorge Ferrio (Spa) Paternina-Costa De Almeria                        32
15 Angel Gomez (Spa) Paternina-Costa De Almeria                         31
16 José Luis Arrieta (Spa) Illes Balears-Banesto                        29
17 Luis Perez (Spa) Cofidis, le credit par Telephone                    28
18 Alexandre Vinokourov (Kaz) T-Mobile Team                             28
19 Carlos Sastre (Spa) Team CSC                                         23
20 Manuel Quinziato (Ita) Lampre                                        20
21 Carlos Garcia Quesada (Spa) Comunidad Valenciana-Kelme               19
22 Unai Osa (Spa) Illes Balears-Banesto                                 19
23 Pablo Lastras (Spa) Illes Balears-Banesto                            17
24 Javier Pascual Rodriguez (Spa) Comunidad Valenciana-Kelme            17
25 Alberto Lopez De Munain (Spa) Euskaltel-Euskadi                      17
 
Combined classification
 
1 Roberto Heras (Spa) Liberty Seguros                                    6 pts
2 Santiago Perez (Spa) Phonak Hearing Systems                           10
3 Alejandro Valverde (Spa) Comunidad Valenciana-Kelme                   10
4 Francisco Mancebo (Spa) Illes Balears-Banesto                         12
5 Isidro Nozal (Spa) Liberty Seguros                                    20
6 Carlos Sastre (Spa) Team CSC                                          32
7 Angel Gomez (Spa) Paternina-Costa De Almeria                          33
8 Luis Perez (Spa) Cofidis, le credit par Telephone                     44
9 Jorge Ferrio (Spa) Paternina-Costa De Almeria                         50
10 Felix Cardenas (Col) Cafes Baque                                     50
11 Manuel Beltran (Spa) US Postal Service p/b Berry Floor               52
12 Francisco José Lara (Spa) Paternina-Costa De Almeria                 52
13 Leonardo Piepoli (Ita) Saunier Duval-Prodir                          53
14 Eladio Jimenez (Spa) Comunidad Valenciana-Kelme                      54
15 Carlos Garcia Quesada (Spa) Comunidad Valenciana-Kelme               55
16 Floyd Landis (USA) US Postal Service p/b Berry Floor                 58
17 Tadej Valjavec (Slo) Phonak Hearing Systems                          66
18 Stefano Garzelli (Ita) Vini Caldirola-Nobili Rubinetterie            69
19 Aitor Gonzalez (Spa) Fassa Bortolo                                   79
20 Miguel A. M. Perdiguero (Spa) Saunier Duval-Prodir                   80
21 David Blanco (Spa) Comunidad Valenciana-Kelme                        85
22 Alexandre Vinokourov (Kaz) T-Mobile Team                             90
23 Erik Zabel (Ger) T-Mobile Team                                       90
24 José Miguel Elias (Spa) Relax-Bergasol                               91
25 Constantino Zaballa (Spa) Saunier Duval-Prodir                       98
 
Teams classification
 
1 Comunidad Valenciana - Kelme                                   190.33.31
2 Liberty Seguros                                                    16.28
3 Illes Balears - Banesto                                            24.37
4 Costa de Almeria - Paternina                                       34.19
5 Phonak Hearing Systems                                             41.52
6 Cafes Baque                                                        52.58
7 US Postal Service p/b Berry Floor                                1.06.53
8 Saunier Duval - Prodir                                           1.18.29
9 Team CSC                                                         1.23.29
10 Cofidis, le credit par telephone                                1.23.57
11 Relax-Bodysol                                                   2.09.35
12 Euskaltel - Euskadi                                             2.21.21
13 Saeco                                                           2.27.02
14 T-Mobile Team                                                   2.30.22
15 Vini Caldirola -Nobili Rubinetterie                             3.39.12
16 Fassa Bortolo                                                   3.42.49
17 Rabobank                                                        3.49.28
18 Quick Step - Davitamon                                          3.54.06
19 Lampre                                                          4.23.35
20 Alessio - Bianchi                                               5.01.20