59th Vuelta a España - September 4-26, 2004
An interview with Francisco Mancebo Pérez, August 3, 2004
Mr. Consistency
By Hernan Alvarez Macias
Mr. Consistency: Francisco Mancebo
Photo ©: Chris Henry/Cyclingnews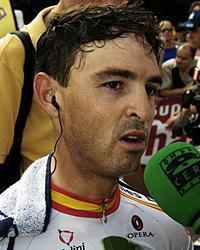 According to Illes Balears-Banesto director Eusebio Unzúe, Francisco Mancebo's greatest strength is his consistency. "He always rides using his head, at his own pace and he doesn't mind what the others do," Unzúe says. "His biggest strength is that he is very consistent. When you look at the big riders in Tour history, you see their greatest value is consistency."
After finishing sixth overall at the 2004 Tour de France - his third top-10 finish in three years - no-one would argue with that. Cyclingnews' Hernan Alvarez Macias spoke with the Illes Balears leader as he readies himself for the third Grand Tour of the year, the Vuelta a España.
Cyclingnews: What do you think about your own performance in the Tour de France?
Francisco Mancebo: Well, the first two weeks were very good for me. Honestly, I felt very good up to the last rest day; I thought I had chances of ending up on the podium. Then I got a cold during the last week as well as the fact that I was a bit tired... well, everything went down. But I am happy, though.
CN: This was your best Tour, considering you reached your best place overall in your career - or you think of another edition was more important for you?
FM: It was the best because I was there in the front and also because I attacked. In other Tours, when I finished seventh [in 2002] or ninth [in 2000] for example, I was more steady. Maybe in those years the race level was a little bit lower and I was not very aggressive. So, this year's Tour was the best for me so far, no doubt about it.
"If I had passed that stage successfully, I would have been fighting for the podium."
- Mancebo speaks about his off-day in the Alps on Stage 15 of the Tour de France
CN: What did you lack to reach the top three?
An off day in the Alps on Stage 15
Photo ©: Sirotti

FM: Well, a little bit of everything. Some luck maybe, that cold that I had got didn't leave me in my best condition. I would have needed some luck in the race, too. For example, that day in Villard-de-Lans [Stage 15], I made a big effort beforehand. I couldn't keep up the pace on the col when [Jan] Ullrich [T-Mobile] attacked; I lost a lot of time there. That situation left me far behind in the peloton, so I tried to do my best in order to lose the least possible time. I made a big effort, I lost some positions, and well... that was a key stage. If I had passed that stage successfully, I would have been fighting for the podium. I truly rode the two time trials without motivation, both in L'Alpe d'Huez and the last one [in Besancon].
CN: What do you think about the way your team rode in the Grande Boucle?
FM: We performed well in general. Especially Vladimir Karpets, who demonstrated he can do good in the Tour. "Chente" García [José García Acosta] also showed up in the road. We had bad luck with the falls; [Mikel] Pradera as well as [Daniel] Becke and [Denis] Menchov went home early because of the crashes. And that fact cut a bit our possibilities in the mountains. However, we made a very good team time trial and we did not disappoint in the flat stages. The truth is that almost all of us did very well.
CN: Is it a victory for you to end up as the first Spanish rider on the general classification in France?
FM: Not at all. It is not a victory. A victory is when you win, whether you are Spanish or not. Being the first Spaniard in the final classification is a mere anecdote.
CN: In order to win the TdF, does one has to train the whole year thinking and being focused exclusively only on this race as Lance Armstrong [US Postal Service-Berry Floor] does?
Flying in the Pyrenees
Photo ©: Jon Devich
FM: I didn't think like that before, but now I changed my mind. If you think of what we have seen this year... seen how Armstrong trained, how he recognized every part of the race, how he thoroughly studied the route, everything he did. I think that nowadays it is essential to train just for the Tour. I consider that the ones who train for two big races like I do won't ride at their best in either of the two competitions.
CN: What is your opinion about Armstrong's historic sixth consecutive triumph in the biggest race of the world as you rode beside him?
FM: The truth is that I saw him so very focused and concentrated. He came to win the Tour. It seemed it was very easy because he didn't have strong rivals. But I think he had no rivals because he didn't concede an inch to anybody. He had a great team that left the rest of the peloton breathless, and then in those cases where a rider resisted, Armstrong himself smashed them. I think it was the strongest Armstrong we've seen in the last years. So, the main point was not that he had no rivals, it was that he was so very strong.
CN: But do you think the peloton respected Lance too much in the mountain stages?
FM: Not at all. The peloton had enough work following his wheel. Because the pace [Floyd] Landis, [Jose] Azevedo, [José Luis] Rubiera and company left us all breathless and without any chances of attacking Armstrong. We struggled very much to follow Lance. They, Armstrong and his team, have been very superior to the rest.
CN: Who is the rider who impressed you the most in the race?
Armstrong impressive
Photo ©: Caroline Yang

FM: Armstrong is the only one who really impressed me because he made incredible things. But I would say that [Andreas] Kloden [T-Mobile] became again the rider he was in 2000 and it was a surprise. Actually, I wouldn't say a surprise - I didn't expect it, but he has quality; he showed he is that good rider people said four years ago.
I would mention the combativeness of some people like [Richard] Virenque [Quick Step-Davitamon] and Jens Voigt of CSC. Virenque was fighting there despite his age and his strength is a big surprise too. And Voigt was very strong the whole year and he remained like that there, attacking. I would say they were the three most surprising riders for me.
CN: Is the Vuelta a España the only Grand Tour left for Spaniards? When are we going to see Spanish cyclists competing with the big names in the Giro or the Tour? This is something we haven't witnessed in the last few years, apart for Joseba Beloki, who had some possibilities and ended up three times in the top three in France.
FM: Beloki didn't have chances of winning in France, either. He always fought for the second or third place. There have been no Spanish riders fighting to win the Tour. Since the era of [Miguel] Induráin [Induráin last won the Tour in 1995 and the Giro in 1993], no one has had a possibility of winning.
And in the Giro, well... we were close, we reached the podium with Unai Osa, [Abraham] Olano was second. Maybe another year with another kind of Giro route, things can change a bit. It would be very good as a goal to watch the Spanish riders up in the Giro, too.
In the Tour, let's hope in another year there will be a winner among one for us. There will be people with enough maturity, especially [Ibán] Mayo and [Haimar] Zubeldia. Mayo will certainly delay his preparation for reaching the 2005 Tour de France in his best condition. Mayo is able to become one of the main contenders in the Tour's next editions.
Pereiro no surprise
Photo ©: Chris Henry

CN: Was a surprise for you to watch Oscar Pereiro [Phonak] ending up among the top 10 in the GC?
FM: No, it was not a surprise. He is a very good rider, he did very good races and he did a good Giro d'Italia, so it is not a surprise. He was very steady; he didn't ever falter and in the end it was enough to finish tenth. Taking into account something very important is that is he suffered a puncture in the team time trial and his team didn't wait for him. So, there are three or four minutes that he lost and instead of ending tenth he would have ended eighth I guess. He is very consistent, he is always in the front.
CN: I guess it was very good for you to win the Spanish national championship in June?
FM: Yes, it was moment of joy. It was a bit unexpected for me because the route was much better for other kind of riders like [Alejandro] Valverde or [Miguel Angel Martín] Perdiguero who are fast. Normally, it would have been a small group for the sprint. But I attacked [before the sprint]; it was a great victory that cheered me up for the Tour and the rest of the year.
CN: Are you going to ride the Vuelta a España?
Ola Vuelta!
Photo ©: Roberto Bettini

FM: Yes. That's what I told you before about preparing two big races in a year. One can not perform at his best in both. One must keep some energy for racing both competitions.
CN: Do you think this could be your year to win the Vuelta?
FM: Well, it's difficult because the Vuelta is not a race that I know much. I rode it two times, and I quit the first time I raced it. My goal is to reach the podium, but I don't know if this will be my year to win this race. First, I need to know the race completely; the way of riding is different than the way the Tour is ridden. I hope I am able to be there in the top position looking for the victory, but it's going to be very complicated.
CN: How do you see your team for the Vuelta?
FM: The squad is not totally named yet, but most of the time we go to this race with a very solid team and with everybody in good shape. Everybody wants to ride the Vuelta and instead of being nine riders in top condition, maybe there are 12 or 13 riders in top condition. So, we will certainly go with even a better team than the one we presented at the Tour.