Tour de France News for May 25, 2004
Edited by Jeff Jones
McEwen heads home
The 15th stage of the Giro was the last one for Robbie McEwen (Lotto-Domo), who boarded a plane to Brussels in order to return home to Everbeek in Belgium. McEwen, who never intended to finish the Giro, will not go away empty handed either. He won a stage and finished second to Petacchi three times, including today.
"I had great legs today and the team worked well," McEwen told Cyclingnews after Stage 15. "I thought I could get through at the end, but just missed the gap." He also promised to renew the battle with the Fassa Bortolo super sprinter at the Tour de France. "Petacchi is beatable and I'm looking forward to the Tour," added McEwen.
RAGT Semences meet
Sylvain Calzati (RAGT)
Photo ©: AFP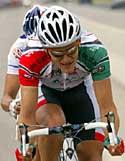 The RAGT Semences-MG Rover team, fresh out of the Tour du Languedoc-Roussillon, is holding a training camp in the Monts du Beaujolais near Villefranche sur Saône between May 24-27. The team will use the occasion to do some intense work with a view to the forthcoming Dauphiné Libéré and Classique des Alpes. Each day they will be riding in the mountains, finishing with the Monts du Bugey and the Le Grand Colombier.
The team's neo-pro Sylvain Calzati rode well in the Tour du Languedoc-Roussillon, being part of a breakaway that almost made it to the finish in Stage 3. Calzati commented about one of his better known competitors in that race that, "I admit that I'm impressed to be riding alongside Armstrong whom I admire particularly. I like the way he prepares his races to the nearest millimetre, leaving nothing to chance. The way I see it, I prefer not to race at all if it's just to play a walk-on part. I'm much more in favour of a tightly-packed training programme and prefer to avoid taking part in races arbitrarily. Not much chance of success with that sort of arrangement in my view. To succeed on the pro circuit, I'm persuaded that you have to plan everything ahead."
Calzati's aim is to win a race "any race", and more specifically he wants to do well in the Dauphiné Libéré "which runs practically right past my front door. But there is also the Classique des Alpes and the Route du Sud. Stage races with steep climbs on which I tend to do well. Then there are the French Championships in Pont des Fossés. As an amateur, I raced four as a Junior, and won as an Espoir. I know the course by heart, and imagine that I could do well."
No Tour for Vandenbroucke
After bailing out of the Giro d'Italia with a case of bronchitis just before the race began in Genova, Frank Vandenbroucke will not contest the Tour de France for Fassa Bortolo either. Instead, the Belgian will focus on the Olympic Games and the fall classics.
Team manager Giancarlo Ferretti will build a Tour team around Alessandro Petacchi for the sprints, and he also hopes that former Vuelta a España winner Aitor Gonzalez will return to form before July. In the meantime, questions continue over the fate of Vandenbroucke and when and where he will return to racing.
"I've been in cycling for 30 years and I've worked with riders like Argentin, Bartoli, Bugno and Van Lindens, but never before have I had to continually comment on the program of one rider," Ferretti said, quoted on sportwereld.be. "Anyway, we count on him for the classics. Does he necessarily need a grand tour to become a few percent better? I don't think so."
Belgian national coach José De Cauwer doesn't necessarily agree with Ferretti's assessment, calling Vandenbroucke's absence at the Tour 'a sin'. De Cauwer has his eye on VDB for Olympic selection, but insists that competition for the Belgian national team will be stiff.
"I want some positive indications," De Cauwer said. "I'll gladly take Vandenbroucke along, but I need to see something. I only want one thing: results."
Ullrich hits the Alps
T-Mobile's leader for the Tour de France, Jan Ullrich, has taken a page from the Lance Armstrong handbook and set up camp in the Alps for some tests on the major climbs of this year's race. In particular, Ullrich has been training on the slopes of Alpe d'Huez, scene of what should be a crucial individual time trial this year. Having finished second in the Tour on five occasions (three behind Armstrong), Ullrich is still in search of his second overall victory after 1997.
"If I would have won last year and not finished second, I probably would have stopped racing," Ullrich said in an interview with Bunte. "This summer I once again have a big goal."
It's been another lacklustre spring for the German, who has once more confounded the critics with a slow start to the year and apparent excess weight. Nonetheless, Ullrich continues to train and insists that his preparations for the Tour are on track.
"My hard training in the past few weeks has been done completely with the Tour de France in mind," he explained. "I've been working harder and harder, which I need to do in order to win the Tour, and I can feel that my form is coming."
Hamilton in the Pyrénées
After a short trip to the United States following his overall victory in the Tour de Romandie last month, Phonak captain Tyler Hamilton has begun his own Tour reconnaissance in the Pyrénées mountains. Hamilton will return to racing at the Dauphiné Libéré, where he will face the likes of Lance Armstrong and Iban Mayo, among others.
"I rode the last kilometres of the stage to la Mongie and I rode all the way to the Plateau de Beille," Hamilton said of his training outings. "I'll also check out the the climbs in the Alps and the Alpe d'Huez time trial at least three or four times."
Holm back to work
T-Mobile's Brian Holm has taken up his job as assistant sports director with the team. In the last few months the Dane underwent surgery and chemotherapy for intestinal cancer. In February, he wrote, "I've never been more scared in my life." Now, he happily declares, "I feel like I have been born again."
His return was celebrated not only by his own team, but also by riders and management from various teams last Sunday at the Bayern International Rundfahrt, where he replaced Mario Kummer in the team car.
Holm didn't get much time off before his next assignment. He'll be leading the team in the Tour of Luxemburg this week. The tour also marks the return of T-Mobile's Giuseppe Guerini, who two weeks ago suffered severe facial injuries in a crash after colliding with a pedestrian during training. Santiago Botero will also be there, apparently still searching for his form.
T-Mobile for the Tour of Luxemburg: Mario Aerts, Santiago Botero, Giuseppe Guerini, Torsten Hiekmann, Serguei Ivanov, Daniele Nardello, Christian Werner, and Steffen Wesemann.
Courtesy: Susan Westermeyer
(All rights reserved/Copyright Knapp Communications Pty Limited 2004)