Tour de France News for June 23, 2004
Edited by John Stevenson
US Postal Tour team announced
Lance Armstrong (right) and Tour team-mate Viatcheslav Ekimov at the Dauphiné Libéré
Photo: © www.velofotopro.fr.st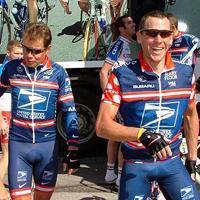 Lance Armstrong's US Postal team has announced the riders that will join the Boss when the Tour kicks off in Liege on July 3. Six members of last year's squad return to do battle on the roads of France, with two new faces, one of whom will be riding his first Tour de France.
The squad comprises Americans George Hincapie and Floyd Landis, Russian Viatcheslav Ekimov, Pavel Padrnos of the Czech Republic, Jose Azevedo of Portugal and Spaniards Manuel Beltran, Jose Luis Rubiera and Benjamin Noval. Azevedo and Noval are first-year team members. The team's two reserve riders are Luxembourger Benoit Joachim and Victor Hugo Pena of Colombia.
"Basically, we have the same team as the other years," said Armstrong in a statement on the team's official fan club site www.thepaceline.com. "We have a very experienced team and more than anything else, we have a very committed team. They know what it takes to win the Tour and they want to do that again."
Armstrong also commented on this year's Tour route, saying, "The last week looks really tough, the toughest we have ever done. It will be much better to have a stronger second half than a strong first half."
Team general manager Don Osipow told Cyclingnews that the team was feeling "as confident as we have been the last handful of years" about its ability to deliver Lance Armstrong a sixth Tour de France victory. "This has become the team's main goal," said Osipow. "Johan [Bruyneel, USPS directeur sportif] has created a schedule to have a number of riders peaking [for the Tour] and this year he wants to have guys peaking toward the end of the race, with the more difficult final week."
"There's a lot of experience in this team," said Osipow, "Lance has said that experience will be key and everyone except Noval has done a grand tour before." However, Osipow stressed that nothing is certain, "We have a plan and after the gun goes off in Liege anything can happen. Some years we've been able to control, but you saw last year that things don't always go to plan."
Directeur sportif Johan Bruyneel offered an extensive analysis of his reasons for the selection, with particular emphasis on the area where challengers to Armstrong will have to make their moves: the mountains. "We will have a very strong team in the mountains, stronger than last year," said Bruyneel. "Azevedo is riding very strong and even in the Dauphiné (Libéré), where he wasn't in top shape, he was always there with Lance and was able to attack sometimes. I am confident he will be a key rider in the mountains. Let's not forget he placed fifth in the Giro (2001) and sixth in the Tour (2002). He can do a lot of work when we need him.
"As for Chechu (Rubiera), of course, we know what he is worth every year in the Tour. I trust he will be in good shape when the mountains arrive. Triki (Beltran) the same - we all saw what he was able to do last year. I hope he will be on the same level (this year) and even if he will be a little less, he will still be a good supporter in the mountains. Where we will improve is with Floyd. Don't forget he came back last year from his hip fracture just a few months before the Tour and didn't really play a role in the mountains. This year, he will. That will give us four support riders for Lance in the hills.".
US Postal's two super-rouleurs, George Hincapie and Viatcheslav Ekimov bring the experience of 21 Tours de France between them - 14 for 38-year-old Ekimov who is likely to be the oldest rider in this year's Tour and seven for Hincapie. "I also looked to two guys you always know will be there - George and Eki," said Bruyneel. "George even added support in the mountains last year. Eki will play his usual role in the team time trial and on the flat and rolling stages."
Filling the final two spots are Pavel Padrnos and Benjamin Noval, selected on experience and fitness respectively. "For Pavel, I choose him for his experience," said Bruyneel. "It was not an easy choice between Pavel and Benoit. For those two, they are basically in the same condition but I went with the experience of Pavel. As for Noval, I selected fitness over experience. This will be his first Tour [de France] but he has raced in three Tours of Spain. He is very professional and very dedicated and will do his job. He may be nervous in the beginning but that's the risk you have to take. You have to be in shape and he was in good enough shape to be selected."
Bruyneel said Armstrong agreed with his selections. "I talked with Lance about the selection," said Bruyneel. "He didn't want to make any decisions and agreed with my choices. He has a lot of confidence in this team. We have six riders from last year and two new guys - although Azevedo was always guaranteed a spot. Lance is confident he has a strong team and now it's up to him to be ready. His form is coming. This year, things were planned a little different. The Tour route is different, with the mountains coming so late, so we are trying to have everyone reach top shape right at the start of the Tour, maybe even a bit later. It's not easy to plan but I think we calculated it well and the guys have confidence that their form is coming."
Evans out of T-Mobile Tour team
Cadel Evans will probably not be riding the Tour de France as part of the T-Mobile team, contrary to yesterday's unofficial team listing. Sources close to Evans, who recently won the Tour of Austria, say he learned late last night that his current status is 'first reserve' although he has been working toward being a Tour team member all season.
In the most recent update to his diary, posted yesterday before he learned he was not in the team, Evans expressed his frustration with not knowing if he was going. "Jan and Erik are the only two riders who know for sure that they are going to the Tour," he said. "I've been training for the Tour since October last year and now here we are less than two weeks from the start and I still don't know if I'll be there."
In other T-Mobile Tour news, Tobias Steinhauser has indicated on his website that he will not be able to ride the Tour because of the injuries he sustained in a crash at last week's Tour of Switzerland.
Madariaga's Tour dream
Iban Mayo (Euskaltel)
Photo ©: AFP

With team leader Iban Mayo developing as a contender for victory in the Tour de France, Euskaltel-Euskadi manager Miguel Madariaga has already realized his dream of taking his modest Basque team to the Tour. Now with a budget of €6 million and well rounded group of riders, including two top-ten finishers from last year's Tour, Madariaga can realistically dream of the ultimate success in cycling. In an interview with AS.com, Madariaga stressed the importance of the entire team, not just the strength of his leader Iban Mayo, recent winner of the Dauphiné Libéré.
"The Basques have always had a special gift of teamwork, and that's been seen in the Tour by the old KAS team," Madariaga explained. "When we began with the Euskaltel-Euskadi team eleven years ago, our goal was to make it to the Tour. Honestly, we never dreamed about one day being able to win it."
This year Madariaga expects a somewhat different line up for the Tour, with a new importance placed on the team time trial. Euskaltel has traditionally been a team of climbers, but to compete with the likes of Lance Armstrong and Jan Ullrich in the Tour, the team will also have to limit its losses against the clock.
"If Armstrong, Ullrich or Hamilton take more than a minute from [Mayo] in the team time trial, where is Mayo going to get back that minute?" Madariaga asked aloud. "He'll have to attack a hundred times throughout the race, and those riders will still be there. It's for that reason that I place as much importance on the team."
Madariaga admitted that Mayo does not necessarily relish the role of leader, having had difficulty carrying the pressure in the past. This year, however, Mayo's confidence has taken big leaps, thanks in no small part to his victory against Armstrong, Hamilton and others in the Dauphiné, including his crushing time trial win on the Mont Ventoux.
"He can win the Tour because he has everything to make the difference," Madariaga said of Mayo. "He just lacks a bit of experience. If he doesn't make any mistakes, he can at least make the podium. But don't forget that he's covered by a rider who was fifth in last year's Tour, Haimar Zubeldia."
Madariaga knows who his teams rivals will be for the Tour, and will now wait to see how his close-knit Basque team rallies to support Mayo and/or Zubeldia in the collective bid to unseat five-time winner Lance Armstrong.
Pevenage on Lance vs. Jan
Jan Ullrich's personal assistant Rudy Pevenage is more confident about the prospects of his rider in the upcoming Tour de France. Before Ullrich won the Tour de Suisse on the final day by just one second, Pevenage told L'Equipe, "The Tour de Suisse wasn't really an objective, but if he can win it he'll be very happy Sunday night. It's important for the morale."
With that morale booster behind him, Ullrich will enter the Tour with his best June form for years, after a final month build up that included the Tours of Germany and Switzerland. "Jan's condition is a little better than last year," Pevenage told Belgian TV channel Sporza. He hasn't had any health problems in the last month. And if there's one thing that there is no doubt about, it's his base condition. He trained in his high pressure chamber sometimes. In the afternoon he was training on the road for six to seven hours."
Pevenage rued the absence of Alexandre Vinokourov, who was third in the Tour last year but injured his shoulder in a crash during the Tour de Suisse. "Vino is irreplaceable," said Pevenage. "Zabel will certainly do his sprints, but the other seven should ride in Jan's service."
Pevenage hopes that T-Mobile will not lose any time to US Postal in the Stage 4 team time trial, and is also keeping an eye on Stage 3 from Waterloo to Wasquehal, which contains a long stretch of cobbles near the finish [and also a small Tour de France museum near Frasnes-lez-Anvaing en route-Ed.]. "A few will lose time there," said Pevenage.
On the climbs, Pevenage still rates Armstrong as the best. "Jan cannot ride away with a blistering uphill attack," he said. "That remains the specialty of Lance. But if the condition is a little improved, he can certainly respond to such an attack, à la Indurain. As for race instinct, Lance is perhaps a bit better than Jan, but he has still reacted well in the last few years. Take Jan's attack on the Tourmalet last year. He felt good and with some luck he could have been away with someone like Mayo."
An interview with Theo De Rooij
This year, after having worked as a sports director with the team since 1996, Theo De Rooij took over the helm from Jan Raas to become manger of Rabobank. With their team for the Tour de France selected just a few days ago, Cyclingnews' Gabriella Ekström spoke with De Rooij to find out about life as a decision-maker on one of the world's best teams.
At the end of March, the team's long-time sponsor Rabobank decided to prolong its sponsorship until the end of 2008. The official announcement was made on the morning of Tour de Flanders, and the future should look bright for Theo. Does he have faith in the future?
"I sure have. I have always been an optimistic person and we have a great sponsor with Rabobank. We'll celebrate 10 years engagement with Rabobank next year. This year has felt a bit like a fresh start, with Erik Breukink taking over from me as sports director and giving new impulses to the team. I think things have evolved in a smooth way. Erik is always calm, experienced in cycling and manages to keep a good overview of the team in race situations, despite the fact that he was relatively inexperienced in this new field at the start of the year. On top of this, there's no doubt that our future rests with our young talented riders, both those in our top performing TT3, as well as those in our TT1. They are very important for the teams, our sponsor and for Dutch cycling in general."
Despite a new contract with the sponsor, and good colleagues, it can sometimes be hard to hold your head up if things are not going as planned, but once again, De Rooij turns to his co-workers: "All teams experience some hard times, but we have very good people on board and we have been working together for many years. This gives the team a good balance and when the results are lacking, the confidence in our line of work stays," he says.
"My way of handling stress is by moving and discussing, I have always been someone who 'moves around'. I feel my job is sometimes extremely exciting but I have always stood behind my decisions, even though some few million people may have seen and thought something else about it."
Earlier this year, De Rooij spoke about the keystones in the team, and the breathing space allowed between the spring classics and the Tour. In June, we should find ourselves just in that gap. "Naturally the Tour de France is the most important race for us so we are creating a 'gap', a possibility for the riders to recuperate from the Spring Classics. 'Doing' the Spring Classics might be even harder than finishing a three week stage race. The preliminary Tour selection was made in the beginning of May, with some eleven riders for nine places. The key riders are Rasmussen, Boogerd, Leipheimer, Dekker and Freire. [note: the final selection was announced on June 22, with Freire excluded due to injury-Ed.]
Click here for the full interview with Theo de Rooij.
Zberg out, Wegmann in?
Team Gerolsteiner has announced that Markus Zberg will not be taking part in the Tour de France, due to injuries suffered in a crash in the Tour de Suisse last week. Zberg fell in the fourth stage and badly injured his right thumb, which required an operation. "There's simply no point," said Zberg. "I can't even hold a drink bottle yet."
Zberg will now concentrate on recovering in time for the second half of the season. His replacement will be named after the national championships this Sunday, although team manager Hans-Michael Holczer told DPA that there is a "90 percent chance" that Fabian Wegmann will go. "He has recovered well from the Giro and should try something in the first six to eight days of the Tour. There won't be any particular tasks for him...Perhaps he'll make it to the finish in Paris."
The rest of the Gerolsteiner Tour team is: René Haselbacher (Aut), Danilo Hondo (Ger), Sebastian Lang (Ger), Sven Montgomery (Swi), Uwe Peschel (Ger), Ronny Scholz (Ger), Georg Totschnig (Aut) and Peter Wrolich (Aut).
No Maier in Tour prologue
Austrian ski star Hermann Maier will not take part in the Tour de France prologue this year, despite expressing a strong desire to do it again after his debut last year. Maier cited a lack of training and a cold for his no show, as he wanted to have a better result than in 2003. Last year he lost 1'19 to prologue winner Brad McGee over the 6.5 km course, and finished a mere 13 seconds slower than the slowest rider on the day.
(All rights reserved/Copyright Knapp Communications Pty Limited 2004)