Tour de France News for June 21, 2004
Edited by Jeff Jones
Morale boost for Ullrich
The second last man
Photo ©: Franklin Tello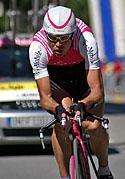 In winning the final stage and the overall classification of the Tour de Suisse, Jan Ullrich (T-Mobile) is firmly on track for the Tour de France, which starts in less than 14 days time. The German inflicted an agonising defeat on home favourite Fabian Jeker (Saunier Duval), beating him by 42 seconds in the TT which gave Ullrich the overall victory by just 1 second.
"I had hopes for the time trial and was aiming for the victory, but I did not expect that I would pull back the 41 seconds on the general classification," said Ullrich, who wore the gold jersey for the first six stages before Jeker took it from him in Stage 7. "When I was under way I didn't believe I would succeed. At the beginning, the wind blew from behind and the parcours was not as hard as I thought. Now I'm pleased with my win, because I have fought also a little for Vinokourov in this race - we all miss him. To win the Tour de Suisse is a great highlight."
With two weeks to go before the start of the Tour, Ullrich was very happy with this morale boost. "That was the perfect preparation and another push for the motivation in the direction of the Tour," he said. "I have always said that the Tour de France is the most important for me. Thus I have put everything else at a lower level."
Last year, Ullrich finished 7th in the Tour de Suisse, losing 2'27 to winner Alexandre Vinokourov. His performance in this year's race is a marked improvement from 2003, especially in the mountain stages. "In the hard stages I definitely noticed how I was improving more and more. I was always sure that my form was on the right track, but I did not expect these successes at this point in time."
Heras confident
Heras on track
Photo ©: AFP

Entering this year's Tour de France as the leader of the Liberty Seguros team, two-time Vuelta a España winner Roberto Heras says he has the confidence necessary to unseat defending Tour champion Lance Armstrong. Heras, recent winner of the Euskal Bizikleta, credits both his former US Postal Service team leader Armstrong and his new team under the direction of Manolo Saiz with his entry in the Tour as a contender for the overall classification.
"I feel stronger mentally and physically," Heras said, quoted in La Dernière Heure. "Most of all mentally, as that's what I learned most from Armstrong, who in dominating the Tour for five years owes that to his mental strength.
"I think there are other riders who prepare as well as Armstrong for the Tour, but Lance knows better than anyone how to convince himself that he is stronger than the rest," Heras continued. "He never thinks of defeat, only of victory."
This year Heras will hope to use his explosive climbing skills, which in recent years have been put in the service of Armstrong at the Tour, for his own bid for yellow in Paris. Backed by a strong Liberty Seguros team and experienced directeur sportif Manolo Saiz, Heras believes now is the time for his Tour assault.
"Manolo had already made me an offer in 2000, before Armstrong had called me, but I didn't think I was ready to tackle the ultimate challenge of the Tour," Heras explained. "I preferred to work for the American and build my own experience. Now, three years later, I feel like I've stepped up another level... Today I count myself among those who can beat Armstrong, as long as all of the right conditions come together."
(All rights reserved/Copyright Knapp Communications Pty Limited 2004)