Tour de France News for June 11, 2004
Edited by John Stevenson and Jeff Jones
Armstrong loses time, not confidence
By Chris Henry in Bédoin
Lance Armstrong plays it down
Photo: © CN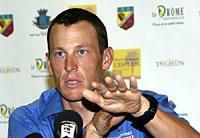 True to form, defending Dauphiné Libéré champion Lance Armstrong (US Postal Service) gave nothing away in a post-time trial press conference Thursday. Armstrong once more found his explosive climbing style blunted by the relentless slopes of the Mont Ventoux, this time in an individual test against the clock where he finished 'only' fifth best behind stage winner Iban Mayo (Euskaltel-Euskadi). Mayo clocked 55'51 for the 21 kilometre ascent, smashing Jonathan Vaughters' previous time trial record of 56'50 and assuming command of the general classification in this year's Dauphiné.
While Mayo made no secret of his early ambitions to win the Dauphiné, Armstrong maintained that he was not going to ride beyond himself to defend his title, having found he dug a bit too deep prior to last year's Tour de France. Regardless of overall ambitions, the Mont Ventoux time trial still represented a critical pre-Tour test for Armstrong and his challengers, notably Mayo and Tyler Hamilton, who finished first and second just as they did in the prologue last Sunday. Mayo's win was not a great surprise, but the ticks of the clock that separated the Basque rider from his American rival raised a few eyebrows.
"I'm a little disappointed," Armstrong's directeur sportif Johan Bruyneel told Cyclingnews after the stage. "Not in Lance, but in the differences between him and Mayo. It shows we are still not ready for the Tour. Lance did what he could today. Mayo beat the record by almost a minute which is an incredible performance."
Armstrong himself echoed the same thoughts, insisting that he has never underestimated Mayo, Hamilton, or the others, but nonetheless expressing a bit of regret that he lost nearly two minutes in just over 21 kilometres. However, when pressed for answers as to what this performance would mean for the upcoming Tour de France, where Armstrong will make his bid for a record-breaking sixth victory, he conceded nothing as far as his own prospects were concerned.
"Two minutes is a lot," Armstrong said simply. "But it's a long time until the Tour de France. The Tour de France was not decided today."
Armstrong is always one to stress his respect for his rivals, in particular Jan Ullrich (who is not racing at the Dauphiné), but increasingly riders like Mayo and Hamilton who have progressed to the point of becoming serious contenders for the Tour de France title.
"The defending champion who comes back and has no fear is the one who loses," Armstrong said of his 'fear' of the most dangerous riders. "I knew Mayo would be tough, and he's clearly super right now, but I'm not pulling any irons out of the fire."
The hardest climb in France
Armstrong on the hardest climb
Photo ©: CN

Armstrong has faced tough days on the Mont Ventoux in the past, and today was no exception. Even if he put in an adequate ride to finish fifth, he lacked the kick which normally lets him soar faster than his opponents on the toughest of slopes. Today's ride reminded Armstrong that the Ventoux is a climb to reckon with.
Armstrong's decision to race this year's Dauphiné, an event he had initially planned on skipping, was based almost entirely on the inclusion of the mountain time trial, which he viewed as vital for preparation for the Tour de France and the Alpe d'Huez time trial to come in July. The two climbs are quite different, but the experience of doing time trials on such tough mountains can prove valuable.
"They're both very hard climbs...Very hard, very hot. Alpe d'Huez is a considerably shorter effort. It's 30 to 35 minutes whereas [Mont Ventoux] is an hour," he explained.
"This is the hardest climb in France," Armstrong insisted. "There's nothing harder than the Ventoux, at least not that I've experienced."
Mayo's Ventoux performance
Iban Mayo (Euskaltel)
Photo ©: AFP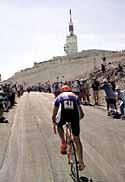 In winning the fourth stage of the Critérium du Dauphiné Libéré up Mont Ventoux yesterday, Iban Mayo (Euskaltel-Euskadi) became the fastest cyclist ever to scale the Giant of Provence. On a warm June day, Mayo pedaled the 21.6 km from Bedoin (280 m) to the summit (1909 m) in a time of 55'51, an average speed of 23.2 km/h and nearly one minute faster than Jonathan Vaughters' 1999 record of 56'50. In terms of altitude gained per hour (VAM), Mayo ascended the climb at a speed of 1750 m/hr. Neglecting the "flatter" first 5.7 km of the climb, which he did at 1430 m/hr, he rode at 1820 m/hr for the final 15.9 km. And between the 5.7 km and 15.5 km time checks, his vertical speed was an impressive 1860 m/hr.
"I reached a new level," Iban Mayo was quoted by L'Equipe as saying. "I am in great form and I will not let these opportunities go. I am here to win. I will see after this what I can do in the Tour. I want to arrive as fresh as possible but I will nonetheless try to maintain this level. Last year, I weakened in the last week of the Tour. I hope that that will not happen this time. Because I feel my body is stronger than in 2003."
In describing his ride up Ventoux, Mayo said, "I climbed the mountain in three distinct phases: The first 5 km, the easiest, I dedicated to finding my rhythm and adapting myself to my new bike [an Orbea Starship prototype]. I was surprised when I heard that I had the best time. The next 10 km I went at my normal pace, and in the final six I went at maximum, without calculations. I think that this was a great test for the Alpe d'Huez time trial.
"Armstrong's performance surprised me. I expected to see him higher up, I suppose he had a bad day," estimated Mayo.
Editor's note: VAM is Dr Michele Ferrari's coined term for Velocita Ascensionale Media [average climbing speed], and is a measure of a rider's rate of ascent. In mountain stages during tours, most of the work a rider does goes to overcome gravity, so VAM is a useful indicator of the rider's form on that day. It's also a way of normalising a rider's performance across a variety of climbs, providing they are steep and even enough (between 7 and 10 percent gradient with few false flats).
For more information, see the explanation at the bottom of this interview.
Editor's note 2: One of our readers, Dr. Edward P. Debold, compared Mayo's ride yesterday to Tom Danielson and Geneviève Jeanson's record breaking rides on Mt. Washington, USA in 2002. Mt. Washington is 12.3 km long and ascends 1441 m. Danielson's time of 49'24 was a VAM of 1750 m/hr - a performance that would have "virtually" got him to the top of Ventoux in 55'50(!). Similarly, Jeanson's time of 54'02 was a VAM of 1600 m/hr, which would have "virtually" placed her in the top 20 in yesterday's stage four.
Editor's disclaimer: These comparisons are for interest's sake only, and Mt. Washington cannot be compared with Mont Ventoux as it doesn't have a "flat" first 5.7 km. Thanks to Jonathan Vaughters for the Ventoux analysis: "Mayo would have killed Danielson on Ventoux."
Serge Baguet out of the Tour
The consequences of a freak crash while out riding with training partners Peter Van Petegem and Scott Sunderland last Thursday are more serious than Serge Baguet anticipated at that moment. After coming home, Baguet's knee started swelling and he started feeling off-colour and feverish. It appeared that the wounded knee had become infected and antibiotics were urgently administered. Baguet's doctor commented that it was a good idea to have the knee looked at immediately as it appeared to be a similar case to that which Museeuw experienced after his crash in Paris-Roubaix.
It means that Baguet won't be able to ride the bike for a quite some days and that thus he will be watching the National Championships and the Tour de France from the sidelines. The former Tour de France stage winner is shaken by the incident but is already targeting the races for the second part of the season.
(All rights reserved/Copyright Knapp Communications Pty Limited 2004)