Tour de France News for June 9, 2004
Edited by John Stevenson
Beloki & the Tour: will he or won't he?
Joseba Beloki
Photo: © Martin Hardie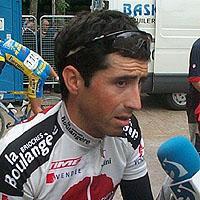 The question of Brioches la Boulangère rider Joseba Beloki's participation in the 2004 Tour de France took another twist yesterday when he told news agency FEF that he would be riding, contrary to previous reports that he was about to pull out.
"In spite of my problems with allergies, the Tour is not in danger," said Beloki, adding that he would approach the Tour "with ambition."
"I have allergies and under French law I have problems with my treatment. If I cannot take my usual thing I will have problems in competition," he said. Beloki has a permit to use a medication containing cortisone, but this is not permitted under French regulations.
Between his slow recovery from the fall in last year's Tour in which he broke his hip, problems over his medication and the recent news that his team's sponsor is withdrawing at the end of 2004, Beloki has not had a great year so far. Now, he wants to put it all behind him and get on with racing.
"I expect that you will soon see the Beloki of last year again. I want to forget the problems and return to being a cyclist," he said. "I have recovered perfectly from the fall, but there were other complications. I was not a mistake to come to France and I affirm my decision."
Beloki said that despite everything he will be there when the 2004 Tour de France leaves Liege on July 3. "Now I am concentrating on the Alps, then I will ride the Route du Sud [June 19-22] then the Spanish championships and the Tour. Those are my immediate plans," said Beloki.
Basso prepares for Tour
Ivan Basso (Team CSC), considered by many to be an outsider for the Tour de France, continues his preparation this week at the Dauphiné Libéré, but as with some of his key rivals, he has no intention of over-extending himself in the pre-Tour test. Basso will likely be considered a co-leader for CSC at the Tour, along with Spaniard Carlos Sastre, and has been tipped by US Postal Service directeur sportif Johan Bruyneel as a real danger man.
"I've trained and raced a lot this spring, but all the time I've focused on the Tour de France," Basso explained on the team's website (team-csc.com). "I can feel that I'm in better shape now compared to same time last year, and everything is going according to plan, which also means I won't try to make any big results in a race like Dauphiné Libéré."
Basso has also learned one of CSC director Bjarne Riis' important training techniques, which has already helped the team to success in the early season stage races.
"I've trained more often on my time trial bike than I used to do in the past," Basso explained. "Not only can I feel I'm getting better, I can also see it from my results this spring. Apart from more training, we've been trying to improve my position on the bike, especially during our stay in Boston," Basso added, referring to his wind tunnel testing at MIT in conjunction with bike sponsor Cervelo.
RAGT hires new doctor
The French RAGT Semences-MG Rover team has hired a new team doctor, Samy Mekloufi. The team's former doctor, Roland Mathieu, passed away two weeks ago. Mekloufi is new to cycling but worked with a regional rugby team near Lyon, France.
(All rights reserved/Copyright Knapp Communications Pty Limited 2004)