Tour de France News for June 7, 2004
Edited by Chris Henry
No bluffing for Mayo
Iban Mayo
Photo ©: AFP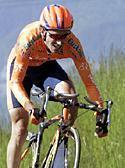 Second in Saturday's Classique des Alpes and victorious in the prologue of the Dauphiné Libéré, Iban Mayo (Euskaltel-Euskadi) isn't hiding any of his ambition in the mountains of France. With the Dauphiné assembling a number of Tour de France favourites, notably defending champion Lance Armstrong and Phonak leader Tyler Hamilton, Mayo is eager to compare his form against his top rivals. So far so good for the Euskaltel leader, who edged out both for the first yellow jersey of the race.
"I'm going to fight every day to win the overall," Mayo said simply after his victory.
Despite their strong rides, both Hamilton and Armstrong downplayed their plans for the final classification in a week's time. The two Americans insisted on the day of the prologue that the Dauphiné is a race of preparation for the Tour de France.
"It was a good test," Hamilton said. "The Dauphiné is not a real objective, but I'm very happy to have beaten Armstrong by one second."
No GC plans?
Photo ©: AFP

Armstrong, who found a formidable opponent in Mayo a year ago, maintains that this year he will take a more reserved approach to the Dauphiné. "I know that I have to conserve my energy for July," he said. "Winning stages is one thing, but we want to keep something in reserve."
Armstrong's directeur sportif, Johan Bruyneel, echoed these sentiments. "(US Postal Service) has changed our strategy a little bit this year at the Dauphiné," he explained. "I think it's good that there's a few teams that are really strong and we can see what happens. This race won't be decided until we get to Grenoble."
Mayo, meanwhile, doesn't seem to buy their stories.
"I don't really believe that Armstrong and Hamilton are here without any general classification ambitions," he commented, noting their strong performances in the prologue. "But no matter what, the Dauphiné is an important test for all three of us."
Beloki not going to the Tour?
By Martin Hardie in Durango
Beloki not happy
Photo ©: Martin Hardie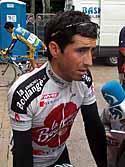 During the course of the final morning of the Euskal Bizikleta, the word was according to Basque radio station EITB that Joseba Beloki had said that he would not be going to compete the 2004 Tour de France. Ever since his dreadful crash descending in the 2003 Tour, the Basque rider has been plagued by a difficult recovery and comeback trail.
First of all in the months immediately following the Tour he had to contend with his injuries and the slow process of rehabilitation. Over the winter he started to be seen on the bike - but it was not a habitual or constant occurrence. His second problem came with his attempts to get back on the bike - his old home ONCE-Eroski had shut its doors and as Director Manolo Saiz searched for a new sponsor it became increasingly apparent that their was no space available for Beloki. Saiz effectively replaced Beloki with Heras in his personal quest to gain a Tour victory.
Then along came Brioches La Boulangère. Beloki signed with them prior to Christmas 2003. Who exactly Beloki had signed with became an issue this week when Brioches La Boulangère announced at the start of Stage Two of the Euskal that it would not continue sponsoring the team next year. Beloki was clearly not happy, saying that he had signed with the company until 2005. The team Director, Jean Rene Bernaudeau, contradicted him by saying that in fact the deal was with him and not the sponsoring company.
Added to all of this, Beloki has been plagued by a recurring allergy problem, for which according to him, the only reasonable cure is to use medicines that are prohibited by some national cycling federations. He has been improving slowly in recent weeks. But when the allergy hits, the result is a near impossibility to breathe properly.
Earlier in the week a number of Basque pro's still thought Beloki was one to be counted amongst the Tour aspirants. But the week didn't go as hoped. In the end, the allergy, the team and sponsor problems saw a late night summit called between Bernabeu, Beloki and his lawyer, with negotiations resulting in an agreement that will see Beloki a free agent at the end of 2004.
The question as to where he will go or who will have him is the hard one. He was expected, at the conclusion of the Euskal on Sunday, to hold a press conference atop of the final climb of Arrate. But instead of proceeding to the top of the narrow Cat. 1 he climbed into a car and headed home to Vitoria. No press conference, no announcement and no one really expects Beloki to go to France now - it is just a matter of time before the official announcement.
US Postal successor gets Armstrong
Although he has commented to the effect on a number of occasions, Lance Armstrong continues to give good indications that a replacement sponsor for US Postal Service is all that he needs to carry on in the peloton for another year. During the winter months Armstrong remained on the fence about his eventual decision to retire and whether that would come at the end of this season, or beyond.
"If there's a team, I'll still be a professional cyclist," the five-time Tour de France winner commented in the Dauphiné Libéré newspaper on the eve of the namesake race.
"I can't imagine retiring," he added. "I'm enjoying this too much. I still feel good, even better than last year. I hope the team finds a new sponsor, and if so I'll be a part of it."
US Postal Service's contract with the team expires at the end of this year, and though no deal has been reached, team director Johan Bruyneel has expressed confidence in recent weeks concerning the prospects for a new title sponsor.
In less than one month, Armstrong and the team will embark upon a bid for an unprecedented sixth victory in the Tour de France, which remains the most important objective for both the American and his sponsors. "To see another guy climbing the podium [in Paris] would be a nightmare," Armstrong affirmed.
Rinero OK after crash
Christophe Rinero, former Tour de France king of the mountains and leader of the RAGT Semences-MG Rover team, is said to be in good condition after a potentially serious crash in Saturday's Classique des Alpes. Rinero fell alone while riding between early the breakaway and the peloton on the descent of the Col du Granier.
Rinero lost consciousness after the fall and was attended to first by his teammate Michaël Buffaz, who noticed his leader lying on the side of the road as he followed on the descent.
"I know that descent well, having raced there a lot," Buffaz told Reuters. "I knew that turn could be dangerous. As a habit, I looked behind me when I passed through, that's when I saw Christophe lying motionless off the side of the road."
Buffaz alerted the race's police escorts, who radioed for an ambulance to help Rinero, who was taken to the hospital in Chambéry.
Rinero suffered a head injury and severe bruising on his hip, plus scrapes on his elbow. Fortunately no fractures were revealed after x-rays were taken in Chambéry. Rinero's director Jean-Luc Jonrond expects him to be back in the peloton in time for the Route du Sud later this month.
La Boulangère doctor rebuffs Beloki
Following Joseba Beloki's vocal complaints concerning the prohibition of his usual asthma medicine, a type of cortisone, Brioches La Boulangère team doctor Pierre-Yves Mathé responded that in fact Beloki has not demonstrated a recognised case of asthma in the first place. The French cycling federation (FFC) lists Beloki's treatment as a banned substance, and by extension his team has prevented him from using it for fear of a positive dope test in or out of competition.
"There are rules, we can't just do whatever we want," Mathé told commented in a l'Equipe article. "To prescribe this type of product, a certain number of tests have to be performed. After these examinations, it was found that Beloki has a number of allergies, but no recognised case of asthma was confirmed. Therefore there are certain medicines I cannot prescribe."
Recent training camps in France, and the Euskal Bizikleta stage race in Beloki's native Basque region of Spain have seen the rider come into difficulty because of breathing problems caused by his allergies. Beloki has expressed his frustration that the French federation will not permit him to use the same medicine he has used since he was a child, permitted by the Spanish federation and also the UCI after his having provided documentation in recent years of his allergies.
(All rights reserved/Copyright Knapp Communications Pty Limited 2004)