Tour de France News for June 8, 2004
Edited by Jeff Jones & Chris Henry
Ullrich closer to target
Jan Ullrich (T-Mobile)
Photo ©: AFP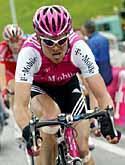 Steady training in quasi-solitude since the spring classics period appears to have paid off for Jan Ullrich (T-Mobile), who returned to competition at last week's Tour of Germany and put in several promising performances en route to a 7th place overall, just 59 seconds behind race winner Patrik Sinkewitz. Ullrich's next test will be the even more difficult Tour de Suisse, where he hopes to complete the preparation necessary for the Tour de France in July.
In the meantime, Ullrich and his teammates have investigated several Tour de France stages in the Alps, as well as the closing time trial in Besançon, which he expects will be more important than many observers have indicated.
"I'm not one of those who think that the Alpe d'Huez time trial will be the decisive stage," Ullrich explained. "I'm not focusing only on that stage because, having seen the profile of the Besançon time trial, we're sure it won't play out like the one between Pornic and Nantes last year. It's more like the Gaillac time trial."
This thought will surely provide Ullrich with plenty of motivation following his dominant performance in the Gaillac time trial where he took 1'36 from yellow jersey Lance Armstrong. Speaking of the five-time Tour winner, Ullrich downplays the inevitable talk of another Armstrong-Ullrich duel, noting that the competition is not limited to those two.
"Riders like Mayo or Zubeldia could shake things up, or another unknown like I was in 1996," he said.
As for his most recent racing, Ullrich is confident that his preparation is on the right track. Although his early season race results didn't inspire much confidence, Ullrich has not had any problems with health or injury this spring, and in fact began his training earlier than usual, beginning with strength work as early as November.
"I didn't go to the Tour of Germany to win, and I expected even less to do such a good time trial," Ullrich said, referring to his second place behind fellow specialist Michael Rich (Gerolsteiner) in the time trial. "All of the sudden I began to feel that the hard training from the last few weeks was beginning to pay off."
Ullrich went on to ride steadily in the two mountain stages of the tour, though he lost ground on each stage when the decisive attacks disrupted the steady rhythm among the leaders. "My diesel motor is working again, the turbo not yet," he said.
Nonetheless, the German had no complaints about his racing, unconcerned by the bit of fitness he for the moment still lacks. "I stayed with the leaders for a long time [in the mountains], and each time I decided it was better to maintain my own rhythm," Ullrich noted. "I had no reason to go into the red, it's still too early for that."
No Tour for Rebellin
In addition to his planned bypass of the Italian national championships, announced Sunday, Davide Rebellin (Gerolsteiner) has indicated that he will not participate in the Tour de France either. Rebellin, the king of the Ardennes classics this spring, has placed the greatest importance on the classics of the second half of the season, and particularly the Olympic Games and world road championships.
Baal remains skeptical
Daniel Baal
Photo: © P. Geyer

Former director of cycling and second in charge of the Tour de France at the Amaury Sport Organisation (ASO), Daniel Baal, has published a book of observations made during his time as a key figure in cycling. Baal, who served with the Tour from 2001-2003 after heading the French cycling federation (FFC) from 1993-2001, resigned his post during winter and has since returned to his professional roots in banking.
Baal has often been an outspoken critic of the sport and was vocal in the ongoing struggle against doping. He was considered the heir-apparent to Jean-Marie Leblanc's direction of the Tour until Leblanc announced he would stay on beyond the centenary Tour in 2003 and Christian Prudhomme from France Télévisions was named as his eventual successor.
In his new book entitled "Tour de France, Dreams and Realities", Baal casts doubt on the progress made in the fight against doping, calling into question the level of performance demonstrated at the 2003 Tour.
"The 'great' centenary Tour was the fastest in history," he says. "This fact, in addition to several others, could have- or should have- prompted certain questions. The debate never happened, at least not right after the Tour, as there was a consensus that the Tour had been magnificent. Everybody was happy, sitting on a cloud."
Baal also reveals that defending Tour de France champion Lance Armstrong had sent a letter to ASO and the UCI several days prior to the 2003 Tour raising suspicion of a possible use of synthetic haemoglobin by certain riders in the peloton.
The current state of affairs in the peloton, complicated once more by the doping investigation surrounding the Cofidis team, reminds Baal that the ongoing efforts against doping are insufficient. He considers his persistence in raising questions and seeking more aggressive methods to be among the main reasons for his subtle ouster from the Tour.
"Cycling didn't regard my arrival at such a position [at the Tour] with a particularly good eye," Baal explains. "My actions against certain trends, doping, and other forms of cheating remained in a certain sense unappreciated by the numerous people in this sport who, at one point or another, had given in to temptation."
Among the various approaches Baal considers worthwhile, a radical change in the approach to following riders' medical files appears most crucial. Baal is a strong proponent of the release of all athletes' medical records to prevent inconsistencies and possible signs of doping from being concealed under the veil of doctor-patient privilege.
Armstrong's warning
On the eve of the second stage of the Dauphiné Libéré in France, US Postal Service spokesman Jörg Muller confirmed that Lance Armstrong did send an e-mail to the Tour de France, UCI, and WADA warning of a specific doping method, as described in former Tour adjunct director Daniel Baal's new book, released Tuesday.
Despite insinuations by the French newspaper Le Monde that Armstrong's concern over the possible use of synthetic haemoglobin (derived from bovine blood) in the peloton was directed at his Spanish rivals in particular, Baal and the team both insist that the message was one of general interest and not an attack by the American.
"I saw the e-mail with my own eyes and there was nothing mean-spirited in Armstrong's message," Baal said, quoted in Tuesday's l'Equipe. "He said it in his usual fashion: Do what you can to look into this product..."
US Postal added that "He never accused the Spanish. We're surprised that the information would come out like that, as it can only spark a fight between the riders."
Mayo more ambitious
Iban Mayo
Photo ©: AFP

Last year was a turning point for Basque professional Iban Mayo (Euskaltel-Euskadi), who finished 6th overall in the Tour de France and won the stage to Alpe d'Huez, a dream for all climbers in the Tour. Currently leading the Dauphiné Libéré after his prologue victory Sunday, Mayo is not just looking for victory in the pre-Tour tune up, but also believes he can unseat five-time winner Lance Armstrong in July.
"This year, my goal is different, more ambitious," he said. "Even if I know that it will be very difficult. I want to win another stage but also finish closer to first place overall."
Mayo credits a changed approach to the Tour, which this year is his top priority, with his buoyed confidence for the race. The Euskaltel leader explains that he has raced with progressive intensity, arriving at the Dauphiné in the same condition last year (when he pushed Armstrong to the very end of the week-long race), but fresher mentally. Part of the planning came from the team's automatic qualification rather than a fight until the month of May to secure a wildcard invitation.
"I'm more ambitious too," Mayo added, "because I know it could be possible to win the Tour."
Beloki could stay
The relationship between Joseba Beloki and his Brioches La Boulangère team has soured somewhat, particularly following the unexpected announcement of the title sponsor's withdrawal from the sport at the end of the season. Nonetheless, Beloki commented in l'Equipe that he is willing to entertain offers from team manager Jean-René Bernaudeau in the event that a replacement sponsor is found and the team is accepted in the UCI's new Pro Tour for 2005.
"I've promised [Bernaudeau] that if his new team is in the Pro Tour next year, I will give first consideration to whatever offer he may have for me," Beloki said. "I'm a man of my word. Bernaudeau's next team will be my first choice."
Beloki and Bernaudeau reached an agreement Sunday allowing the rider to be freed from his contract at the end of this season. His participation in the Tour de France remains in serious doubt given recent difficulties in training and racing. Beloki's next race is expected to come at the Route du Sud beginning June 19th.
Millar's lost time
David Millar (Cofidis) is hoping to make up for lost time during the Dauphiné Libéré after an ill-timed break from training due to a freak leg injury. Millar had stopped training following the Tour du Languedoc-Roussillon in May due to a case of eczema which affected his legs. An ointment used to treat the eczema caused Millar's leg to burn when it reacted with sunlight, leaving him with a debilitating injury that kept him off the bike for ten days.
Millar's return to competition at the Classique des Alpes didn't go well given the difficulty of the one day race which featured six categorised climbs.
"I knew I wasn't going to finish the race before it started," Millar commented on his personal website. "I had been off the bike for ten days but I had to start to represent the team."
Millar finished a modest 11th place in the Dauphiné prologue, a solid result considering his difficulties but below par for the reigning world time trial champion.
"I was happy with 11th in the prologue," he said with some assurance. "I didn't expect anything after the recent problems so to finish 11 seconds down was good for me. I'm gutted that this has happened just when I was wanting to be back in good form, it's a shocker how things have been going. All I can hope to do in the race is hang in there and try and finish..."
Cofidis at odds with French charter
Cofidis, France's highest-ranked professional team, has opted not to sign the Code of Ethics of the AC 2000 group, the association of French teams. Under the microscope since January when a number of current and former riders were placed under investigation in a sweeping drug investigation in France, Cofidis has been at the centre of the doping storm, voluntarily suspending its participation in races in April and early May while team management looked to restore order and confidence in the team.
The AC 2000 charter, which proposes the firing of any rider found guilty of a doping offense- but also the exclusion of any rider placed under formal investigation- remains a point of contention between Cofidis president François Migraine and the association, headed by Crédit Agricole director Roger Legeay.
Cofidis suspended two riders from competition this spring, Cédric Vasseur and Médéric Clain, after they were placed under investigation by French judge Richard Pallain. Clain was ultimately fired from the team after having confessed to the purchase of certain banned substances, though he maintains that he never used any doping products. Vasseur's suspension was lifted by the team and the Frenchman returned to competition at the Euskal Bizikleta last week.
"François Migraine told me that he wanted to join AC 2000 as quickly as possible," Legeay told l'Equipe. "But now, concerning Vasseur, he wants to rest on the presumption of innocence..."
Crédit Agricole, Ag2r-Prévoyance, Brioches La Boulangère, FDJeux.com, RAGT Semences-MG Rover, Oktos-Saint Quentin, and Auber 93 have all signed the charter.
RAGT down but not out
With less than a month to go before the start of the Tour de France in Liege, the RAGT Semences-MG Rover team is still suffering misfortune in the form of crashes and injuries to its riders. In Saturday's Classique des Alpes, Christophe Rinero fell into a ravine on the descent and was taken to Chambéry hospital. Although he suffered multiple bruises and a sprained neck, he was able to return home on Monday. Also Eric Berthou missed a corner on a descent during the team's training camp a week ago, and he ended up with a one month medical certificate from the hospital in Ambérieu en Bugey.
More serious was the death of the team doctor, Roland Mathieu, which occurred last week. Described as "Discreet in nature and with a faultless sense of ethics, throughout his career, Roland Mathieu devoted himself to the fight against doping. [RAGT Semences-MG Rover] pays homage to him."
RAGT's team manager Serge Barle is hoping that the team will pull together in time for the Tour. "I can honestly say that I'm a little bit worried as the Tour is not a minor event. Lately our best riders have come unstuck. Firstly Yoann Le Boulanger who is still getting over his injury from the Tro Bro Léon followed by Christophe Rinero who scared us all after falling into the ravine in the Classique des Alpes. Fortunately the diagnosis for Rinero is reassuring in spite of major bruising and a sprained neck. We reckon that he should be back and fighting fit for the Route du Sud. Getting back to the Tour, I hope that we will be up to it. Anything is possible. One of our guys could well end up in a breakaway group one day and bring us into the spotlight. Why not? We don't have the team to play the leading roles but we can bet on the riders' determination to do well."
RAGT came close to its first win today when Christophe Laurent joined together with Jimmy Casper (Cofidis) in the final 50 km of the first stage of the Critérium du Dauphiné Libéré. The pair were caught with just 1.5 km to go as the sprinters' teams wound it up.
(All rights reserved/Copyright Knapp Communications Pty Limited 2004)