Tour de France News Extra for July 26, 2004
Edited by Jeff Jones & Tim Maloney
Post-Tour headlines
Fans
Photo ©: Jon Devich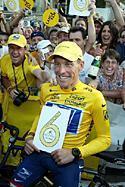 On Monday morning, the European newspapers were filled with headlines reporting Lance Armstrong's sixth Tour de France victory. The Tour, which has dominated the sports media for the last three weeks, will now be put to bed for another 11 months.
France
L'Equipe's headline today was "The absolute triumph," but the paper's editorial criticised Armstrong for his coldness and arrogance towards his rivals, saying, "This is not the way...Six Tours de France: immense respect...but..."
La Voix des Sports captioned its photo with Lance Armstrong holding up six fingers with, "I'm the boss"
Le Parisien-Aujourd'hui called Armstrong "Champion of champions" and "Armstrong has landed on the moon."
France-Soir wrote, "Six...for the time being."
Le Figaro's headline was "Armstrong and six", calling him a "champion, unique and disturbing."
Libération wrote, "Between doubts and admiration, Armstrong takes the sixth Grande Boucle in a row."
Le Monde titled its report, "Armstrong, once more the strongest."
Belgium
La Dernière Heure wrote, "From now on, Lance Armstrong stands on his own as the king of the victors of the Tour. But his palmares only contain one other victory of great value: his World Championship in Oslo in 1993."
Le Soir said, "He goes down in cycling history but this edition [of the Tour] was not the most difficult...We will never be able to compare the palmares (of Merckx and Armstrong)."
Het Laatste Nieuws described Armstrong as a "superman", a "superb strategist", "hard worker" and a "master of psychology"
Spain
Spanish daily Vanguardia had the headline, "Lance Armstrong, the Lord of the Tours."
El Pais wrote, "Armstrong reaches Mars."
ABC called Armstrong, "The greatest among the greats...the bionic man has buried the record of Indurain, Merckx, Anquetil and Hinault." The newspaper also noted that he had "sullied his success with the humiliation of Filippo Simeoni."
Marca wrote that Armstrong, "Beat the record of victories in the Tour which has now shattered the legend."
AS called Armstrong "the King of the Tour...His specialisation led him to win the most titles.".
Six for them, too
The USPS team
Photo ©: Jon Devich

Before Stage 20, Cyclingnews cornered the two teammates Lance Armstrong has had with him for all six wins in Paris, Slava Ekimov and George Hincapie. Both USPS-Berry Floor riders were in exceptionally good moods, especially the usually super-serious Eki. "This is great," the smiling Russian said. "Nothing special..." but when George pulled up alongside, we told the American that his Tour Russian roommate said Sunday was just another day at the office. "No, no, I said it's a great day at the office" joked Eki.
As usual, George Hincapie summed it up in well, saying "I'm very excited to be here today; it's been an amazing Tour de France. Plus I don't have to sleep with Eki tonight! Another reason to be happy." An astonished Ekimov quickly replied that "George is such a liar, man...unbelievable! Don't listen to George Hincapie!"
After the Tour, Eki will head to Italy for specific training to defend his Olympic TT crown and may retire at the end of 2004, while Hincapie will reportedly re-sign with Armstrong's new Discovery cycling squad for 2005.
Floyd, mo-fo of the mountains
Floyd Landis (US Postal)
Photo ©: CN

Robin Williams and Floyd Landis have more in common than just a love of cycling. Both have an excellent sense of humour, although don't expect to see Landis earning his bread and butter on the standup circuit anytime soon. Before Stage 20 in Paris, Landis was sporting a gaudy, garish gold ring with a scary skull and we asked the USPS-Berry Floor rider where he got the thing. "Robin Williams gave it to me...he said I'm the motherf***er of the mountains! Ha!"
Landis told us he was "finally relaxed...I'm looking forward to getting on the plane Monday and going home." And at press time, Landis had reportedly restrained himself from performing wheelies on the Champs-Elysees during the team parade as he did two years ago.
Scotty seeks
Scott Sunderland (Alessio-Bianchi)
Photo ©: CN

On Sunday's Champs-Elysees stage, experienced Aussie Scott Sunderland spoke to us about his plans for the futures. The Alessio-Bianchi rider had a solid Tour, considering that he had to race his bike and write a diary for Cyclingnews. After the Tour concluded Sunday in Paris, Sunderland said, "I've done a lot of work for the team at the Tour and possibly...since the team isn't likely going to go ahead, you start to think 'where's all my work gone' because what we do at the Tour to support our team leader isn't seen by other teams. So I am disappointed with that from this Tour.
"At the beginning of the Tour, they told us that the team was 90 percent likely to go ahead, but lately things have changed and now it's 10 percent sure. When you're doing a good job supporting the team leader (Caucchioli) who finished 11th in the classement, his performance reflects on the work we do. The team can see what your value is. It's harder when you have to go on to another team and explain things. Maybe I should have held back a few days and I might been better in other stages where I could have gotten into an escape."
Sunderland was part of an escape of 10 that went away on the circuits in Paris and was only caught 8km from the finish, where the Aussie ended up in 96th place, 2h35'20 behind Armstrong.
On the attack
During this year's Tour, it seemed like every time the mountain stages started, Rabobank's Danish climber Michael Rasmussen was on the attack. Another former mountain biker like Cadel Evans and Floyd Landis, Rasmussen, nicknamed Chicken, has made an impact in his rookie Tour. He finished 14th on GC at 27'16 and was most aggressive rider on the stage to Villard-De-Lans as well as finishing third in the Best Climber competition.
The always confident Dane told Cyclingnews in Paris that, "I'm happy with the way I rode my Tour...because I came close to winning a few times, but looking back, I could have ridden my Tour in a different, less aggressive way and I would have been in the top 10. I can easily find those seven, eight minutes somewhere along the road; to Plateau de Beille or La Mongie...but I'm happy with the way I did the Tour because I tried to win. And not too many riders did that actually."
Next on Rasmussen's race program are San Sebastian, the Athens Olympics and GP Zurich, but no Vuelta. "But you will see me in Verona." Rasmussen has lived for years near Lake Garda, just 20km from the site of the World's this October. "In fact, the TT course runs right past my house. But you will definitely see me on the Torricelle climb in the final laps, it's a good circuit for me."
Watch for the determined, talented Dane to battle with local lad, Giro d'Italia winner Damiano Cunego in this year's World Championships on October 3.
Vandevelde and son all smiles in Paris
Cyclingnews caught up with a smiling Christian Vandevelde in Paris after the Lemont, Ill. lad finished his first Tour since 1999. "It's been a long way for me to get to here and I woke up with a smile on my face (Sunday) morning."
Christian's proud parents were on hand to support their son the last few days and his dad John, a former US Olympic cyclist and national pursuit champ was especially proud of his kid's TT performance in Besançon. "My Mom and Dad were behind me in the car so I decided to ride hard. They came thousands of miles to see me so I might as well ride hard!"
We asked Christian what his father's reaction was to his excellent top 30 time test and he laughed and said "he's my Dad...even if I came last place, he would still say 'wow that was awesome, you did a great job.' He's got his chest out and he's got a big ol'smile on his face and he's glad to come over here to Paris to see me finish the Tour."
Top 10 again Leipheimer
In three participations in the Tour De France, Santa Rosa, CA rider Levi Leipheimer (Rabobank) has finished in the top 10 twice and crashed out last year with a broken pelvis from an unfortunate Stage 1 finish pile-up.
"I think I can be satisfied", explained Leipheimer to Cyclingnews in Paris, "Especially knowing I threw away four minutes on Plateau de Beille. My first Tour (in 2002), I was like 'I did my best; I don't know if I can do better, but now I know I can do better, which is nice."
Leipheimer lost crucial time in the Pyrenees and "really had a bad day in l'Alpe d'Huez. My warm-up wasn't so good there. I was a little bit rushed." Leipheimer will ride San Sebastian with his Rabobank squad, then head to Athens to do the Olympics as part of USA Cycling's road squad. "After that, I'll do Zurich and then head home."
Nee enjoys his Tour commissaire debut
Jury trio
Photo ©: CN

Like many Americans this year, Thomas Nee was at the Tour De France for the first time. No, it wasn't his first visit to Le Grande Boucle, but Nee, a NY based pharmaceutical marketing executive was the first American UCI International commissaire ever on the Jury Of Commissaires at the Tour De France, one of the most prestigious appointments for an official in the sport of cycling. "It's been a fabulous experience", Nee told Cyclingnews. "The Tour is racing on another level."
Nee became an UCI international commissaire in the mid-Eighties and has dedicated a lot of vacation time over the years to working races all over the world as an official. "Luckily I have an understanding employer", joked Nee about his latest three week "vacation" in France.
"It was incredible to see how the Tour organization allows the race officials to work. The tour is not like any other race that way," said Nee.
Nee told Cyclingnews that perhaps his Tour highlight was following Lance Armstrong up the final ascent to Plateau de Beille in the best seat in the house, the red TDF officials car.
Final Tour prize money

1 US Postal Service       578,842 €
2 T-Mobile                339,656
3 CSC                     183,880
4 Quick.Step              126,485
5 Illes Baleares           87,186
6 Lotto-Domo               72,173
7 Cofidis                  65,766
8 Crédit Agricole          63,519
9 AG2R                     52,859
10 Fassa Bortolo           49,495
11 Gerolsteiner            41,355
12 Rabobank                41,229
13 Fdjeux.com              38,956
14 Brioches La Boulangère  33,198
15 Phonak                  30,313
16 Euskaltel-Euskadi       23,966
17 Domina Vacanze          22,261
18 Saeco                   18,974
19 Alessio-Bianchi         16,831
20 Liberty Seguros         11,258
21 RAGT                     7,960

Previous News Next News
(All rights reserved/Copyright Knapp Communications Pty Limited 2004)