Tour de France News for July 26, 2004
Edited by Jeff Jones
Armstrong atop Tour pantheon with sixth straight win
The final podium (L to R):
Photo ©: Roberto Bettini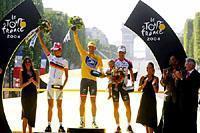 Lance Armstrong has achieved what no other rider has done before, winning a sixth straight Tour de France and firmly stamping his authority on the race. All the other five time winners, Eddy Merckx, Jacques Anquetil, Bernard Hinault and Miguel Indurain, failed in their attempts to win a sixth, but Armstrong has finally broken that barrier.
A humble Armstrong declared after descending from the podium that, "It hasn't sunk in yet. But six, standing on the top step on the podium on the Champs-Elysees is really special." Once again, Armstrong spoke of his love affair with Le Grande Boucle, now a six-time affair for the Texan. "The Tour de France is the most beautiful race in the world. For me, for cycling, for my team, for my new sponsor Discovery Channel, I cannot think of not doing another year on the Tour de France," Armstrong told French television.
But as for his destiny in 2005 and his new Discovery Cycling team, Lance left things open-ended going forward. "I don't know what I'll do next summer. I suspect I'll be here. It's too big of a race. My only hesitance is I think the people and the event perhaps need a change, new faces, a new winner," said Armstrong. "If I'm here at the Tour de France, I race to win." "We'll see..." he said.
Stage 20 full results, report & photos
Live report
Stages & results
Final start list
Tour FAQ
Ullrich gets close
Andreas Klöden and Jan Ullrich
Photo ©: CN

For the first time ever in his racing career, Jan Ullrich (T-Mobile) finished the Tour de France off the podium. Although Ullrich was good in the final week of the Tour, his performances in the Pyrenees were well off his best, and he had to concede the team leader's role to his friend Andreas Klöden.
After the stage finished today and the winners were awarded, Ullrich commented in his diary on the team's website (t-mobile-team.com) that, "I must confess that I felt a little bit sad watching the winners' ceremony on the Champs Elysées today. I made it on to the podium in all my Tours since my first Tour in 1996. I just missed out this year and that's a pity.
"Whatever, I'm not going to let the head drop. I fought to the end for a place on that podium. Fortunately, "Klödi" was in the form of his life and richly deserves his second place. He can keep Lance Armstrong company on the podium this year!"
Ullrich also thanked all his teammates, who worked hard for three weeks and were rewarded with the team prize for the first time since 1997. "It's proof that we really gelled as a team this year."
The German fuoriclasse vowed that he would be back for another attempt next year: "No, it didn't all go to plan for me this year but my mission hasn't changed: I want to come back and ride into Paris with the yellow jersey on my back. With a strong team around me, like we had this year, then that is entirely feasible.
"Despite reports to the contrary, I also focus one hundred percent on cycling just as Lance Armstrong does. Sure, he arrived at the Tour perfectly prepared. But winning six Tours is not just about talent, dedication and hard training. You also need the rub of the green; to stay healthy and avoid getting tangled up in the many crashes "
His upcoming plans include the World Cups in Hamburg and San Sebastian, as well as the Athens Olympics where he will be defending his road race title that he won in Sydney.
Julich's ups and downs
Morale boost after Tour time trial
By Chris Henry in Paris
Bobby Julich returned to some of his best form in this year's Tour de France, but found himself battling bad luck and injury in the second two weeks. Julich rode superbly up through the first day in the Pyrenees, helping Ivan Basso to a stage win for Team CSC, before crashing and injuring his wrist the following day. The days that followed were not easy for the American, who in 1998 climbed to the third step of the Tour podium. Julich pressed on, and even though he was unable to keep Team CSC in the hunt for the team classification, he returned with a bang at the final time trial in Besançon.
"To be in the top five in a Tour time trial is important and it felt good," Julich told Cyclingnews before the start of the Tour's final stage. "But it definitely didn't make my Tour, because I had more disappointment and more down days than up days. That's life, and it's good to end on a high note."
Julich, who has had performed consistently in time trials this season, was pleased to put in the fifth best time behind Armstrong, Ullrich, Klöden and Landis. The fact that he did it after the difficult second half of the Tour and amidst such elite company was an obvious satisfaction.
"Yesterday obviously was a different race," he said. "After three weeks you've got a lot of guys who are specialists but are tired, and guys who are still fresh and still have power at the end of three weeks do a good time trial. The whole spirit of the team is to never quit and keep fighting. It was very difficult for me to get motivated yesterday, but once I got on my bike I said hey, let's give it a nudge."
Next up for Julich after the Tour de France will be another two man time trial with fellow CSC motor Jens Voigt, followed by the Clasica San Sebastian and final preparations for the Olympic Games in Athens. Julich dreams of a big ride at the Olympics and after Saturday's performance against the clock, deems himself ready to challenge in the games.
"You have Ullrich and Rich you have to worry about, then guys like Cancellara and Bodrogi," he explained. "Obviously my goal is to get a medal, like anyone in the Olympics, and I think on the right day things could go my way. I have a chance. I haven't finished out of the top nine in any time trial I've done this year, so I don't plan on starting anything different at the Olympics."
Alessio-Bianchi satisfied
Scott Sunderland (Alessio-Bianchi)
Photo ©: Jon Devich

Alessio-Bianchi finished the Tour on a positive note with Scott Sunderland getting into the break of the day on the Champs Elysées that was only caught with 1.5 laps to go. Sunderland capped it off with a top 20 finish, the best placed rider in the team on the final stage. In addition, Pietro Caucchioli finished in 11th place on GC, despite being quite sick with bronchitis in the final week.
"It was a pity to lose the tenth position at the last but one day of the race," commented Caucchioli. "My first goal was to place in the first ten in the ranking: I may have hit this goal if not for the illness that has been annoying me in the last week.
"Anyway, I think I performed well in this Tour de France. I didn't get the chance for a stage win, but that's not easy to compete with such a champion like Lance Armstrong, the absolute leader of this Tour. In truth, I was looking for a first-rate performance after two unlucky years. It was all right and I'm going to take advantage of my condition in the finale of the season."
Alessio's team director Bruno Cenghialta commented, "We knew from the beginning our team wasn't so strong as others that didn't take part in the Giro d'Italia and focused on the Tour. Caucchioli was our attacking man and he could have fought for the seventh position in the general classification if not for the illness he suffered from in the last week.
"The other Alessio-Bianchi men performed well too. From one side our team had to give up Hvastija because of a criticisable decision of the organisers, on the other side we saw Andrea Noè's pride that led him into Paris despite a suspected microfracture in his right wrist, and the determination of such athletes like Sunderland and Ljungqvist who tried many breakaways. In short we raced a good Tour, maybe not a very exciting one but characterised by great consistency."
Armstrong to race in Prague
Six time Tour de France winner Lance Armstrong will race two post-Tour criteriums this week in the Netherlands and the Czech Republic. Said to have an asking price of €110,000 per race, Armstrong will be one of the star attractions in Prague's Wenceslas square for the criterium there on July 30. The race will also include Gilberto Simoni (Saeco), Pavel Tonkov (Caldirola), Igor Gonzalez de Galdeano (Liberty Seguros) and Axel Merckx (Lotto-Domo).
The race will take place over 100 laps of an 800m circuit.
(All rights reserved/Copyright Knapp Communications Pty Limited 2004)