Tour de France News Extra for July 25, 2004
Edited by John Stevenson
Green jersey: McEwen almost there
By John Trevorrow
Robbie McEwen (left) concedes a point to Thor Hushovd in stage 18
Photo: © Jon Devich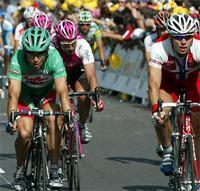 Robbie McEwen may have been on the time-trial bike today, but his mind was keenly trained on tomorrow's defining stage into Paris. "I just had to ride within myself and make sure that I made it within the time limit," said McEwen. "That was no problem today."
Will your experience be a factor on the Champs Elysees tomorrow?
"Probably not. The first time I won the green jersey Zabel had it six times before but it didn't make a difference with him. When I lost it to Cooke, he'd never had it before and I'd already won it but it didn't make any difference. So I know everybody goes to the Champs-Elysees with a clean slate. The good thing is that I have an eleven point lead at the moment and Hushovd is my closest rival so I have to mark him. It's up to him to chase me."
As for his race plan for the finale Robbie was playing his cards close to his chest. "I'm not going to tell you now what my tactics are for tomorrow but I know what I have to do."
McEwen's early rival Stuart O'Grady has conceded that his quest for that elusive Maillot Vert will have to wait another year. "I think the green jersey's out of my reach," said O'Grady. "I'm just trying to win the stage, that would do me all right."
With that aim in mind, O'Grady was content to hold a bit in reserve in the time-trial to preserve himself for Paris. "I just tried to ride at about 80 to 85 percent of my maximum and just ride it out," he said. "I didn't want to get into it too hard. I got a good rhythm up and cruised today to keep fresh for tomorrow. I'm pretty happy with how things are going and I'll try to get another stage win."
O'Grady was asked about any debilitating affects from the controversy that has dogged his Cofidis team.
"It's definitely had a big effect but I've just tried to stay focused, to keep my mind on the job and that's what I've done. I've come out of the Tour de France with a stage win and a couple of days in green and overall a pretty good performance. I can't complain."
O'Grady's team-mate Matthew White, who crashed out of the 2004 Tour and broke his collarbone while warming up for the prologue was still on his mind. "I've been in contact with Matt pretty much every day. Just trying to keep him part of the team, keep his spirits up. It was pretty tragic for him. He was very depressed."
Klöden surprised at second place
T-Mobile's Andreas Klöden has been one of the surprises of this year's Tour, and he's just as surprised as everyone else to find himself in second place on the podium.
"It's still difficult to say how I feel because it still hasn't sunk in," Klöden told Reuters after the stage 19 time trial which saw him leapfrog CSC's Ivan Basso and take second place behind Lance Armstrong in the overall classification. "It's a dream come true," he said. "The highlight of my career."
"I wanted to help Jan Ullrich win the Tour and my job was to ride for him in the last 10 kilometres of the key mountain stages," said Klöden. "When he struggled on the first mountain stage to La Mongie I actually felt pretty good and so the team gave me the green light to ride my own race.
"It was a big surprise to perform so well but I don't know if it'll affect my position in the team. Jan Ullrich is still the captain of the T-Mobile team and I'm happy with that. Jan was the first to congratulate me on taking second place. That was nice and shows we get on."
And Klöden had nothing but admiration for the rider who looks certain, barring some freak disaster, to stand on the next step up in Paris. "Lance is riding in a different league. I have enormous respect for the way he rides. He deserved to win,'' he said.
Hoban: "Other riders should try harder"
Barry Hoban, the British former pro whose career spanned the Anquetil, Merckx and Hinault eras, says he's mystified by the way today's Tour de France contenders fail to match Lance Armstrong's preparation.
In an interview with the BBC, Hoban made the pretty safe prediction that, "unless something catastrophic happens Lance Armstrong will win a record sixth Tour." He went on to compare Armstrong with other top competitors. "Michael Schumacher is a good example," said Hoban. "These sportspeople are perfectionists, they prepare carefully and they are meticulous. That's why I can't understand the other riders. If Armstrong is so meticulous and talented then the others should try even harder. But riders such as Ullrich get so out of shape that it takes them most of the season to get their fitness levels back up."
Hoban rode 12 Tours de France between 1964 and 1978, winning eight stages. Now 64, he still rides his bike.
Rogers disappointed
By John Trevorrow
In Besancon time is of the essence. The lively French town is renowned worldwide for its watch-making, a craft in which the precision of milliseconds is considered essential. Fittingly it hosted the final time trial of the 2004 Tour, the penultimate stage, although with Lance Armstrong taking all before him the locals needed only refer to the minute hand on their watches to determine the winner.
Michael Rogers, runner-up in the 2003 world championships time trial behind David Millar (who has now confessed that his gold medal was won with the assistance of EPO, making Rogers the de facto world champion in many people's minds) was disappointed with his poor showing in what is usually his favourite event.
"It was shocking," said Rogers. "I got complete cramps really bad just after the start, I don't know why. Cramps in the hamstrings, I had trouble even pedalling. I guess after three weeks of racing the body is just… I just had nothing. I ran out of the blocks and was feeling okay then I just eased up. I was up on Sevilla pretty quickly, but got to him and stalled, couldn't pass him or anything."
Rogers was asked why he seemed to be taking it rather well, as he was his usual laconic self.
"I'm disappointed, especially when you don't understand what's happening," he replies. "Maybe yesterday I didn't drink enough. The weather keeps changing from rain to hot… I think I'm just empty now. They're all experiences and you've got to learn to manage them."
What sort of rating he would give himself for this year's Tour?
"I'd give myself about an eight. I've really climbed a lot better this year but obviously my time-trial's not as good. A Tour is normally won in the mountains then held on to in the time-trials. I suppose you have to have a little bit of a trade off; it's hard to be really good at climbing and time-trials. Only a few guys have done it."
Was Quick.Step-Davitamon team boss Patrick Lefevere happy with your effort?
"I am sure he expected better, as I did. I could have gone a lot better but, what with the first week, three crashes… I've done the best I could. I'm just happy to get to Paris and then go home for a break."
What of Lance Armstrong and his position as leader in the peloton?
"I suppose that's one of his strengths. Yesterday when he was in the break no one in the bunch knew what to do and everyone just looked at each other. He's obviously pretty hungry to win stages. He's gone more out of his way to do that. To win five individual stages is a pretty good Tour."
Continuing on the Lance theme, Mick was asked about the rumours that Armstrong would not contest next year's Tour.
"I think he'd be crazy not to do another couple of years. Why stop at six? I dunno, however long he wants to keep going I guess. As long as he feels fresh mentally and still wants to go out and ride his bike everyday. There might be other factors like his family or personal issues that might affect it."
Is Lance a bit of an intimidating rider in the peloton or someone you can have a chat to?
"I have a chat to Lance most days. He's a really approachable guy. I suppose some people might feel intimidated by him. I spoke to him for about half an hour yesterday, not even about bike riding, but about normal things."
Did he give you any hints to winning the Tour?
"You don't give those secrets away."
(All rights reserved/Copyright Knapp Communications Pty Limited 2004)