Tour de France News for July 25, 2004
Edited by Jeff Jones
Armstrong on top of his game, having fun
Lance Armstrong
Photo ©: Sirotti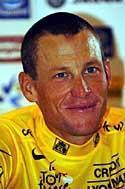 With only the formality of the final stage to Paris standing between him and a record-breaking sixth consecutive victory in the Tour de France, Lance Armstrong has emerged from this year's Tour almost as a man reborn. The end result was the same, as was the basic process of training and preparation, but somehow the American feels different. This year Armstrong has had fun. For a man dedicated to racing his bicycle, and dedicated to winning the toughest, most prestigious race in the world, Armstrong is also a man who wants to enjoy himself along the way, writes Chris Henry.
"This is probably the most fun I've had racing a bike," he said after winning his fifth stage in this year's Tour at Saturday's individual time trial in Besançon. "Not just here in Europe but I got to race in America, to keep things a little different. I even got to contest a sprint there, which I hadn't done in a long time.
"For some reason, and I can't really explain it, I'm enjoying the competition more than ever," he continued. "Not to make history, or to make money, but just for the thrill of getting on my bike and race 200 other guys. This year that was something really special to me and it's a big motivation for me."
Click here for the full interview
Also see:
Stage 19 full results, report & photos
Live report
Stages & results
Final start list
Tour FAQ
Karpets cleans up
By Melanie Leveau in Besanšon
Vladimir Karpets (Illes Balears)
Photo ©: CN

The 55 km long time trial around Besanšon was a crucial stage for the attribution of the white jersey. Frenchman Thomas Voeckler started with a small advantage over Vladimir Karpets (0'45), while Sandy Casar was not far behind at 1'56.
The Russian rider of the Illes Baleares-Banco Santander team put an end to the suspense early in the stage. The time difference between Karpets and his French opponents grew with every kilometre to finally reach 2'31 over Casar and 6'08 over Voeckler.
It is very hard to know what Vladimir Karpets thinks or feels, as he answers questions with his customary silence. After the finish line, he only said that the stage was "hard" and that he was "happy".
The final stage to Paris will be the only one he will ride with the white jersey, as he was third in the classification for a long time and only started to gain time in the Alps. But he knows the feeling of wearing the white jersey. During a few days last year, he was the leader of the young rider classification before another Russian, Denis Menchov, took the lead.
Since the 6th stage, Thomas Voeckler has been the leader of the young rider classification. But his first day in white was finally the climb to l'Alpe d'Huez after he lost the yellow jersey in Villard de Lans. Before riding today's time trial, Voeckler was aware it would have been tough to keep it because he is far from a time trial specialist.
He finally finished 85th, 9'41 behind Lance Armstrong. After crossing the line, back in his national jersey, he said that "I was beaten by someone stronger than me. I hope people will understand that. I really wanted to keep the jersey but I was prepared to lose it."
In l'Equipe, Jean-RenÚ Bernaudeau, his team manager, explained that Voeckler lost his jersey on l'Alpe d'Huez. "We planned he would lose three minutes but at the finish it was double that time." But there is no reason to complain. Voeckler finished in the top 25 in almost all the mountain stages. "I surprised myself. My performance in the mountain stages was a really good surprise."
Sandy Casar had the privilege of wearing the white jersey for ten days but only for the good reason that Voeckler couldn't ride in yellow and white at the same time. Casar attacked yesterday with a few kilometres to go in order to gain precious time over Karpets for the time trial. But the Illes Baleares riders chased vigorously at the head of the peloton and Casar was caught a bit later. His performance in the time trial (29th at 6'04) allowed him to finish second, but not better than that.
Etxebarrias not in agreement with Armstrong
On the morning after Stage 18, David Etxebarria (Euskaltel) commented on Armstrong's stage tactics in the Basque daily Deia with the simple headline - "You don't do these things".
Contrary to Armstrong's comments that he was protecting the peloton and that the peloton had congratulated him on his actions, Etxebarria thought that Armstrong's actions "were not to the liking of the peloton" and that a stage of the Tour was not a time to rectify any problems the race leader might have with Filippo Simeoni. Etxebarria commented that the "bad feeling was not followed by T-Mobile, the natural rival of Armstrong, who could have chased Armstrong...they only did it, timidly when the gap to the American was at two minutes".
Etxebarria continued, "There is in the peloton an unwritten rule according to which in stages like this that the cyclists who are down on the general can try and search for a stage victory, which in many cases provides them with a future. Armstrong did not respect this rule and it is something that a leader should do...next year he might need someone's help but the peloton does not forget these things."
Etxebarria didn't think much of Armstrong's antics, thinking that the "action of the American could have prejudiced the opportunities of the other riders who were in the break. The peloton respects Armstrong, like any cyclist that wins races, but these things provoke a feeling at times such that he will not end up being a rider loved and admired, for example, as occurred in the era of Indurain," he concluded.
Meanwhile, in another Basque daily, Gara, the other Etxebarria, Unai Etxebarria said that he "was surprised at what Armstrong did. It was a very ugly idea to go after Simeoni. The truth is that a man with a bit of class would not have done what he did and the peloton didn't like it one bit. It was something very sad."
An interview with Ludovic Martin
RAGT Semences rider Ludovic Martin was the surprise package in the Alpe d'Huez time trial, posting a time of 43'52 which stood as the best time for quite a while until the second half of the field got going. In the end it was good enough for a top 30. Martin then went on the attack in the big Alpine stage the next day with Simoni, Simeoni, Aldag and Bartoli, but faded with 70 km to go and was caught.
The fourth year pro is still hunting for his first victory, and has found the Tour to be a good learning experience. In the first two weeks, Martin said that he was, "Not well at all, I have to admit, particularly with the trouble I've been having with my knee. On the Alpe, I trusted in my sensations and did everything as best I could, forcing myself to take care on the bends. I didn't really calculate anything. As soon as I left the ramp, I felt that it was a good day. Today I let my instinct be my guide."
What's your summation of your first four years as a pro? "I didn't honestly do that well in my first two years. I felt pretty bad about it. With Jean Delatour, I proved that I was up to it. This year there have been one or two good moments and the start of the Tour was very difficult. There were even times when I thought I was going to jack it all in. This year, I think that I have moved on, that I have matured even if some folks probably still reckon that I'm a bit nervy. I've improved mentally and gained strength. I feel good right now. I don't spend time looking back and so it's a bit difficult to draw conclusions."
When asked about his "rotten personality", Martin admitted, "I do have what might be described as a strong personality. I know that in the milieu, it's often best to keep your mouth shut, but that's not my style. I can't keep quiet, I have to come out with it. There have been times on the Tour, when I lost my rag a bit. No regrets, what's done is done."
As to his future expectations, Martin said, "I hope to enjoy what I do. One year on the pro circuit can be summed up as three weeks of sensations in exchange for nine months of hard graft. You have to be lucky, have talent and be able to be disciplined to cope with the heavy workload. I think I'm a good team member, that I can sacrifice myself for a leader. Otherwise, and you will no doubt find this amusing, I dream of winning the Grand Prix de Plouay. It must be my Breton blood that is coming through."
(All rights reserved/Copyright Knapp Communications Pty Limited 2004)