Tour de France News for July 24, 2004
Edited by Jeff Jones
David vs. Goliath
An interview with Stage 18 winner Juan Miguel Mercado
Juan Miguel Mercado (Quick.Step-Davitamon)
Photo ©: Sirotti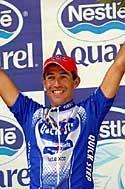 Juan Miguel Mercado, one of Quick.Step-Davitamon's two men for the general classification alongside Michael Rogers, wasn't having the best Tour de France. Until Friday's stage 18, that is. Mercado bounced back from fatigue and overnight illness to make the winning break, create the final selection, and outsprint his companion José Vicente Garcia Acosta (Illes Balears) in the final 300 metres of a transitional mountain stage from Annemasse to Lons le Saunier. Chris Henry reports on Mercado's David vs. Goliath victory
It was something of a surprise to see Mercado, a climber by nature, outsprint his former teammate, the powerful rouleur Garcia Acosta, a former stage winner himself and frequent player in long Tour escapes.
"I knew I had to attack on the last climb, which I did, and Vicente and I rode all out from there," Mercado said of the stage's final selection. "I was lucky to be behind him in the final kilometre, because I knew if I led out the sprint he'd be too strong for me."
Mercado followed his compatriot under the red kite and artfully dodged Garcia Acosta's efforts to get him to pull through in the finale. Sitting tight until 300 metres to the line, Mercado darted to the right side of the road and began a powerful sprint. Garcia Acosta found his back wheel, but left his final acceleration too late, crossing the line in a fume of frustration as Mercado celebrated the win.
Click here for the full interview
Also see:
Stage 18 full results, report & photos
Live report
Stages & results
Final start list
Tour FAQ
Simeoni nailed by Armstrong
By Melanie Leveau in Lons le Saunier
Lance Armstrong and Filippo Simeoni
Photo ©: Roberto Bettini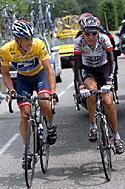 Lance Armstrong looks determined to make people talk about him every day. The last few days, no one could avoid the American's supremacy. Today, Armstrong decided to make the headlines another way.
At km 32 of the 18th stage, Radio Tour's voice announced the yellow jersey was chasing the leading breakaway with Filippo Simeoni (Domina Vacanze), who attacked on the fourth category Cote de Collonges. Both worked together and joined the six escapees a few kilometres later. Behind, the chase started a bit late and Armstrong's maximum advantage over the peloton went up to 2'20. Armstrong took his pulls in the breakaway but his presence in the leading group would surely condemn it.
Vicente Garcia Acosta (Illes Baleares-B. Santander) didn't wait to show his discontent, arguing with the Tour de France Boss. Armstrong tried to explain his plan, pointing to Simeoni. The two exchanged words shortly before stopping their effort and waiting for the peloton that caught them at km 46.
Asked by French television after the finish line about the episode, Filippo Simeoni said "Today Armstrong showed the whole world what kind of person he is...I've suffered another big injustice from him with the whole world watching. A big champion like him can't possibly do something like that to a small rider like me and the other riders in the break who are looking for a moment of glory in the Tour de France."
On the other side, Armstrong explained his move saying: "The story of Simeoni is not a fair story... Simeoni, there's a long history there. All (journalists) want to write about his part of the story. It's a long history... A guy like (Simeoni), all he wants to do is to destroy cycling...and for me, that's not correct. He's the kind of rider who attacks the peloton and cycling in general."
Armstrong referred to words the Italian said about Dr Ferrari in his testimony in 2002. The American replied through the press (Le Monde) one year later saying Simeoni was a liar. For that, the Italian filed a lawsuit against the US Postal leader. The affair should end late this year after the judge's decision.
Until that day, and maybe beyond, Filippo Simeoni seems condemned to stay in Armstrong's shadow.
McEwen loses a point
Robbie McEwen (Lotto-Domo)
Photo ©: Sirotti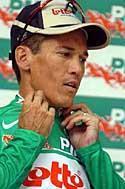 Robbie McEwen found his lead in the green jersey competition slightly eroded today by Norwegian Thor Hushovd, who beat him in the sprint for seventh place in Lons le Saunier. Hushovd now sits 11 points behind the Australian, who is the favourite to take home the green on Sunday in Paris, for the second time in his career.
"The team rode on the front a bit today," McEwen told Sporza in a post-race interview. "I was sitting with Zabel and Hondo and then Hushovd. I stayed in Hushovd's wheel for the sprint, but something happened. I didn't find enough power in the sprint. There was something that snapped in my back. You know that I have had problems with my back and stuff.
"Today, I was almost pushed over by a policeman. He wanted to take a pic of the maillot jaune, so I pushed him right back. Everyone is in the way, getting too excited, too many people there. I still have a decent lead and I will defend that position. I'm going for the win on the Champs Elysées."
The secret of CSC's success?
In Friday's edition of Gazet van Antwerpen, journalist Guy Vermeiren lifted the tip of the veil on what goes into building the successful CSC team. "Seven riders, six nationalities...and still the CSC team forms one front in this Tour," wrote GVA. "Training together, in group to the start in the mornings, in the race working like a well lubricated machine and after the stage all together at the diner table: there is no room for individual enterprise in the team of Bjarne Riis. The whole team is working on automatic impulses hammered in during winter training camps led by Bjarne S. Christiansen (a former paratrooper)."
"Bjarne Riis and I talk about Riders, tactics, exchange ideas and look at how we have to handle the media," Christiansen said. "No-one in cycling seems to be open to new ideas. But when you don't innovate, you die. If you are not flexible in a war, you get killed."
Christiansen creates some chaos in the team by sending them in four different groups into the wilderness on a training camp. One of the groups will get more supplies or heavier backpacks than the other. The ultimate goal is that everyone survives by sharing, after the usual internal battles are sorted. "I do stir a few fights, that's correct," he said. "They have to sort them out between themselves."
The biggest achievement of Christiansen might be getting Michele Bartoli in line. "You say biggest egoist? Best team player you mean! Bartoli just never got the chance of showing that aspect of his personality."
Christiansen also trained Ivan Basso, running second on GC in the Tour at the moment. "We were on training camp in Lanzarote when we discovered Basso can't swim. Well, I got him to jump off a 15 metres high cliff into the sea. All the other riders jumped first, and after a bit of doubting, Ivan put on a life jacket and went for it. Afterwards he said that was the biggest victory in his life. All other teams are wearing eye-covers you know. In CSC, the riders know we care about them."
Commissaire's communique
Juan Miguel Mercado (Quick.Step-Davitamon) - Fined 200 CHF for unauthorized feed
Jean-Patrick Nazon (Ag2r-Prévoyance) - Fined 100 CHF for failing to sign in before stage start
Nicolas Portal (Ag2r-Prévoyance) - Fined 100 CHF for failing to sign in before stage start
Medical communique
Jos&eacute Enrique Gutierrez (Phonak) - Indigestion
Sylvain Calzati (RAGT Semences-MG Rover) - Indigestion
Christophe Laurent (RAGT Semences-MG Rover) - Muscle aches
Michele Scarponi (Domina Vacanze) - Pain in right leg
Iker Camano (Euskaltel-Euskadi) - Right knee pain
Franck Renier (Brioches La Boulangère) - Pain following crash in stage 17
Laurent Brochard (Ag2r-Prévoyance) - Insect bite
Doping control
The UCI carried out 14 blood tests Friday morning before stage 18. Riders from T-Mobile, US Postal Service, Lotto-Domo, Illes Balears-Banco Santander, Alessio-Bianchi, Gerolsteiner and Team CSC, including the first eight riders in the general classification, were tested. All riders were declared fit for competition.
(All rights reserved/Copyright Knapp Communications Pty Limited 2004)