Tour de France News for July 23, 2004
Edited by Jeff Jones
Only the strongest survive
I'll have that one too
Photo ©: Roberto Bettini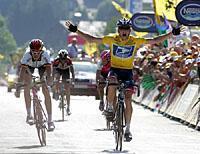 Today's 17th stage of the Tour de France between Bourg d'Oisans and Le Grand-Bornand was the final race of attrition, run in searing 30 plus degree heat and over several massive climbs, including the Glandon and the Madeleine. The stage saw an early break go clear from the start containing Gilberto Simoni and four others who were caught by Virenque and Moreau on the Madeleine with 125 km to go.
In the end, however, US Postal and CSC splintered the peloton and caught the break on the last climb with around 20 km to go, setting things up for another showdown between the top GC contenders Lance Armstrong, Ivan Basso, Andreas Klöden and Jan Ullrich, as well as Floyd Landis who had a superb day and rode on the front for most of the final climb. Despite an attack by Klöden with 1 km to go, Armstrong again showed that he has the best legs in this year's Tour as he closed the gap to the German in the last 200m to take his third Tour stage in a row.
After the stage, Armstrong explained why he brought back Klöden's last kilometre attack with such a concerted effort. "As I stepped up to the top of the podium, Bernard Hinault met me at the top of the steps and said 'perfect.' No gifts, no gifts this year. I've given gifts in the Tour de France and very rarely has it ever come back to help me. And this is the biggest bike race in the world and it means more than any bike race in the world and it means more to me than any bike race in the world. And I wanna win. No gifts."
No more gifts.
Photo ©: CN

But Armstrong praised his teammate Landis, who showed his strength and determination today in the Tour. "He is riding super; he's a great teammate and he's given everything. Today was the best day I've ever seen from Floyd and I've had some fast guys ride tempo on the climbs. Floyd seems to be getting better and better every day...That's why I really wanted him to win the stage. For me, he deserved the win and for that matter, I should dedicate the stage win to him, because he deserved it. I think he wanted it and needed it. I asked him (on the final climb) 'how bad do you wanna win a stage in the Tour de France? And he said 'real bad'. I said 'how fast can you go downhill' and he said 'I go downhill real fast' and he said 'can I do it?' and I said 'sure you can do it; run like you stole something, Floyd.' And Jan chased him down."
As for the T-Mobile camp, Jan Ullrich explained the team's tactics in his diary entry on T-Mobile's website (t-mobile-team.com): "Klödi" didn't quite pull of "mission impossible", but it was real battle out there today. Lance is in a different class at the moment. Nevertheless, I was really hoping that it would be a stage win for my mate.
"We had arranged things between us about five km from the line: I would mark Floyd Landis and Andi would try to ward off Lance. It was perfectly set up. When "Klödi" attacked like a bat out of hell, opening up a gap of 60, 70 metres back to us, then I thought to myself: He has it in the bag!
Andreas Kloden's (T-Mobile)
Photo ©: Caroline Yang

"At the end of a stage that nobody deserved to lose, only one fact remains: Lance is too strong! We burst a gut out there today. You can be sure that we would have attacked earlier, if we could. There was nothing left in the tank to attack Armstrong today. That doesn't mean that we won't give it everything between now and Paris to oust Ivan Basso from the second place. I think that we have a good chance. After all, the CSC rider has only a minute on "Klödi". It's going to be quite a showdown!"
After he was caught in the final 20 metres of the stage, Andreas Klöden commented that, "I'm certainly not utterly disappointed, I was only lacking a few metres, but through the 12 second time bonus I made up good time on Basso."
Stage 17 full results, report & photos
Live report
Stages & results
Final start list
Tour FAQ
Stage 18: Will the green jersey change hands?
By John Trevorrow
Today's 166.5 km stage from Annemasse to Lons le Saunier may be the last big test in the green jersey competition. With the major obstacles early in the race, it is a day that is perfectly suited to Stuart O'Grady or Erik Zabel. They will have plenty of time to get back to the leaders after the category Col de la Faucille, 75.5 kilometres into the race, and it is quite possible one of them could take the stage win.
Robbie McEwen and Thor Hushovd will be watching Zabel and O'Grady very closely, but in the rolling terrain of eastern France, McEwen will have to do the ride of his life to neutralize an O'Grady or Zabel escape.
Ullrich defends Voigt
Jan Ullrich has defended his compatriot Jens Voigt, who was on the end of some rather nasty spectator abuse during yesterday's Alpe d'Huez time trial. Voigt was called a "Judas" and a "traitor to the fatherland" by German fans and media after he had sat up in the break and gone back to help CSC and US Postal chase down Ullrich the previous day when the T-Mobile rider attacked with 60 km to go. But Ullrich understood completely that Voigt was merely following orders and doing his job, as he wrote in his diary on T-Mobile's website:
"There is one thing that I want to clear up: The jeering that my buddy Jens Voigt was subjected to yesterday was not pretty. It saddens me that he was sworn at and called a "Judas" and other names. Jens was just doing what any other rider would have done if they were in his situation. There is an unwritten rule in cycling that you always wait for your captain when the race explodes. And things did explode for Basso in that stage! Jens, you did what you had to do!"
Seventh polka dot jersey for Virenque
By Melanie Leveau in Le Grand Bornand
Team Virenque (Quick.Step)
Photo ©: Caroline Yang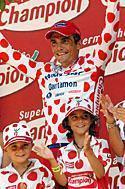 Richard Virenque pointed his polka dot jersey to his supporters at the top of the Col de la Croix-Fry, the last climb of the 17th stage. He was not part of the leading group any more but was aware that nobody else could come back and take the lead in the mountains classification. Accidents excepted, he will win it on Sunday on the Champs-Elysées.
Richard Virenque can be proud of his performance. Never before has a rider won that classification seven times. Neither Bahamontes nor Van Impe, who stopped at six.
Virenque won the polka dot jersey for the first time 10 years ago. Since that time, many things happened in his career and that jersey pleases him particularly because it is the proof of his consistency and his temperament.
"It wasn't easy to keep that jersey because of the new rules (points are doubled at the mountain top finishes). It was almost an impossible mission for me as the general classification's leaders could come back easily. So I had to attack every day and it was very difficult. I have been consistent since Saint-Flour, in the Pyrenees and in the Alps, that is why I won. I could say that jersey is my jersey of courage.
"When Armstrong started winning the Tour, I knew I would never win it so I decided to target the polka dot jersey. At my level, I made my mark at the Tour de France and I am really proud of it," added Virenque.
The French chouchou doesn't know yet if he will be a professional rider next year. "I have to discuss it with Patrick Lefevčre and other people. In fact, I already have a few projects for my post-riding career.
Simoni goes down fighting
Gilberto Simoni (Saeco)
Photo ©: Sirotti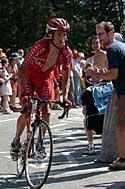 In the final stage that suited his climbing capabilities, Gilberto Simoni (Saeco) rode a great race, attacking from the start with four others before being caught by Virenque and Moreau on the Col de la Madeleine, riding with these two until halfway up the final climb when they were caught by the front group of the peloton. Along the way, Simoni claimed the Souvenir Henri Desgranges, the prime at the summit of the Madeleine, after a hard fought duel with Virenque to the top, salvaging some pride in what has been an average Tour.
"I didn't want to go home without doing anything," Simoni told Datasport. "We went very strongly for many kilometres, but perhaps we were too few. We didn't gain much time and in the end they caught us."
Top Aussie Rogers aims for the twenty
By John Trevorrow
Ten Australians prepared for the start of the Tour de France nearly three weeks ago in Ličge. Matt White unfortunately crashed out before the start, while Nick gates and Bradley Mcgee were cut down by injuries. But the remaining Australians have passed the final hurdle and only bad luck can stop a record seven Australians from riding into Paris on Sunday.
Mick Rogers is the best-placed of those seven in 22nd spot and is hoping to move up into the top 20 by the time the race reaches the Champs Elysées.
"I'll try and take it easy tomorrow and have a good time trial on Saturday," said Rogers after stage 17. "I was pleased with my rider today but I did it hard on the last climb. I feel like I'm coming out of the Tour all right.
"The US Postal team were just too strong today. I suffered a lot but, hey, that's the Tour.
Caucchioli slips a place
Caucchioli (Alessio)
Photo ©: Sirotti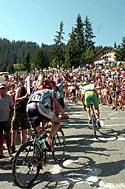 Alessio-Bianchi's Pietro Caucchioli lost a place in the general classification today after finishing 16th in the stage to Le Grand Bornand. Caucchioli moved from 9th down to 10th after Levi Leipheimer finished 7th, a minute quicker than Caucchioli.
"U.S. Postal, CSC and T-mobile don't give anything to their opponents," said Caucchioli. "It's almost impossible to move freely and, as far as I'm concerned, the situation is even more difficult because of the breathing troubles I have been suffering for some days. I'm going to fight to the last stage to be one of the top ten in the ranking. Next Saturday's long time trial will decide everything."
Alessio's Alessandro Bertolini was forced to withdraw because of bronchitis and didn't start stage 17.
Tour spectator falls to his death
An 64 year-old French spectator fell 40 metres to his death yesterday during the 16th stage of the Tour de France, the Associated Press reported. The man's body was found by police after family members alerted them to his disappearance. An autopsy will be performed on his body on Friday.
Medical communique
Janek Tombak (Cofidis) - Deep cut on fourth finger (right hand), taken to hospital in Grenoble
Mikel Astarloza (Ag2r-Prévoyance) - Cuts on left thigh and elbow
Michele Scarponi (Domina Vacanze) - Multiple contusions, cuts on left hip
Daniel Becke (Illes Balears-Banco Santander) - Cuts and multiple contusions
Franck Renier (Brioches La Boulangère) - Cuts and multiple contusions
Bernhard Eisel (FDJeux.com) - Cuts and multiple contusions
Baden Cooke (FDJeux.com) - Back pain
Commissaire's communique
The following riders were fined 50 CHF and penalised 5 points and 0'10 for holding onto vehicles:
Iker Flores (Euskaltel-Euskadi)
Iñigo Landaluze (Euskaltel-Euskadi)
David Etxebarria (Euskaltel-Euskadi)
Michele Scarponi (Domina Vacanze)
Walter Beneteau (Brioches La Boulangère)
Karsten Kroon (Rabobank)
Giuseppe Guerini (T-Mobile)
Bert Grabsch (Phonak)
Oscar Sevilla (Phonak)
Allan Davis (Liberty Seguros)
Christian Vandevelde (Liberty Seguros)
Xabier Zandio (Illes Balears-Banco Santander)
Kim Kirchen (Fassa Bortolo)
Fabio Baldato (Alessio-Bianchi) - fined 100 CHF and penalised 10 points and 0'20 for the same infraction
Bernhard Eisel (FDJeux.com) - Fined 30 CHF for brief drafting behind vehicle
The following riders were fined 40 CHF for receiving pushes from spectators:
Matthew Wilson (FDJeux.com)
Jimmy Casper (Cofidis)
Jimmy Engoulvent (Cofidis)
Erik Dekker (Rabobank)
Santiago Botero (T-Mobile)
Directeur sportif of US Postal Service - fined 200 CHF for disobeying rules of circulation among vehicles
(All rights reserved/Copyright Knapp Communications Pty Limited 2004)