Tour de France News Extra for July 22, 2004
Edited by John Stevenson
T-Mobile wants the podium
Basso aims to hang on
Jan Ullrich
Photo: © Luc Claessen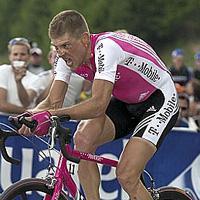 With the yellow jersey now seemingly impossible for either of them after Lance Armstrong's ride in yesterday's Alpe d'Huez, T-Mobile's Jan Ullrich and Andreas Klöden are looking to take the second and third spots on the podium in Paris. Klöden is already third, 5:03 behind Armstrong, while Ullrich is fourth at 7:55. In between them and Armstrong stands CSC's Ivan Basso at 3:48.
After stage 16, Ullrich said, "I was very happy with my performance. I didn't win but I rode as well as I could. I couldn't hear the split times from my team car and so I just rode full out, giving it everything.
"Armstrong was impressively strong and is on course to win another Tour. Our aim at T-Mobile is to finish two riders on the podium in Paris with me and Andreas. It won't be easy but it's possible."
Both Ullrich and Klöden were faster than Basso on stage 16, and will be relying on that time trial advantage to make up the difference when the Tour's final race against the clock comes round on Saturday.
Andreas Klöden
Photo: © Caroline Yang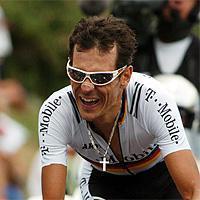 "It was like riding in a tunnel, with just the motor bike in your sights," Klöden said. "I followed the white line in the middle of the road. I'm happy with my ride because I gained time on Basso. I'm still 1:15 behind him in the overall standings but I've got the last mountain stage and then the final time trial on Saturday. I'm optimistic that I can move past him and finish second."
But Ivan Basso has other plans. He conceded that he wasn't "very happy" with his ride on Alpe d'Huez, but added, " I don't think I did a bad ride, my ride wasn't a disaster. I think I rode a good time trial. Looking at how I rode in the last few mountain stages I'd hoped to do better but it's not bad. I lost a lot of time to Armstrong but not so much to Klöden and the other guys."
Basso was in no doubt about who had been in charge on the Alpe, and it wasn't Ullrich or Klöden. "Today Lance showed that he's the strongest rider in the Tour but that's nothing new," said Bass."He was supersonic today. "He caught me and beat me but we can't forget he beat Ullrich by a minute. He's the best time trialist in the world."
Basso is now looking to the last two obstacles between him and a podium place in Paris: the last mountain stage and the final time trial.
"Saturday's time trial will be important and decide the second and third positions behind Armstrong but first it's more important to think about the last mountain stage," said Basso. "Thursday's stage to Le Grand Bornand will be a hard stage for me but also for Klöden and Ullrich. I still feel strong and I'm still the same rider I was when I rode well in the Pyrenees. I'm confident of finishing second overall."
McEwen not happy after Alpe heckling
By John Trevorrow
Lance Armstrong certainly proved he is the man in this year's tour. Only bad luck now stands in the way of a record sixth victory. During interviews after the finish Armstrong was relaxed and full of praise for the French people saying how France was his second favourite country after Texas.
But for Robbie McEwen there were no warm and fuzzy feelings. He was definitely not his usual smiling self at the summit of l'Alpe d'Huez after being heckled by German fans.
"I found it unsporting of quite a lot of the German fans who were standing on the mountain and booing and giving me the finger and screaming 'get f**ked McEwen.'," he told a European television crew. "I know for sure that the Australian fans won't be doing that to the Germans. The Norwegians were waving their flags but they certainly weren't unfriendly."
Why do you think the German fans were like this?
"Maybe they are just used to going to the football and behaving like arseholes," said McEwen. "This is not directed at all Germans, it is directed at the minority who did that and they know who they are and I'd like to send to them a nice big 'get f**ked'."
McEwen was visibly upset by the verbal attacks but when he calmed down he made a point of making sure people got the message that it was only a drunken few.
The fans could have been stirred up by German press reports quoting Zabel and Hondo, complaining that McEwen was dangerous in the sprints and did not have enough regard for the safety of others. However, in a Tour de France that has seen many top riders on the deck, McEwen has had his share of crashes too.
The next few days could decide the battle for the Maillot Vert?
"It is still a very close competition and everything can change very quickly for the Green Jersey," said McEwen. "There is still a long way to go and a hard battle ahead. But I feel strong. I felt okay in the time trial. I expected to go about 50 min and I went inside that so I'm happy," McEwen said.
Leblanc admits Alpe TT "not so good"
Robbie McEwen wasn't the only one unimpressed by the behaviour of fans on Alpe d'Huez. While conceding that fans getting over-excited was "not abnormal" Lance Armstrong said the length of the fan-lined section today was worrying. "Today you had four or five kilometres of people all the time. I don't know if that's such a good thing for the Tour de France. I don't think it's safe," he said.
"There were lots of fans, and it was a little scary. To me, sincerely, it was not a good idea to have a time trial at l'Alpe d'Huez. The crowds are always close on the climbs but I was lucky to get through today," added Armstrong.
Tour director Jean-Marie Leblanc conceded that, in hindsight, a time trial up Alpe d'Huez had perhaps not been such a great idea. He told Reuters that he had seen fans spit at Lance Armstrong during the stage and said the crowds had been frightening.
"I was scared too and I felt relieved when we reached the section with barriers," Leblanc said after Armstrong's criticism. "Until this morning, everybody thought this time trial was a good idea and now we realised it was not so.
"There were lots of aggressive fans surrounding the riders and I even saw two idiots spit at Lance Armstrong. Unfortunately I doubt you can put barriers on the 14 kilometres of the climb," he said.
O'Grady considers a beer stop
By John Trevorrow
Stuart O'Grady (Cofidis) was in good spirits after a strong ride. His 63rd place, 5:38 behind Armstrong was the best finish by any of the top five in the green jersey contest and adds weight to Robbie McEwen's concern that O'Grady and Erik Zabel (T-Mobile, 72nd at 6:09) might yet cause him problems on the rolling terrain of stage 18.
"I obviously couldn't [just] walk up there, said O'Grady. "I knew I couldn't muck around with Armstrong going as fast as what he is. Not time to muck around. I reckon a few will get eliminated because Lance will go so quick." [Davide Bramati (Quick Step-Davitamon) and Aart Vierhouten (Lotto-Domo) found themselves outside the time limit and won't start Thursday's stage.]
O'Grady was told about the abuse McEwen received from the German fans and asked if he had any problem. "Well I had a lot of German and Dutch fans offering me beer," he said "I would loved to have stopped for one, maybe next time."
Of course the inevitable question on his chances for the green jersey had to be asked.
"It is a little bit out of my reach now," he said. "I may have a go tomorrow at getting into a breakaway, like yesterday. But the problem is that everyone knows my plans.
"Tomorrow [stage 17 from Bourg d'Oisans to Le Grand Bornand over the Col du Glandon and Col de la Madeleine] is going to be a very hard day. I think you will see a lot of guys going home a little earlier than expected. The important thing for me is just to get through it as best I can and my climbing form has been good so I am quite confident. I think there will be a few guys out there a lot more worried than me."
Cooke slowed by leg woes
By John Trevorrow
Baden Cooke (Fdjeux.com) looked to be in a bit of discomfort at the finish. "You have to really dig in just to get off the bloody thing," he said, but added that he'd been buoyed up the hill by "heaps of Aussies, which was great."
Nevertheless, Cooke admitted he was having difficulties sustaining maximal efforts. " I've got this circulation problem when I am going flat out," he said. "It's been around for the past two seasons and it doesn't start until I'm about 15 minutes into a major effort. Then the blood flow seems to be restricted and my leg goes numb. Before it used to only happen on my time trial bike but now it happens every time I go flat out."
Is that similar to the problem with a compressed artery in his leg that Stuart O'Grady used to have?
"Well his was at the front and mine is in the back of the upper thigh. It is more common at the front but I suppose it is similar," said Cooke. "I lose all my circulation in my leg. Yesterday on the cat two, the power cut off and I lost all sensation in my leg and my foot swelled up like a balloon. It's like the blood gets in but can't get out."
Will you get it seen to before the Olympics?
"It doesn't seem to worry me up the smaller climbs. So I think I will be fine in Athens."
Cooke's team-mate Matthew Wilson rode what he called a steady pace but only just got inside the time limit.
"Unbelievable, unbelievable,." he gasped at the finish. "Seemed like there was all Aussies all the way up. It was just awesome to get so much support. It really helps. Even though I was not worrying about a best time, I still had to keep the rhythm high and also make sure I didn't blow. If I took it easy in this stage I would miss the cut. Another day closer to Paris."
(All rights reserved/Copyright Knapp Communications Pty Limited 2004)