Tour de France News for July 22, 2004
Edited by Jeff Jones
A sign of the times
Armstrong dominates on l'Alpe d'Huez
Armstrong passes Basso
Photo ©: Sirotti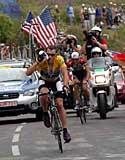 Lance Armstrong once again demolished his opposition in this year's Tour de France, winning the 16th stage individual time trial on l'Alpe d'Huez by 1'01 over Jan Ullrich (T-Mobile) and 1'41 to Andreas Klöden (T-Mobile). Armstrong strengthened his grip on the maillot jaune to 3'48 after he caught his two minute man Ivan Bass (CSC) with 2.8 km to race, perhaps the defining moment in this year's Tour.
"I was very happy to win here today. L'Alpe d'Huez is the most important climb in the Tour. Today I was focused on just getting through the stage safe and getting the stage win and secure the lead overall. I'm real careful about counting to the number six, although I can. I'll do that on the final lap on the Champs-Elysees. Today was focused on today."
Armstrong added that he probably preferred his 2001 win at l'Alpe d'Huez to today's win because "It looked like the race was going against us in 2001; Telekom was making the race and basically saying that they were going to dominate, but we came back as a team and I came back as an individual and it was quite a swing so I think that made it in general more exciting."
But Lance was not impressed with some of the over-enthusiastic fans today or their behaviour. He explained that "Honestly, that's the way it is every day in the mountains. The Pyrenees were exactly the same...it's not abnormal; there was never a moment where somebody was more aggressive than I've ever seen. The finish on Plateau de Beille was scarier than today...today, the section was a lot longer, on Plateau de Beille, there was one kilometre really...close people. Today you had four or five kilometres of people all the time. I don't know if that's such a good thing for the Tour de France. I don't think it's safe. I think we all agree, and I think the organizers after having watched would agree. I just spoke to McEwen and he agreed. He was scared the whole time up."
Stage 16 full results, report & photos
Live report
Stages & results
Final start list
Tour FAQ
Ullrich rising
Jan Ullrich
Photo ©: Mitch Clinton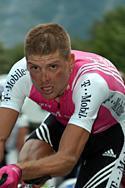 As usual, Jan Ullrich (T-Mobile) is improving as the Tour goes on, today riding his best race yet to finish second in the Alpe d'Huez time trial, 1'01 behind Armstrong. Ullrich rode without a radio and, unlike most others, used a standard time trial position on the aero bars for most of the climb. "The position on the bike is comparable to the position on flat time trials," said T-Mobile's doctor Lothar Heinrich on the team's website (t-mobile-team.com). "The position is just adjusted for power production, which is greater than on the flat."
Ullrich commented afterwards, "I gave it everything, to confirm that I am still in with a shout. The atmosphere here was electric, my ear will still be ringing when I get back to my room tonight."
His teammate Andreas Klöden who finished third said, "It was like riding in a tunnel, with just the motor bike in your sights. But what Lance Armstrong did here is just amazing."
In his preparation for the Tour, Ullrich rode the climb 10 times before the Tour of Germany in order to learn the exact profile and the best lines to take through the hairpins.
Post-race comments
By Melanie Leveau on l'Alpe d'Huez
David Moncoutié, Cofidis (9th at 2'23)
"I started carefully and tried to finish as fast as possible. It is an effort that suits me and even if I don't target the general classification, I really wanted to realize a good time in front of such a crowd. It was a marvellous moment. There were a lot of people on this mythical climb. Sometimes I was a bit scared because they moved away at the last moment but it was beautiful."
Stéphane Goubert, Ag2r Prévoyance (11th at 2'27)
"I punctured with three kilometres to go. Shit! I felt really good, I had one of the best times but I had to change my bike because of that puncture. I lost a lot of time stopping to change the bike and accelerating again with a different bike in a different gear. I finished as I could. I'm satisfied and disappointed at the same time. With the public, it was fantastic, it was a real pleasure all along the climb. I can't wait for Paris. Tomorrow will be tough but I tried yesterday and I'll do it again tomorrow even if today's stage will weigh on my legs."
Axel Merckx, Lotto - Domo (22th at 3'40)
Axel Merckx (Lotto-Domo)
Photo ©: Jon Devich

"I managed to keep a good rhythm all along the climb and to accelerate for the finish. I am satisfied with my time but the best riders hadn't crossed the line yet. The most important is that I climbed with a good pace and that my legs are still good. My father was in the car behind me and I think he suffered as much as I did because I know he doesn't really like to see his children suffer."
Laurent Brochard, Ag2r Prévoyance (28th at 4'03)
"I climbed as I expected with my own rhythm. I had a good cadence and I'm quite satisfied with my performance. The public was great and above all because it was just for you. It was really great. The hardest was to try not to decelerate and I think I managed that. I have no real ambitions for the general classification but it is true that the race circumstances have put me in a good position. Tomorrow, I expect to have more luck in my breakaway attempts than in the last few days."
Jérôme Pineau, Brioches la Boulangère (43th at 4'43)
"The crowd was really impressive in the first kilometres but I did not accelerate too much. That's a trap, you're tempted to accelerate but you pay it a bit later. Sylvain (Chavanel) caught me with 250m to go. I'm quite satisfied today".
Nicolas Portal, Ag2r Prevoyance (85th at 6'34)
"My performance isn't too bad even if I didn't feel very good. I tried not to change my rhythm too much because changes are not easy when you're not feeling good. There were a lot of people on the climb, as last year. It is really motivating, it helps a lot. I was quite confident before the start as I rode well on the Mont Ventoux during the Dauphiné Libéré. I did not really appreciate the climb because I was worried about the time cut."
Stuart O'Grady, Cofidis (63th at 5'38)
"I just got into a good rhythm, a good tempo. Kirchen passed me early on so I just made it my objective to sit behind him and use him as my focus, which seemed to work pretty well. With Armstrong as fast as he is, there's no time to muck around. We just go out there as quick as we can and finish as quick as we can.
"The green jersey is a bit out of my reach now. I might have a go tomorrow, getting into a breakaway again like I did yesterday. The problem is everybody knows my plan."
Patrice Halgand, Crédit Agricole (91th at 6'40)
"It was hard but not harder than I expected; this was the Alpe. It was pretty hard to find the right rhythm and to know if I was doing a good time or not. I had a difficult moment after the first intermediate time point. Did I start too fast? I don't know but I managed to find a second wind in the last kilometres. The most important thing was to arrive at the summit and finish within the time cut. The spectators were numerous above all in the first kilometres. "
Scott Sunderland, Alessio Bianchi (108th at 7'19)
"It was bloody hard! Even if you have particular objective, this kind of race is not easy. I just calculated to be within the time cut. It was pretty hot and there were so many people on the side of the road. It was great. I had lot of supporters: Belgian people and a lot, I mean a lot of support from Australians. People can really get close to you but they know they have to move away. It is always at the last second but they go away. It was a great crowd, they didn't make you crazy. For the last guys like Armstrong, it might be different but for me, it was good.
"Tomorrow is going to be a hard day but I think I'll be okay with the first two climbs. I think Ullrich is going to attack again. But for me, it is just a matter of getting through tomorrow and we'll be almost in Paris. Maybe on Friday, if I'm feeling okay, I'll try to be on the attack again. It will be my last chance to finish in a front group. On the Champs-Elysees, it is a bit hard because of the sprinters."
Caucchioli keeps ninth
Pietro Caucchioli (Alessio)
Photo ©: Sirotti

While Lance Armstrong strengthened his lead in the general classification today, Alessio-Bianchi's Pietro Caucchioli managed to defend his ninth position in the standings with a ride of 43'39 that put him in 27th place on the stage. "Today I suffered from breathing troubles more than yesterday: an annoying cough had been torturing me for the whole second part of the time trial. I'm trying to overlook today's 27th position: I kept ninth in the general ranking and I've gained about ten seconds on the tenth rider, U.S. Leipheimer. As I expected, I overtook the former yellow jersey Voeckler but, unfortunately, I was overtaken by Carlos Sastre. The Spaniard has 0'16 on me: I will try to recover the gap in the next stages to post an extraordinary eighth position."
The other Alessio-Bianchi members did their job today, including Andrea Noè who is riding with a microfracture of the right wrist, finishing 62nd at 5'25 from Armstrong.
Simoni's had enough
Gilberto Simoni, double winner of the Giro d'Italia, has said he never wants to race the Tour de France again. Italy's national Tour has been a source of pleasure for Simoni, leader of the Saeco team, but the Tour de France has not smiled on Gibo.
"I never want to come back," Simoni told l'Equipe's Philippe Brunel. "I've done four Tours without any success."
He will race the Tour, "because it's my job and they pay me to do that," but the lure of the biggest grand tour has been lost.
Of course Simoni's stage victory in the 2003 Tour was a notably victory, salvaging a failed attempt to ride for the general classification, but the Italian is tired of finding himself completely overwhelmed by the dominance of Lance Armstrong and his US Postal Service team. Gone is the bravado of a year ago when Simoni said openly that he could beat Armstrong in the Tour. Gone is his own ambition to attack just to liven up the race, even if only for a shot at a stage win.
"The other day my director said I had to attack Armstrong, but how?" Simoni asked. "In the lead group half of the riders were US Postal. We were twenty and they were nine! The only solution is to take on Armstrong one on one, but even then, we've seen that Armstrong is very strong and very confident.
"In this Tour it's less a question of beating Armstrong than beating his team," Simoni added. "When we're in the mountains, as long as he has two teammates by his side, there's nothing we can do... Everyone who talked about attacking his has had to be quiet."
Rather than ride as the 'tenth gregario' for Armstrong, Simoni hopes to finish the Tour without incident, and win a stage, which he confesses would be a miracle. Disappointed with a number of decisions by the Tour organisation, notably the exclusion of Saeco riders Danilo Di Luca (before the Tour) and Stefano Casagranda (during) due to their implication in an ongoing doping investigation in Italy, Simoni said he could accept bad luck or the strength of his rivals, but he couldn't accept having to fight against the organisation.
Simoni seems to have become more humble, and even if he has not come to love Armstrong's personality, he accepts the American's dominance in the Tour.
"I envy Armstrong, like I envied Pantani for what he did," Simoni said. "Those two are bigger than me."
Hamilton in one piece
Tyler Hamilton had an MRI performed to determine the extent of his injuries which forced his abandon in the Tour de France, and at a minimum has confirmed that no bones were broken in the fall. Hamilton landed hard on his back when caught up in a crash in the final kilometre of the Tour stage 6 to Angers. Though he continued for the next few days, the high mountains of the Pyrénées proved too difficult for the Phonak leader, who aside from dealing with the pain could not get enough power in his legs to follow the leaders.
"This is really good news for me," Hamilton said Tuesday. "I can forget about cycling for the next couple of days. Therapy is on the agenda every day now."
Hamilton could be back in light training next week, and has set his sights on a possible entry in the Clasica San Sebastian, followed by the Olympic Games in Athens.
(All rights reserved/Copyright Knapp Communications Pty Limited 2004)