Tour de France News Extra for July 20, 2004
Edited by Jeff Jones
Bruyneel plans the last week
By Melanie Leveau
Lance Armstrong (USPS)
Photo ©: Roberto Bettini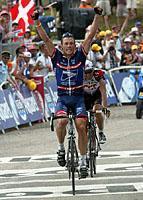 While riders are making the most of the second rest day of the Tour after a training séance in the morning, while mechanics are washing and checking the bikes before the Alps, Johan Bruyneel has to face the journalists. He doesn't speak only about Lance Armstrong and his teammates but also about his planned and new rivals, the way he imagines the last week and the future of the team.
To maintain a certain suspense that nobody believes in anymore, a relaxed Johan Bruyneel said that the Tour is not over and that everything can still happen. For him, Lance Armstrong is not stronger than in the past. "He's stronger than last year for sure but less than in 2001 and 2002. If there is a bigger difference between Lance and his rivals this year, I think it is because they are not at the same level than they used to be. That explains why Lance looks so strong."
He can't really explain the difficulties Ullrich had to face in the Pyrenees, but he believes the German can do well in the Alps. "He has always been Lance's main rival and he is always the strongest in the last week. So, we are happy to have him so far behind."
Hamilton, Mayo, Heras are already out of the race for victory. There are a few men now able to make the road to Paris more difficult for Armstrong. First there is Ivan Basso who was the last rider able to follow his pace in the Pyrenees. "He's got a lot of talent, he's a hard worker" said Bruyneel. That explains why US Postal tried to get him in the team last winter. The Under 23 world champion (Valkenburg, 1998) finally preferred the Danish CSC team, where he can ride for himself. At 26, Basso appears to be Armstrong's main rival. "He's consistent, regular. He is probably not able to do a super performance like Mayo but he is more calculating. He will perform well on l'Alpe d'Huez and even if he is not a time trial specialist he will do a good time next Saturday just to defend his classification".
Klöden is one other of the candidates for the podium. "He realized a good season after a few seasons lacking. Like Ullrich, he is really good in time trials. I don't expect them to sit and wait for the finish".
Click here for the full report
Mayo out
With his physical condition far from perfect and his morale completely at rock bottom, the Basque hope Iban Mayo (Euskaltel) opted not to start in Stage 15 of the Tour de France. After losing 37 minutes in Stage 13, Mayo had felt bad on the rest day and he and his team decided it wasn't worth continuing.
"We knew he wouldn't finish the stage today, so we decided it was better for him not to start," Euskaltel team manager Miguel Madariaga told Reuters.
Before the Tour, Mayo had been proclaimed as the man who would push Lance Armstrong in the mountains, especially after putting two minutes into the American in the Mont Ventoux TT during the Dauphine Libéré. But a crash during stage 3 of the Tour left Mayo four minutes behind Armstrong, and he was never able to take back any more time. During stage 13 he climbed off on the Col d'Agnes, but was persuaded to continue by his team manager until the finish at Plateau de Beille, where despite his massive deficit, he was cheered to the top by thousands of fanatical Basques.
Ullrich surprised
Jan Ullrich wasn't talking much during the rest day as he took stock of a couple of less than average days in the Pyrenees. The German contender who has never finished lower than second in the Tour looks like doing so this year, even if there is a week to go until Paris.
"What happened in the Pyrenees surprised me because I thought I was at my best level," Ullrich commented to L'Equipe. "But I just didn't have the legs to match my ambitions. The Alps suit my potential better. I'm a fighter. I will keep trying to prove that I was not wrong in my approach to the Tour."
Ullrich added that, "The podium is still within reach and I don't want to deprive myself of at least finishing the Tour with my head held high. I've always said that the last week will be decisive."
Heras tries to stay positive
If Ullrich's less than average performance was a surprise in the Pyrenees, highly touted Spanish climber Roberto Heras' climbing was even worse. Heras has lost 27'35 to Voeckler so far, and is languishing in 35th spot on GC. In comments to L'Equipe, the Liberty Seguros rider admitted that he has no option but to try to salvage a stage win. "I have to look at this Tour in another way," said Heras. "There is nothing more to lose. It's time to attack and try to save this Tour. There's one week left to do that."
Lotto-Domo concerned about Alpe d'Huez
Claude Criquielion, one of the Lotto-Domo team directors, is concerned that Robbie McEwen could be eliminated during tomorrow's Alpe d'Huez time trial. With the time limit set at 33% and a winning time for the 15.5 km uphill test expected to be around 40 minutes, McEwen will have to finish within 13 minutes of the victor. "That means that he will have to give full gas from the first metres," said Criquielion.
Scanlon battles the mountains
Irishman Mark Scanlon (Ag2r) is riding well in his first Tour de France, currently sitting in 98th on GC, but more importantly he is hanging in there. Cyclingnews spoke to him at the start of Stage 15, where he was looking at another long, hard day in the saddle. "The Tour is going well," said Scanlon. "I survived the Pyrenees and now I have to get through some hard days in the Alps. I expect more of the same there - it's been hard but I've managed."
When asked about his role in the team, Scanlon replied, "I'm not under too much pressure. From now on I just have to look after Nazon and get him to the Champs Elysées."
White on the mend
Matthew White (Cofidis), who crashed before the prologue in Liege and didn't take the start of the Tour, is now on the mend after breaking his right collarbone. White also suffered facial wounds and had to get four stitches to his eyebrow. However, he has resumed training on the road and is expected to start racing again at the end of July in preparation for the Olympic Games in Athens.
(All rights reserved/Copyright Knapp Communications Pty Limited 2004)