Tour de France News Extra for July 19, 2004
Edited by John Stevenson
Armstrong still on the retirement fence
Lance Armstrong rides in stage 14
Photo: © Roberto Bettini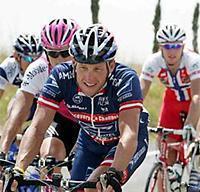 Will he or won't he? When it comes to his retirement, Lance Armstrong is still keeping everyone guessing, including the many riders who'd like a clear shot at a future Tour.
"I first need to finish this Tour before thinking about it," Armstrong told French radio station Europe 1. "Not so long ago, I was convinced I would end my career after a sixth victory but now it is tough for me to think I might soon retire," he continued. "It's difficult for me to think I could not be in a team which is going to last three more seasons with a new sponsor."
No doubt that new sponsor - Discovery Channel, which takes over from US Postal on the team's livery next year - would be delighted to have a six-time Tour winner heading its roster. But Armstrong has to win this Tour first, and he says it's not as easy as it might look.
"I must say that in the Tour, experience is essential," he said. "I know that some people think I don't suffer but of course I do. This year less than in 2003 but more than in 2001."
Armstrong also addressed the doping allegations that constantly surround cycling in general and himself in particular.
"To some extent I understand their point," he said. "The guy nearly died from cancer and it's impossible that he could win the toughest race in the world. Yet I'm telling you there is no secret. The sport changed a lot after 1998 and the Festina scandal. It's a good thing that the pressure on cycling has led to new rules and more controls.
"But it's a bad thing that it should attract journalists only looking for sensational headlines. They say I'm the biggest cheater and nobody likes to be treated this way. But I know better and in 10 or 15 years, nobody will remember what was written in that newspaper or in that book that just came out. Everybody will remember that I won five or six Tours de France. I'm convinced everybody will know then that I was clean."
Hinault joins LeMond/Armstrong fray
The last Frenchman to win five Tours de France, Bernard Hinault, is not impressed with Greg LeMond's insinuations that Lance Armstrong has achieved his five Tour victories with a little help. Speaking to Newsweek before the race hit the Pyrenees, Hinault said of LeMond's comments, "This is something that keeps coming back, and I think that some of it may be linked to LeMond's jealousy of Armstrong. The fact is that Armstrong has never tested positive. And as long as you don't have evidence I don't see how you can accuse him."
Despite their rivalry while both were racing for La Vie Claire in 1986 and Hinault apparently attacked LeMond even though the team's goal was to have LeMond win the Tour that year, Hinault was sanguine about LeMond's comment that Armstrong's six victories on the Tour wouldn't be worth Hinault's five victories.
"You cannot compare what's not comparable," said Hinault. "If Eddy Merckx had competed only in the Tour de France, he would have won it 15 times. The problem with cyclists these days is that they do what they're told to do because the media pressure and the expectations are so huge that the only thing that matters is winning. If you don't wear yourself out by running other races during the year and you concentrate on competing only two months a year, then you have a big advantage over everybody else. And that's what Armstrong does."
Since retiring in 1986, Hinault has owned and run a farm in his native Brittany, but returns to the Tour de France every year as a PR man for the race. What did he think explained the importance of the Tour? "It's a combination of things," said Hinault. "You get all the best champions, it's the summer, people are on holidays and all the media are there. If you have media, you have sponsors, and if you have sponsors, you have money."
(All rights reserved/Copyright Knapp Communications Pty Limited 2004)