Tour de France News Extra for July 19, 2004
Edited by John Stevenson
McEwen edges ahead in green jersey contest
By John Trevorrow
Robbie McEwen zips up another green jersey
Photo: © Caroline Yang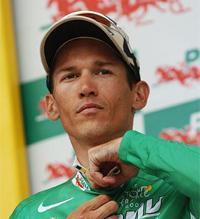 With the general classification riders taking it relatively easy, stage 14's finish was a chance for green jersey contenders Robbie McEwen (Lotto-Domo), Thor Hushovd (Credit Agricole), Erik Zabel (T-Mobile) and Stuart O'Grady (Cofidis) to strut their stuff. They were only sprinting for 11th place but the combatants for the green jersey still put on a super fast display.
Robbie McEwen timed his run to perfection to pip Thor Hushovd on the line and increase his lead on Eric Zabel to 13 points. Stuart O'Grady finished three spots behind McEwen and although not completely out of the hunt, will need to get clear in a stage to win his first Maillot Vert.
Robbie McEwen described the finale. "I came around the last roundabout in maybe seventh place on the wheel of Hushovd and I just waited. O'Grady started on the left and Zabel on the right. I just waited for the right moment. The others started about 250 m out, at this stage of the Tour that is a long way out. I just waited a little bit, at about 200m I came out of the wheels. I felt good; I felt strong.
"I said this morning that a group would get away, maybe after 100m or 100 km. It ended up taking 100 km for the break to really get away. Everyone was fairly happy that the break was gone so they could relax a bit. Those guys have been waiting all Tour for a day like today and it's that sort of break that someone can make a career of.
McEwen has previously said that the green jersey isn't a big priority now that he has two stage wins in this year's Tour, but he's obviously now thinking of wearing it into Paris. "Every little point counts from now on," he said. "You never know. Things can change so fast in this competition. I have been confident from the start because I have been sprinting the fastest since the very first day. I feel on pure speed I have got the rest covered but that is not always enough. Someone might get in the breakaway, get over the big cols and get points in one of the sprints. Zabel is known for that, so it is one of the most unpredictable competitions."
How are the injuries?
"The knee is okay, it's still a bit sore and swollen I've done something with my back as well and something to my ribs. I've had three crashes so far so I've got little niggly things all over. But this is the Tour. Any other race I probably would have gone home."
Before the stage, McEwen had a few words to say about his spectacular crash in the mountains. He was once again in the wars, having crashed on a descent and landing on Jean-Patrick Nazon's bike. He was sporting a black eye, cuts on his face and a swollen lip. McEwen felt he was the victim of unfortunate circumstances.
"I was in a group that was going too quick for the corner," he said. "I gave plenty of distance and I thought he may have got through. Suddenly Nazon backed it right off then he lost it and went over the handlebars and crashed into a concrete post. By that time I was coming too quickly. I crashed into his bike and went over the handlebars, landing on his bike. The chain-ring caught in my arm and hit my back. I look like I've been in a fight. I'm okay though. The rest day will definitely come in handy."
Rogers aiming for top 20
By John Trevorrow
Quick.Step-Davitamon's Mick Rogers has been hard to catch up with recently but managed to give a small insight into his tough past few days.
"I was really shocked by the pace today," he said of the frantic start to stage 14. "I thought it would be easier and that most would be a lot more tired. It has been the story of my Tour that the breaks that I get in always get caught.
"I was very happy with how I went yesterday. I came unstuck on the Plateau de Beille. Moreau punctured and my teammate got caught up. I ran in to the back of him and it broke my momentum and rhythm."
Hopefully the time trials will help you get back some time?
"I hope they will help but every minute you lose is one you have to get back. If I can make the top 20 it well be a very successful Tour. We did the stage to Villard de Lans in the Dauphiné and although it is hard I don't believe there will any major change time gaps. I think a lot of the guys will try and save a bit in the time trial up l'Alpe d'Huez.
Fdjeux.com looks to Paris
By John Trevorrow
Matthew Wilson (Fdjeux.com) looked tired after stage 14, but a lot better than the past two days. " [I'm] not too happy after the mountain days," he said. "But Baden's feeling better and the team is feeling pretty geed. It must have been 50km plus for the first hour [today]. I feel a lot more confident this year and I'm enjoying it a lot more."
Do you feel momentum building in the team heading to Paris?
"Yes I think it's building in Baden's head as well. The whole Tour will be saved if he can win in the last stage. The first half of the Tour has been a bit disappointing. There were a couple of personal problems, as well as the problems Brad had. I think him being out was the main disappointment. There is no one in the world who can do what Brad can do in the finale of a stage."
How are you going to replace Brad in the last week?
"You can't replace what Brad does. We've got Bernhard Eisel and Carlos Da Cruz, who along with me can cart Baden up to the front in Paris."
One of the most relaxed guys in the peloton is Wilson's team-mate, sprinter Baden Cooke. Not in the way he races but just in his demeanour at the finish. He rarely seems to be under too much pressure. Despite Paris being his main agenda, Baden had not given up hope of a win in today's stage.
"I had a go at getting in the breaks today," he told Cyclingnews. "It's the first day that I've felt that I could go with them. I've been tapping away each day. I'm just trying to hang in there and eventually something good will come around.
"I don't have to really think about my results in the mountains so there's not much pressure. I'm feeling physically strong and I've handled the mountain stages easily. It's the sprint stages that are frustrating, when it doesn't come off you just wonder what the hell's going on."
You know the Paris finish well?
"It's just like a big, thrashing sprint. Everyone's completely stuffed. But twice I've been second. A win there, well, that would just turn the whole Tour around."
How have you come to terms with not being in the hunt for the green jersey?
"Don't have much choice do I? It doesn't always come off but there are other races in the year. I've already been thinking about the Olympics. A medal there would turn the whole season around."
Sunderland: "All part of the job"
Scott Sunderland still had his effervescent grin at the finish.
"It was crazy out there for the first hour," he said. "At least 50 kph. Caucchioli was having a shocker and I ended up spending most of the stage out in the wind. I would have been better off out front in the break. It would have been a damn sight easier. But that is all part of the job and Caucchioli is looking like a top ten chance. Ahh rest day, 99 percent of the guys are looking forward to this."
(All rights reserved/Copyright Knapp Communications Pty Limited 2004)