Tour de France News for July 19, 2004
Edited by Jeff Jones
The right moment to go
Aitor Gonzalez
Photo ©: Jon Devich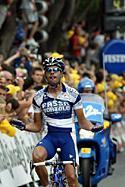 Fassa Bortolo netted its third Tour stage win today in Nîmes when Aitor Gonzalez soloed across the line 25 seconds ahead of Nicolas Jalabert and Christophe Mengin to win Stage 14. Aitor was part of a 10 man break that escaped after 100 km, and with no threatening GC riders in it and the sprinters' teams too tired to chase, the break gained 14 minutes over the peloton by the finish. The attacking in front began with 9.5 km to go, and when Aitor Gonzalez put in a powerful surge with 7 km left, no-one could close the gap.
"I am very happy because this win restarts my Tour and my season," said the happy Fassa Bortolo rider post-stage. "I want to dedicate it to the people who have remained behind me through a difficult period. I wanted to leave a strong mark in this race. In the break I wasn't the strongest, but I felt full of energy and I wanted to attack at the right moment."
Stage 14 full results, report & photos
Live report
Stages & results
Final start list
Tour FAQ
Voeckler ready for some rest
By Chris Henry in Nîmes
Thomas Voeckler
Photo ©: Jon Devich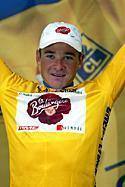 Yellow jersey Thomas "Ti-jaune" Voeckler is ready for some rest. Wearer of the jersey since landing himself in the successful stage 5 breakaway, Voeckler has made his team and his country proud by holding on to his race lead for nine stages. Voeckler's lead is down to a slender 22 second margin ahead of five-time Tour winner Lance Armstrong, but to have survived the Pyrénées with any lead intact is already a victory of sorts for the 25 year old Voeckler. Already French national champion, his tenure in yellow has confirmed his status as a leading talent in his country.
Riding on guts more than legs, Voeckler fought constantly throughout the mountainous stage 13 on Saturday to rejoin the lead group each time he was dropped, only to lose contact with the flying Armstrong/Basso duo on the final climb to Plateau de Beille. With fist clenched as he crossed the line, Voeckler knew the hardest day had ended with success.
"We had a feeling in the team that we really reached a higher level and did what we were supposed to do," Voeckler said Sunday of his team's performance through the first mountains. "To have come through the Pyrénées with the jersey means there's a little less pressure, since everything that comes from this point on is a bonus."
Stage 14 from Carcassonne to Nîmes was flat, but no picnic, as the peloton stormed east. Constant attacking kept everyone racing flat out and nervous until a break finally formed at the 100 kilometre mark.
"It wasn't exactly a perfect day," Voeckler said after the stage. "If you saw the race, there was an average of 46km/h in the first two hours with a headwind. It was a relief when the break went and there was nobody dangerous for the GC, so it was easier in the second half of the race."
Voeckler has more tough days ahead in the Alpes, and knows his jersey is almost certainly on its way to Lance Armstrong's shoulders, but he hopes to get some respite on the Tour's second rest day Monday.
"There isn't a turn of the pedals where I don't feel some fatigue in my legs," he said. "I hope tomorrow will help rest my legs a bit.
"I'll take a short ride in the morning, but maybe I'll do a bit more than I did on the last rest day," he added. "The next stage is difficult, so it's important to be in the right rhythm from the start."
CSC ups and downs
By Tim Maloney, European editor in Nîmes
BobbyJ down but not out
A tough blow for Bobby Julich
Photo ©: CN

Sporting a heavily taped right wrist bandage, Cyclingnews spoke to the shocked Bobby Julich (CSC) before Stage 14 in Carcassonne. After his hard crash yesterday after 100km of unlucky Stage 13, CSC's Julich, who has been the comeback rider of American cycling this year, lost 42'20 and is now 52nd on GC at 46'49.
"Yeah, I'm really disappointed today," said Julich. "I felt really good two days ago and up until what happened yesterday, I felt great (on Stage 13). You go from thinking possible top ten, top fifteen in the Tour to just trying to survive in five seconds.
"I went back to get bottles at the top of the Cold de Core and Bjarne gave me one bottle and then I took another one and kind of held on to it. Then he had to swerve to the left, I was on his left, to avoid a cameraman or something in the way. So I kind of bounced off the car and got my handlebar caught on the mirror. Obviously that threw me to the left and I think I would have been OK, but there just happened to be a Gerolsteiner rider on my left, so I ran into him and lost my balance and wound up falling on my right side, which is exactly where I hit hard the other day. At first, it felt like my back was going to be the problem, but when I started going, I couldn't even hold the handlebars. Going uphill wasn't so bad but going downhill was really tough, trying to brake. That was a big change of fortune in a couple of seconds."
Julich finished the flat fast Stage 14 in the main peloton and will have the rest day to recover from his crash. Fortunately for the Reno, Nevada resident, his Team CSC's physical therapist Ole Kaare-Foli is a former pro handball player and is an expert at wrist taping techniques. And Kaare-Foli is the same PT who kept Tyler Hamilton on the road during last year's Tour with his cracked collarbone, so Bobby is in good hands in his quest to at least get to Paris.
Bartoli backs Basso
Both Michele Bartoli and Ivan Basso came over to CSC this season from Fassa Bortolo and Miki, classics rider extraordinaire told Cyclingnews today about his young teammate, Tour revelation Ivan Basso. "After his exploits at the Tour, Basso hasn't changed a bit...he's an excellent athlete and it's clear now that he's now starting to achieve what people thought he could achieve. It's not a surprise he has such a big motor. Plus he's just a great guy. Ivan is very relaxed, even the way the Tour is going for him. Perhaps others might get a bit of a big head, but Basso is always the same."
Bartoli spoke very positively about his experiences at CSC, saying, "It's good here...a really relaxed team; for sure, a good environment to give your best as a rider."
We asked Miki, certainly one of the best Italian classics masters ever about the rest of his season. "For now, we have this really big objective with Ivan. I'm 100 percent behind defending Ivan's position in this Tour. That's the most important thing. Sure, to win a stage would be nice, but the most important moments for me this season will come after the Tour. Here, the job is to only think about Ivan and after the Tour, I will think about my own goals."
Miki's post-Tour goals are, "The classics in August, the Olympics and the World's...for me, my season really starts after the Tour." When we asked Bartoli about the possibility of winning another Giro di Lombardia, the two time champion of the classic of the falling leaves smiled broadly and shook his head. "Sure, I'd love to win (Lombardia) for the third time...multo!"
Basso and la Famiglia
Ivan Basso (CSC)
Photo ©: Roberto Bettini

This morning in Carcassonne, Tour revelation Ivan Basso had a visit from his family: wife Micaela and baby daughter Domitilla were there to support their man in his quest for a Tour De France victory. "It's important for my head to have my daughter and my wife here for the last week of the Tour," Basso said.
Surrounded by a frenzied media scrum, proud daddy Ivan asked little Domitilla what daddy does when he wins and the cute little girl had clearly watched her father a few days earlier at La Mongie: she smiled and raised her arm in victory.
Klöden has carte blanche
Andreas Klöden is looking likely to be T-Mobile's best placed rider on GC at the end of the Tour, although there are still six stages to come. It was originally planned that the German champion would help Ullrich in the mountains, but after two days in the Pyrenees, Klöden is sitting fourth on GC at 3'18, while Ullrich is back in eighth at 7'01 - somewhat of a role reversal.
After stage 13, Klöden told L'Equipe that, "It was another great day even if I wasn't able to follow Armstrong all the way to the end. I preferred to climb at my own rhythm. Earlier, Jan had given me carte blanche to do my best to stay with Armstrong for as long as possible. I'm still convinced that Jan is going to come back very strong in the Alps."
Ullrich confirmed that he had no problems in letting Klöden take over the leadership, writing in his diary on T-Mobile's website, "For me 'Klödi' has been a revelation in this Tour. I hope he can maintain his current level all the way to Paris. He was clearly the better man in the Pyrenees, so I've given him 'Carte Blanche' in the Alps. I certainly won't split hairs over who works for whom.
Jan Ullrich (T-Mobile)
Photo ©: Roberto Bettini

"Use 'Klödi' just as a helper when he's in the form of his life? No way! For a start, I know he is currently capable of leaving me in his wake. That's not a good thing for my morale. Secondly, I don't want to make the mistake of using him to pace me in the Alps. I need to ride at my own rhythm.
"In all truth, I was quite content to plough my own furrow on the climb to Plateau de Beille. It will only make sense to enlist Klödi's help in the Alps if its to our mutual benefit. If I think he has the stronger legs, then he not only should, but must, go for it alone."
Ullrich added that he is "fully concentrated on the final week...It will be one battle after another, with no respite until we roll into Paris on Sunday."
Mancebo concedes
Francisco Mancebo has no illusions about winning the Tour, realising after stage 13 that his chances are limited to a possible podium spot. "From this point on, the Tour will be decided between Armstrong and Basso," Mancebo told L'Equipe. "There's only third place to fight for, for which I am a candidate just like Klöden, Totschnig and don't forget Totschnig and Azevedo. I tried to attack and test Armstrong's group with the hope that some riders would follow. Unfortunately, nobody wanted to, or nobody could. The key to this stage and no doubt for the Tour is the collective strength of US Postal. If Armstrong wins, it's clear he owes that to his team."
USPS and ASO not speaking
Leblanc explains the reason for hard line rule
After the Tour organisers tried to exclude USPS rider Pavel Padrnos from the race last week, Lance Armstrong and Johan Bruyneel are no longer talking to them. "Armstrong doesn't greet me any more, but that is up to him," said race director Jean-Marie Leblanc in a press conference today.
At the root of the dispute is the Tour's controversial rule introduced at the start in Liege to exclude riders who are under investigation for doping, whether guilty or not. Martin Hvastija (Alessio) and Stefano Casagranda (Saeco) have already been thrown out of the Tour on this basis, but the UCI overruled the Tour organisation when it wanted to turf Padrnos and Stefano Zanini. Furthermore, if this rule had been in place three years ago, US Postal would have been prevented from competing in the 2001 and 2002 Tours, as the team was under investigation in France for doping, even though all charges were finally dropped.
"At that time there would have been an outcry in the media if we had taken on such a measure. Since then there has been a change in thinking. The way in which we are going forward is risky, but it's the only possibility to preserve the image and the credibility of the Tour. We were soft, we asked the teams and the athletes to take responsibility for themselves. Then in the spring Manzano and Gaumont were caught and put the work of everyone who fights for cleanliness and sportsmanship in cycling in question. Then we became angry and said: now we will clamp down hard. We have no other choice if we want to be taken seriously."
Carbon chef
By Tim Maloney, European editor in Nîmes
Cyclingnews asked USPS team chef Willi Balmat what's cookin' in the village depart today and the personable Swiss pot stirrer told us that he cooked up something special at the team hotel last night in Carcassonne to celebrate Lance's win. "Pretty soon, we'll have the yellow jersey so I'm sure that half of that was my doing!" joked the Swiss chef.
On the Postal team training table Saturday night to celebrate Armstrong's 17th career Tour stage, Willi said that, "I made a tomato and mozzarella salad, like a caprese, then I prepared a new dish; something special. It was a chicken and rice casserole; dry rice, with chicken, garlic, peas, a little hot pepper flakes for flavour and some corn kernels. Then I baked it in the oven gratinee style.
"Lance asked me what was for dinner when we served it and I said, "Look, before you start to complain, just try it and tell me what you think. Then his new girlfriend (Sheryl Crow) tried it too and she said it was perfect, so I was safe in my job for another day. But everything is cooking well and we have no problems."
On rest day, USPS will be staying at one of their favourite hotels, Hotel d'Esplan near Orange, France. "We have been working on the rest day menu a week ago...this is the fifth time I've been there and the chef is a nice young boy. We'll have vegetables from the hotel's garden and some special veal steaks that have been specially raised by the hotel's butcher."
Medical communique
Bobby Julich (Team CSC) - Pain in right wrist following stage 13 crash
Jakob Piil (Team CSC) - Right knee pain
Sylvain Calzati (RAGT Semences-MG Rover) - Left knee pain
Christophe Laurent (RAGT Semences-MG Rover) - Cramps
Jean-Patrick Nazon (Ag2r-Prévoyance) - Multiple contusions, injured right shoulder in stage 14 crash
Marcus Ljungqvist (Alessio-Bianchi) - Contusion on left hip
Oscar Sevilla (Phonak) - Cut on right palm
Commissaire's communique
The following riders were fined 30 CHF for brief drafting behind cars:
Laurent Dufaux (Quick.Step-Davitamon)
Jean-Patrick Nazon (Ag2r-Prévoyance)
Nicolas Portal (Ag2r-Prévoyance)
Christophe Laurent (RAGT Semences-MG Rover) - fined 50 CHF and penalised 10" and 5 points for receiving a push from vehicle.
Jimmy Casper, who finished 30 seconds outside the time delay on stage 13, was allowed to continue after the jury decided his time was affected by the crowds on the climb to the Plateau de Beille.
Prize money so far
Cofidis - €48,833
Team CSC - €44,427
Fassa Bortolo - €44,091
Quick.Step-Davitamon - €39,481
US Postal Service-Berry Floor - €39,334
Lotto-Domo - €39,109
Ag2r-Prévoyance - €38,499
T-Mobile - €34,578
Crédit Agricole - €30,566
Gerolsteiner - €20,468
Euskaltel-Euskadi - €20,203
Brioches La Boulangère - €18,289
FDJeux.com - €18,253
Domina Vacanze - €17,477
Rabobank - €16,190
Illes Balears-Banesto - €13,598
Alessio-Bianchi - €10,584
Liberty Seguros - €6,715
Saeco - €4,555
RAGT Semences-MG Rover - €3,764
(All rights reserved/Copyright Knapp Communications Pty Limited 2004)