Tour de France News for July 18, 2004
Edited by Jeff Jones
Closer to yellow
Lance Armstrong (USPS)
Photo ©: Jon Devich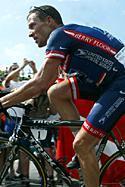 In winning today's 13th stage to Plateau de Beille, Lance Armstrong moved tantalisingly close to the maillot jaune, which is still held by the gutsy Frenchman Thomas Voeckler (Brioches), who finished in 13th place, 4'42 behind Armstrong. US Postal's execution of today's stage was perfect, just like in 2002 when the boys in blue rode a ferocious tempo from the word go to reduce the peloton to less than 40 riders by the final climb, where Jose Luis Rubiera and Jose Azevedo finished off the job for Lance, leaving their captain alone with Ivan Basso with 7 km to go.
After that, Armstrong and Basso combined well to put as much time as possible into their rivals, distancing Totschnig, Klöden, Mancebo and Ullrich by minutes. "Well it really wasn't very tactical," Armstrong explained in his post-race TV interview. "We basically agreed to work together on the climb. When I went, Ivan was strong enough to follow. I couldn't get rid of him. He deserved to be there."
Asked whether he thought Basso would attack, Armstrong replied, "No. He's strong but I could tell that he was on his limits. I couldn't drop him so it was better to work together."
Armstrong paid credit to his team, which rode the rest of the peloton of its wheels. "It was really perfect teamwork. We wanted Eki and Pavel for the valleys and Benjamin and Triki for the early climbs. We did that perfectly until we got to the next climbs, then Floyd and George took over, and then Chechu and Azevedo for the final climb."
After the abandons of Tyler Hamilton, Haimar Zubeldia, Denis Menchov and the near abandon of Iban Mayo, Armstrong commented that, "It's a surprise that some of them dropped out of the race...It's probably not that great for the race either."
As for speculations that he wasn't up to scratch in the Dauphine Libéré last month, Armstrong replied, "I don't put a lot of stock in what people say in June. The difference between being on top in the Tour and in June is enormous."
Stage 13 full results, report & photos
Live report
Stages & results
Final start list
Tour FAQ
Climb-o-Rama
By Tim Maloney and Chris Henry on Plateau de Beille
Armstrong leads Basso
Photo ©: Roberto Bettini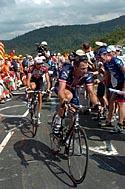 Although there were some doubters about his climbing form following the TT up Le Mont Ventoux in the Dauphiné Libéré, Lance Armstrong has likely silenced the doubters after his performance in the two mountain stages so far this Tour de France. But Lance doesn't take his ascending prowess for granted, saying after his Stage 13 win that, "The day that I show up and I'm convinced that I'm going to be in the front on the climbs is the day that I lose. I think perhaps you could say that happened last year; I was perhaps overconfident, but this year, for the Tour, obviously in the Dauphiné, I was not in the front and before the Tour this year, I was insecure. But I think that's what all great champions are...that they're worried about their place, of losing their place on top and that's what keeps them there. I'm happy that I'm climbing as well as I am; I felt better today than yesterday (La Mongie). I was able to sit down more and was more comfortable on the bike."
Back in black
Cyclingnews asked Lance Armstrong what was up with his black socks today after his win on Stage 13. He told us that, "I didn't have white sox in my bag today, so I put on the black ones...I know the black socks are a little bit controversial, but I sort of like them. I gave a pair to George and he likes them too. If the weather's a little cloudy, they fit the day. I'll probably wear white socks from now on."
Express delivery
Stage winner Lance Armstrong
Photo ©: CN

Certain privileges await the stage and jersey winners atop certain mountain finishes in the Tour de France, notably the helicopter evacuation after podium ceremonies and obligatory press conferences. No man in the yellow jersey wants to sit in the traffic jams descending from mountains like the Plateau de Beille, where thousands of rabid cycling fans will try to funnel down the same road, into the same small town, toward the similarly small destinations. If you're five-time winner Armstrong, a quick trip in the sky is to be expected.
Saturday was no exception, and after his podium appearance for his stage win, media chat after, and a short appearance on France 3's Vélo Club program, Armstrong was escorted to his flying chariot by a hefty crew of Tour security men and gendarmes. Not to mention a few excitable American and even...Basque fans. Armstrong's companion Sheryl Crow carried the bouquet du jour as they headed across the field to their waiting helicopter.
Bruyneel the tactician
By Chris Henry on Plateau de Beille
Considered by Lance Armstrong to be the driving mental force behind the US Postal Service team's success in the past five editions of the Tour de France, directeur sportif Johan Bruyneel takes a certain pride in his ability to read the race and plan the team's strategy. As Armstrong claimed his first stage win in this year's Tour (after the collective victory in the team time trial), Bruyneel was happy with the day's effort and his leader's placement relative to the danger men, particularly perennial challenger Jan Ullrich (T-Mobile).
"I think he's six minutes down already," Bruyneel said of Ullrich, who lost another 2'42 to Armstrong on stage 13. "That's a lot after two mountain stages."
Bruyneel, who early in the season tipped Ivan Basso as perhaps the most dangerous rider to watch in this year's Tour, confirmed "I was right" about the Italian.
"I think there are other riders now who are more dangerous," Bruyneel said. "We have Basso, who yesterday and today was the only rider who could stay with Lance. Then there's Klöden, who's been showing some good form and he's a good time trialist. Mancebo has been showing some good form... I think they're going to be the main rivals for now."
As for his own tactical sense, Bruyneel has proven his ability to direct the team and Armstrong to victory in the Tour, but credited his riders for their own efforts throughout the stage.
"I think I have a good vision of the race and on the competition," he said. "I think it's important to have the ability to analyse the race and each situation. I'm in communication a lot with the riders within the race. They see a lot more than I see, so it's really teamwork."
Basso brilliant again
Ivan Basso (CSC)
Photo ©: Sirotti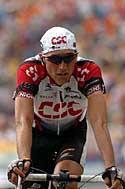 Although it was the turn of Lance Armstrong to take the victory today on Plateau de Beille, CSC's Ivan Basso showed that yesterday's win on La Mongie was not a once off as he traded turns with Armstrong all the way to the summit, eventually taking second to the American. Thus far in the Tour, Basso is the only rider who has been able to match Armstrong in the mountains, and looks the goods for a podium finish.
"I'm happy with what I've achieved in the Tour de France so far," Basso was quoted on CSC's website (team-csc.com) as saying. "After my victory yesterday I felt brilliant, and that gave me strength for today as well. It was a very tough stage, and for Lance and me, it was all about keeping a fast pace all the way, in order to gain as much time as possible. We both heard over the radio, that a lot of the other favourites were having difficulties, and we had to take advantage of this. Now I'll take one day at a time, but naturally I have high ambitions for the remainder of the Tour. It's a long way to Paris yet, but up until now it looks promising for me and my team."
Unfortunately for CSC, Bobby Julich crashed on one of the first descents and finished over 42 minutes behind Armstrong. Julich injured his right hand and had x-rays this evening.
Caucchioli solid
Pietro Caucchioli was again the best rider for Alessio-Bianchi in the mountains, finishing ninth on the stage and moving into 9th on GC. Caucchioli was always with the lead group until the final climb, when Armstrong and Basso rode away from the rest.
"I'm really satisfied with my performance in the Pyrenees," said Caucchioli. "I'm waiting for the decisive stages in the Alps where I'm sure I will be able to better my ranking. My condition is alright."
Leipheimer runs out of gas
By Chris Henry on Plateau de Beille
Levi Leipheimer (Rabobank)
Photo ©: CN

Although Levi Leipheimer was well positioned in the first kilometres of the final ascent to Plateau de Beille, he faded in the final phases and ended up 19th on Stage 13, 6'39 behind Armstrong. A disappointed Leipheimer told Cyclingnews post-stage that "US Postal was so strong and you could tell Lance wanted to win the stage. I felt really good until about 10 kilometres to go, and then unfortunately, it was over. I felt fine, but little by little I ran out of gas and I had nothing left. This was probably the hardest stage I've ever done. (Rabobank) didn't really get anything out of the stage, but we tried."
Currently sitting in 14th on GC at 10'47", we asked Levi whether he still had any aspirations for a Tour podium or top five, he replied frankly "I think I lost that today."
As for US Postal's incredible team time trial performance today, Leipheimer remarked that on the Cat. 1 Col d'Agnes that, "It was unbelievable...I counted 22 riders in the group, with seven US Postal guys in front. I've never seen anything like that, it was unbelievable."
Hamilton abandons
Tyler Hamilton (Phonak) was the biggest name to abandon in today's tough 13th stage, pulling out at the feed zone after 79 km and climbing into the team car. Phonak team spokesman Urs Freuler told Cyclingnews that, "Tyler crashed badly in Angers and we didn't talk much about it, but he had a large and painful bruise on his lower back and was just in too much pain to continue. Tyler couldn't get out of the saddle when he was climbing...it's really too bad."
Before the stage started, Hamilton explained how much he was being affected by the crash. "All the muscles around [my back] are swollen," he said. "It's basically blocking my lower back, which when you're climbing, you need to use your lower back a lot. Yesterday it put a limit on my power. The team did a fantastic job for me, it's just that I wasn't ready.
Hamilton rode the Tour last year with a broken collarbone, but back pain is much harder to cope with for a cyclist. "It's definitely a disappointment for me, I had the team, I had the legs, but this crash has affected me," he said.
Somewhat ironically, Hamilton's abandonment coincided with the day that the Tyler Hamilton Foundation arranged for movie theaters across the USA to screen today's stage live.
Medical communique
Crash at km 65:
Jean-Patrick Nazon (Ag2r-Prévoyance) - contusions on left knee and abdomen
Robbie McEwen (Lotto-Domo) - cuts on lip and forehead
Crash at km 110:
Roberto Heras (Liberty Seguros) - Multiple contusions
Crash at km 185:
Tom Boonen (Quick.Step-Davitamon) - contusions on both knees
Dariusz Baranowski (Liberty Seguros) - Left knee pain
Christophe Rinero (RAGT Semences-MG Rover) - minor indigestion
Nicolas Jalabert (Phonak) - eye irritation
Santos Gonzalez (Phonak) - minor indigestion
Alessandro Bertolini (Alessio-Bianchi) - headache
Stefano Zanini (Quick.Step-Davitamon) - Pain in left thigh
Christophe Laurent (RAGT Semences-MG Rover) - cramps
Jakob Piil (Team CSC) - Right knee pain
Bobby Julich (Team CSC) - Pain in right wrist and elbow following crash
Thor Hushovd (Crédit Agricole) - insect bite
(All rights reserved/Copyright Knapp Communications Pty Limited 2004)