Tour de France News for July 17, 2004
Edited by Jeff Jones
The contenders step forward
Ivan Basso
Photo ©: Roberto Bettini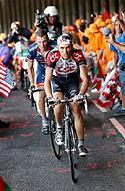 Stage 12 of the Tour de France did even more than was expected of it, blowing the general classification wide open and putting an end to the Tour winning hopes of key GC riders like Jan Ullrich, Tyler Hamilton, Roberto Heras and Iban Mayo, who are now all over three and a half minutes behind Lance Armstrong. The Texan did not win the stage - that honour belonged to CSC's young talent Ivan Basso, who looked smooth and relaxed as he crossed the line in La Mongie just ahead of a visibly tired Armstrong.
"It was a fantastic day today for me," said Basso post-stage. "I'm really happy...it was a very important win for me today. It was a good start for me, but it's still the beginning of the Tour and there it's still really hard and really long. Armstrong is still very strong and so we'll have to see what happens. I have good form right now and I'm hoping to keep it."
Despite his second place, Armstrong admitted that he suffered on the climb and was happy that his friend Basso won. "Ivan deserved to win the stage today," said Armstrong, who met Basso in Limoges to discuss Ivan's mother, who is currently battling cancer in Italy. "He's a hell of a good guy and he was super-strong today. We have been friends for a long time...we're working on helping to treat his mom's cancer."
Stage 12 full results, report & photos
Live report
Stages & results
Final start list
Tour FAQ
Hincapie happy
Hincapie (USPS)
Photo ©: Caroline Yang
After doing an excellent job pacing the US Postal team up the Col d'Aspin and the base of La Mongie, George Hincapie was happy with his day's work. After the stage, he explained to Sporza that, "We wanted to try to control the race today and get some time out of the yellow jersey so it was a good day."
Questioned on his climbing prowess, Hincapie replied, "This year they make me stay with Lance in the Pyrenees so I have no choice. I've lost a bit of weight so I'm better in the mountains."
As what he thought of the time differential to Jan Ullrich and Tyler Hamilton, Hincapie said, "Yeah it is a surprise. But with the weather changes and the first real hard mountain day, anything can happen. It was extreme temperature changes - it went from one of the hottest days to a pretty cold day."
Ullrich surprised
Jan Ullrich (T-Mobile)
Photo ©: Sirotti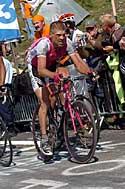 Jan Ullrich (T-Mobile) had no words to explain why he lost 2'30 today to Ivan Basso and Lance Armstrong, finishing only 20th at La Mongie. "I'm really surprised," Ullrich said. "I had really heavy legs, it was a bad day. I felt it already when we were on the Aspin in the rain. I fought hard. In the end I only lost two and a half minutes. In good weather and with good legs I can maybe make up some of it."
After his teammate Andreas Klöden finished third only 20 seconds behind Armstrong, Ullrich said that there may be a role reversal. "We'll see how he goes in the next few days. If it's not going well, I will ride for the best riders in the team. I've always said that."
Godefroot floored
T-Mobile's team manager Walter Godefroot was understandably not too happy with the way things turned out on the first day in the mountains, where once again Jan Ullrich lost a significant amount of time to Lance Armstrong. "I hoped that he wouldn't lose more than maybe a few seconds at the finish, we could survive that," Godefroot told Sporza after the finish. "Armstrong has clearly dotted the i's. Jan finishing at one and a half minutes? That's more than a tap, it's an uppercut. What did you say? He has lost two and a half minutes?"
When asked about the reasons why Ullrich was off the pace today, Godefroot shrugged, "I don't know for the moment," he said. "Maybe the rain blocked everything, but it wasn't that cold. The changing weather conditions can't be used as an excuse.
"For us, we're surprised. I can't say anything more. Tonight we will evaluate everything. We can only try to begin again. Whether Jan can recoup for Saturday? Yes, he's done that in the past already."
Julich: "It's good to be back"
By Chris Henry in La Mongie
Team CSC's American representative, Bobby Julich, is pleased to be back in the thick of the action in the Tour de France. Since his podium finish in 1998 behind Marco Pantani and Jan Ullrich, Julich has not found the same success in the Tour. After several seasons with Crédit Agricole and Team Telekom (now T-Mobile), Julich moved to Bjarne Riis' Team CSC. A successful spring campaign, including a role in team victories in the Tour Méditerranéen, prepared Julich for this year's Tour and gave him the motivation necessary.
"I've been strong the last few years, but you have the right mentality to really do something," Julich commented on the Tour's first rest day.
In Friday's stage 12, Julich was up with the principal protagonists throughout the stage, won by his teammate Ivan Basso ahead of defending Tour champion Lance Armstrong. Basso followed an attack by Armstrong, catching and passing another CSC climber, Carlos Sastre, in the closing kilometres of the climb to La Mongie. Julich finished the day in 18th place, 2'28 behind Basso and in the company of Jan Ullrich. For Ullrich it was a bad first day in the mountains, for Julich it was almost perfect.
"On the first climb I stayed behind Carlos and Ivan in case they flatted so I could give my wheel to them," Julich told Cyclingnews after collecting himself at the CSC team car. "With seven kilometres to go, Carlos attacked and then it was a matter of finding my rhythm. I think I was with Galdeano and Heras, and I said 'ok I can stay with these guys', then Ullrich came up and had Guerini starting to pull... But I definitely wasn't going at a hundred percent."
Julich had the legs to go faster, but stuck to team orders and conserved his place in that group while Sastre and Basso rode to first and fifth place, respectively.
"I started to go to the next group, but then Bjarne came by in the car and said 'do not pull! stay on the wheels!'," Julich explained. "I think I kept a lot in reserve today because I didn't have to suffer for that long."
Julich shared in the surprise over compatriot Tyler Hamilton's rough day in the Pyrénées, not to mention the time loss of Ullrich.
"Yeah, I was really surprised," he said. "I know Tyler's situation... That's really sad what happened to him, and that definitely plays on your emotions. With Jan I was really surprised, but he paid the price for not being 100 percent professional throughout the season. I'm sure he'll be back... He never has two bad days in a row."
The weather was a factor for some, as torrential rains pounded the field on the Col d'Aspin, clearing later as the race finished on the Col du Tourmalet up to La Mongie. The weather can either take a rider's motivation way, or give it to him. Julich found his.
"Right as it started to rain I felt comfortable with it," he said. "Sometimes you don't, sometimes you do. I was a little nervous because on the descent Ivan and Carlos were not going so well so I had to stay with them on the back. There were some groups of five or six that got away on the descent. But once we started the last climb I looked over and said 'my god, these guys are going to go' because they hadn't even started to suffer yet. That's when Carlos took off and it looked like Ivan was right there too.
"It was fun to be somewhat in the front of a mountain stage of the Tour de France again," Julich said, summing up the day. "I have a wonderful feeling that there's a lot more to come."
Sastre gets close
Carlos Sastre (CSC)
Photo ©: Sirotti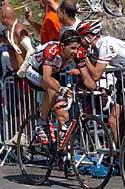 Carlos Sastre (CSC) made the first serious move behind Michael Rasmussen on the final climb of La Mongie, helping to break up the leading group until only his teammate Ivan Basso and Lance Armstrong were left in pursuit. Sastre was alone in front for a while until Basso and Armstrong caught him in the final kilometres. Basso's tempo was too strong with 2 km to go and Sastre dropped off to finish 5th.
"Today I tried, and I saw that Ivan was strong also so I knew he would be there," Sastre told Cyclingnews. We had to ride our race, we tried that, and the most important thing is that Team CSC is in front of the rest.
"I didn't feel super, but I felt like I had to try something. I can go at my speed for a long time, so I went as long as I could. That was good for Ivan because he could just stay on Armstrong's wheel and that's how we could win the stage."
ASO loses appeal to boot Padrnos and Zanini
By Tim Maloney and Jeff Jones
The organisers of the Tour de France (ASO) have lost their appeal to the Professional Cycling Council to have Pavel Padrnos (USPS) and Stefano Zanini (Quick.Step) excluded from the Tour de France. The PCC sided with the UCI in the matter, ruling that the two riders should not be penalised, despite them being under investigation for doping in Italy, relating to the 2001 Giro blitz in San Remo.
"Regarding Zanini, because the decision on January 16, 2002 by the Court of Arbitration for Sport (CAS) acquitted the rider of anything, that means in the sporting world, the CAS decision does not allow for any further sanction against that rider," said the PCC in a statement.
"Regarding Padrnos, the product Dromos was apparently found in his room in the San Remo blitz, which in our understanding is an amino acid product that isn't banned. This substance contained as a filler a small quantity of mannitol, which according to UCI banned list was forbidden at the time of the 2001 Giro. Mannitol was considered a diuretic and was banned only if it was taken intravenously, so we note that mannitol was not an active element in Dromos so it's not a doping product under UCI or Italian law.
"Following the sporting regulations, no infraction has been found against Padrnos and no disciplinary procedure has been opened against him, so unless something new is exposed regarding this matter, that equally excludes a sporting sanction that would be imposed against him now."
Cyclingnews spoke to Lance Armstrong's agent Bill Stapleton about the Pavel Padrnos case. "The team's position is that Pavel has been cleared by the police in Italy," said Stapleton. Padrnos' attorney in Italy allegedly has a letter from the NAS clearing his client of any wrongdoing. "As far as we're concerned, it's just a procedural issue at this point."
In October, Padrnos, Zanini and other riders will have their case reviewed in court in San Remo, Italy. Stapleton expects Padrnos' case to be dismissed. "Our opinion is that the standard that ASO is applying - that all riders under investigation cannot ride - is unfair to the riders."
The response of the ASO, which was on the losing side of the appeal, was predictably one of disappointment and frustration. "The direction of the Tour de France wants to remember that before the race started they decided to apply the principle of precaution regarding doping matters without prejudging the culpability of the individual. The teams signing the code at the start agreed to that in the case where any team is under investigation. The Tour de France acknowledges the decision of the PCC, however states that there is a disagreement with the UCI and the PCC on this point."
Furthermore, an angry and upset president of ASO Patrice Clerc told French radio this morning that the Tour de France did not agree with the UCI's point of view and would consider not participating in the UCI Pro Tour next year.
UCI president Hein Verbruggen called for the ASO to look at the big picture, and not be swayed by the anti-doping crusade in France. "The Tour organisers are answering to pressure that's no longer realistic," said Verbruggen. "In France there's a sort of massacre going on. I understand their emotion, but I'm not in France and I'm trying to take a step back."
Brandt sacked
Christophe Brandt (Lotto-Domo) has been sacked by his team after testing positive to methadone during the first week of the Tour de France. Brandt's explanation yesterday that it came from tainted liver pills did not wash with the Lotto-Domo team management.
"The explanations and reasons provided by the rider via his lawyer to the team management are not of a nature to convince us to keep the rider in our service," said manager Christophe Sercu in a statement.
Medical communique
Some queasy stomachs accompanied the riders as they headed into the first major mountain climbs of this year's Tour.
Thomas Voeckler (Brioches La Boulangère) - Minor indigestion
Benoît Salmon (Crédit Agricole) - Minor indigestion
Sylvain Calzati (RAGT Semences-MG Rover) - Minor indigestion
Michele Bartoli (Team CSC) - Pain in left thigh
Laurent Lefèvre (Brioches La Boulangère) - Right knee pain
(All rights reserved/Copyright Knapp Communications Pty Limited 2004)