Tour de France News Extra for July 16, 2004
Edited by John Stevenson
Armstrong on LeMond, medical controls & the media circus
Lance Armstrong
Photo: © Sirotti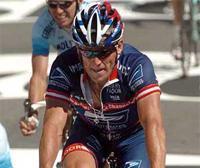 Lance Armstrong has responded to harsh criticism leveled at him by the USA's last great Tour rider, Greg LeMond. In a phone interview with Austin American-Statesman sportswriter Suzanne Halliburton, Lance Armstrong told the Texas journalist, "For me, [Greg LeMond] was an inspiration growing up as a young rider. What he did on the Champs Elysees in 1989, it was a miracle. I think it turned a lot of people on to cycling. He did a lot of things in America for cycling that nobody else did... he put cycling on the map. I credit him for doing a lot of good things for cycling and I don't know what has compelled him to spend his time trashing me. But that doesn't change the fact that he was an inspiration to me growing up. Obviously I'm a little perplexed at these latest things Greg has said [to the Le Monde newspaper] but it's not the first time."
In comments to French newspaper Le Monde, LeMond yesterday implied that Armstrong's Tour de France victories were suspect. "What I'm saying is that I want to see the truth when I watch the Tour," LeMond said. "Lance is ready to do anything to protect his secret but I don't know how he will manage to keep on convincing everybody he is innocent."
LeMond said cycling had changed drastically since his three Tour victories in 1986, 1989 and 1990. "Drugs are now so powerful that they can change a man physiologically. One could even convert a mule into a stallion," he said.
LeMond implied that Armstrong's return to cycling after beating cancer was suspicious. "There are no miracles in cycling," he said, "only explanations. After I suffered a hunting accident in 1987 it took me two years before I could race again and I never reached the same level."
Following a routine medical control test after stage 10 to Saint-Flour, where Armstrong, Tyler Hamilton and Paco Mancebo all took the new UCI blood tests, Armstrong commented to Halliburton, "Of all people, I've been pushing the UCI to implement blood tests." There were five riders tested but Armstrong was only aware of the three.
Meanwhile, Armstrong continues to be pursued by the French media. On Thursday morning, a France 3 TV crew showed up at the USPS-Berry Floor team hotel and staked out Armstrong.
"They asked me some irrelevant questions about cycling", Armstrong told Halliburton. "Shortly after we left the hotel, the France 3 TV crew called the hotel and asked for the team rooming list." Armstrong went on to say, "[France 3] is desperate... they'd put something there and film it. The good news is that after five years, I might be slightly used to this."
France 3 reporter Hugues Huet said he had been to Armstrong's hotel, but denied he had tried to get access to his room "It's completely ridiculous," Huet told the Associated Press. "We do have ethics and we don't do just anything. ... If I played around by searching his room like that, I would be breaking the limits."
Padrnos and Zanini in danger
Two more riders are in danger of being asked to leave this year's Tour as a result of the Tour organisers' policy of excluding any rider under investigation for doping offences. Pavel Padrnos (US Postal) and Stefano Zanini (Quick.Step) are still under investigation by Italian authorities following the 2001 raid on the Giro d'Italia.
Ten riders and two soigneurs have been summoned to appear before the court in San Remo on October 27 to face charges of possessing or using doping substances. As well as Padrnos and Zanini, the ten include Dario Frigo, Giuseppe Di Grande, Ermanno Brignoli, Alberto Elli and Giuliano Figueras.
Moncoutié's boss loses bet
Some bets you don't mind losing, even when the forfeit will be mildly embarrassing, and that's certainly the case for Cofidis team manager Francis Van Londersele. After David Moncoutié won stage 11 of the Tour de France yesterday, a delighted Van Londersele remembered a deal he'd made with his team after Stuart O'Grady's stage win.
"That's eight years he's at the team," said Van Londersele of Moncoutié. "He's done a lot of good races and had some great results in that time but this must be the best of them all. We've waited a long time for this, but it means I will be kept busy tonight."
"I made a promise with the team that if we won another stage on the Tour, and if it was David who won it then I would let them shave off all my hair," said Van Londersele. "So it looks like tonight is the night."
Voeckler credits team effort; inspires French
Thomas Voeckler (Brioches La Boulangere) once again credited his team with helping him retain the yellow jersey. After a stage in which the white and red-clad French team was prominent at the front of the peloton, riding tempo to limit the gains of David Moncoutié (Cofidis), Juan Antonio Flecha (Fassa Bortolo) and Egoi Martínez (Euskaltel - Euskadi), Voeckler said, "I'm feeling okay, but not much better. Today the team did well again helping me to defend the jersey, but I'm beginning to feel the effects of the past few days of racing.
"I'm not looking forward to tomorrow [a serious mountain stage incorporating the climb to La Mongie] but who knows, maybe I'll feel better than I anticipate."
Lance Armstrong, however, thinks Voeckler will be in yellow for a while longer."I think it'll be a while before the yellow jersey goes to somebody else," said Armstrong. "I think Voeckler will make it through the La Mongie stage because there's the Aspin pass which he will make it over and he won't lose nine minutes on La Mongie because it's not that hard. It's only seven km. It's tough but it's not a killer. The next day is really hard and then there is a time trial."
Richard Virenque, who retained the polka-dot jersey of king of the mountains, credited Voeckler with providing inspiration for his countrymen. "I don't know what Thomas has done to us all, maybe he's put the ants in our pants," said Virenque. "In any case, he's got all of us thinking about doing well. I can't remember the last time we had so many French riders being so successful on the race."
(All rights reserved/Copyright Knapp Communications Pty Limited 2004)