Tour de France News Extra for July 15, 2004
Edited by Anthony Tan & Jeff Jones
Post-stage 10 quotes
Ivan Basso (CSC, 13th)
"I had a good day and finished in the first group. It was a particular stage because even if it was already the mountains, the climbs were relatively short. I prefer longer climbs but I felt good and it's a good sign for the Pyrenees."
Jan Ullrich (T-Mobile, 15th)
"I was on a good day, I felt very strong. But with the breakaway, there wasn't much of a bagarre. I'm truly happy for Richard Virenque's victory - he really earned it."
Patrice Halgand (Credit Agricole, 40th)
"It was a difficult stage: Long, the profile was relentless, and we were always at the limit. The day went relatively well, even though it was hard. On the other hand, we knew who was ahead: Richard!"
Stage 11 preview: Rolling, rolling, rolling
O'Grady again, perhaps?
Photo: © Sirotti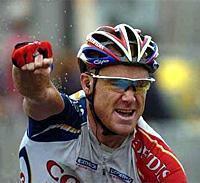 With ten stages down and ten to go, Stage 11 marks 'hump day' at the Tour de France. And while it may be the second-shortest road leg of Le Tour at 164 kilometres, with hardly any flat along the road to Figeac, it will be hump day both literally and figuratively for the 169 riders remaining in the race.
The corrugated parcours begins from the previous day's finish town in Saint Flour, where loads of cycling tourists come each year to discover the beauty of the Cantal landscapes, and cuts against the grain at the base of the Massif Central across Cantal, Ayveyron and into Lot for a finish in Figeac, which hosts its first-ever Tour stage.
Featuring five categorised climbs, the most difficult being the Cat. 2 Cote de Montsalvy - an eight kilometre ascent with an average grade of six percent midway through the stage - the route is another one for the opportunists, and favours the brave and aggressive. Expect riders like Stuart O'Grady, Jens Voight, Michael Boogerd and Erik Dekker to thrive on this type of terrain - 'roleurs' who can also handle their own on the moderately-sized climbs without going too deep in the red.
One for the roleurs
Photo ©: CN/AFP

Those riders who suffered on yesterday's mountain stage will find it hard to recover, the constant undulations sure to see more than a few splits by the time the riders reach Figeac. However, so long as the main contenders are sheltered from the wind and nursed up the climbs, it's likely they'll be no significant movement in the overall classification.
More buns in the oven for Brioches La Boulangère
Team manager Jean-René Bernaudeau
Photo: © Chris Henry/CN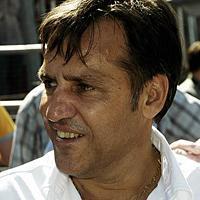 While justifiably thrilled at his team's success so far, Brioches La Boulangère team manager Jean-René Bernaudeau, revealed another, longer-term objective for the Fabulous Baker Boys.
Speaking to Cyclingnews' Chris Henry as the peloton were making their way to the finish of yesterday's stage to St Flour, Bernaudeau expressed his desire to see Jérôme Pineau or Sylvain Chavanel in the maillot blanc (best young rider jersey) at the race's conclusion in Paris two weeks from now.
"It's an objective, yes," Bernaudeau confirmed. "Pineau is for the maillot blanc - he can ride for it for two more years. Plus [Sylvain] Chavanel is in his last year for it." Chavanel is 25 years old while Pineau is 24.
Pineau and Chavanel currently lie 7th and 10th respectively on the young riders' classification, between 7 and 48 seconds behind their team-mate and overall race leader Thomas Voeckler, who at 25 years of age, is also eligible for the coveted prize of the maillot blanc.
Despite their high-profile off-season acquisition in Joseba Beloki and the Spaniard's equally well-publicised withdrawal, Brioches La Boulangère are enjoying their best Tour ever with a similar roster to recent years, and have admirably defended Voeckler's lead since taking the maillot jaune after Stage 5. "Beloki was to win the Tour de France but Beloki isn't here now, so the team is riding in a different manner," said Bernaudeau.
"But everything they've done so far has been fantastic. With Beloki we had a different strategy, a favourite for the Tour. He was here to accelerate our project, but only accelerate the project. Today we're doing well without him."
Click here to read the full story.
Tony Doyle crashes in L'Etape du Tour
By Mark Sharon
It is not only the professionals who have been suffering from the crashes during this year's Tour de France. Participants in L'Etape du Tour last Sunday had their fair share of hitting the tarmac. Possibly the worst crash involved former World Champion Tony Doyle. Riding his 9th Etape du Tour, he was brought down at around the 120km mark of the 240km challenge by another rider and was taken to hospital with several broken bones.
In an interview from his hospital bed with Eurosport's Mike Smith during yesterday's professional version of the Etape, Doyle described what happened, "At about 117km or 120km [on the descent from the Cote de Soursac] coming from Soursac, [there were] wide roads, nice dry conditions. Ahead someone decided to kiss the road, bringing someone else down. I was forced to take evasive action and ended up in a concrete gully".
Several ambulances were quickly on the scene, and with gendarmes slowing following riders down to avoid further crashes, and give medics room to attend the victims of the "chute", Doyle and the other riders were taken to hospital.
Relieved not to have internal injuries Doyle nevertheless has broken his left scapula and collarbone, as well as four ribs. Currently in a French Hospital, depending on his doctor's assessment he hopes to return to the UK by the end of Thursday (15/7). He will probably have to remain in hospital for a few more days before returning to his duties as race director of the upcoming Tour of Britain due to take place in September.
(All rights reserved/Copyright Knapp Communications Pty Limited 2004)