Tour de France News for July 15, 2004
Edited by Jeff Jones
Reborn on the 14th of July
Richard Virenque (Quick.Step-Davitamon)
Photo ©: Sirotti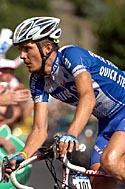 Richard Virenque took an emphatic and emotional victory today on France's national day Quatorze Juillet, winning the Tour's longest stage from Limoges to St Flour by a margin of 5'19 over the peloton. As he crossed the line for his seventh Tour stage win, Virenque looked up with both index fingers pointing skyward, saying the name "Chabi", dedicating the stage to his close friend, the late Joel Chabiron, former manager of the Festina team made infamous by Willy Voet's book as the man who organized the doping program for the team.
"I was really just hanging on at the end of the stage today...so to win was really nice for me and the team," said a tearful Virenque. "I want to dedicate this win today to two people; Joel Chabiron, who recently passed away and my Mamilu (Virenque's grandmother, who passed away during the Dauphine Libéré, preventing him from attending her funeral). I was cramping all over in the final today but I thought of both of them a lot and I wanted to win for them."
Virenque claimed the polka dot jersey of best climber today, which he hopes to keep until Paris for a record seventh time. But he also offered thoughts of retirement. "I can go in peace now," he said. "The day I feel that I'm on the way down, I will stop. I don't want to ride a year too many. We'll discuss it at the end of the Tour but as long as the flame is there, I think I should continue."
Race leader Thomas Voeckler (Brioches la Boulangère) passed one difficult moment on the Pas de Peyrol, but rediscovered his energy to take fifth place on the climb and then fifth place in the stage, increasing his lead on the general classification to 3'00 over Stuart O'Grady (Cofidis). The remainder of the top GC riders are still over 9'30 behind the impressive French champion.
Merckx angry
Axel Merckx (Lotto-Domo)
Photo ©: CN

Axel Merckx (Lotto-Domo) was not happy when he rolled across the line in 71st place, 6'18 behind winner Richard Virenque. Merckx had ridden for 134 km in the company of Virenque, before the Frenchman dropped him on the steep Col du Pas de Peyrol with 68 km to go. Merckx was angry with his erstwhile companion, complaining that he had not abided by the agreement they had made once the lead duo realized that they could likely get to Saint-Flour ahead of the rest of the Tour peloton.
"There wasn't a whole lot I could do," said Merckx. "On the first category climb Richard went stronger. We agreed that he was going to take all the points for the mountain jersey then afterwards we would fight for the finish here and not before. But I guess he has a hard time keeping his word."
Stage 10 full results, report & photos
Live report
Stages & results
Final start list
Tour FAQ
Hincapie cool as Tour stages go vertical
By Chris Henry in St Flour
George Hincapie, one of the pillars of the US Postal Service Tour de France team, was cool as usual before the start of the difficult stage 10 between Limoges and Saint-Flour. More than 230 kilometres of constantly undulating terrain, including a Cat. 1 climb and several Cat. 2 and 3 tests, didn't faze the American. Thus far the Tour has gone according to plan for US Postal and defending champion Lance Armstrong, who is ahead of all of his major rivals before the mountains truly begin in the Pyrénées.
"Any Tour de France stage is hard," Hincapie told Cyclingnews after signing in, not revealing any nervousness about the stage 10 parcours. "It can be more difficult in the mountains, but this is just a long day so we're going to try to conserve energy and not let anything dangerous get away."
When it comes to working for the number one Tour favourite Armstrong and embarking on a bid for a record sixth win, there are no moments to relax. A wet and dangerous first week kept everybody on their toes and now that the mountains are looming, keeping Armstrong in position is increasingly important.
"Every stage is crucial. Obviously there are more hills now so it's going to play a bigger role in the race. Since the beginning we've been really attentive and we just need to stay focused," Hincapie added.
We asked George if a sixth win for Armstrong would hold the same significance for him, being a key man in all five victories to date. Not one to celebrate prematurely, Hincapie offered only that "it's just the Tour for me..."
Leblanc regrets rider ejections
Tour de France race director Jean-Marie Leblanc has expressed his regret at having to eject Martin Hvastija and Stefano Casagranda from the race on the rest day, in accordance with the Tour's anti-doping policy. Leblanc was forced to act when he received a fax from Italian prosecutor PM Paola Cameran last Saturday informing him that the two riders were part of doping investigation. Subsequently, Leblanc admitted that it wasn't the ideal outcome, as Hvastija and Casagrande have been punished without proof of guilt.
"We have a conscience ourselves, like you," Leblanc told the Associated Press. "We know about the presumption of innocence. I looked at Hvastija yesterday, this brave guy who will return to his country covered in shame. Do you think I'm happy and proud of that?I'm troubled by it. Maybe he is right. I'm scared I might, maybe, have committed an injustice."
Leblanc also considered the idea to take a rider's time three kilometres from the finish line in sprint stages in order to avoid the jostling and crashes that take place when the GC riders and the sprinters are trying to stay in front. The idea has been bruited about in the peloton after a crash-filled first week, including a particularly nasty pile-up at the kilometre to go banner in Stage 6.
"It would settle down the end of a race if a time is neutralized three kilometres from the end," said Leblanc. "With all the falls there have been since the start of the Tour it seems justified. If the riders were organized and grouped together to make a demand, I would support this. And I think it has a chance of being accepted."
Medical communique
Sébastien Hinault (Crédit Agricole) - Brief loss of consciousness after crash at km 180. Sustained back injury and was taken to the emergency room in Saint-Flour for examination. X-rays revealed a fracture of the fifth vertebrae without neurological complications. He will remain under observation in hospital.
Matthias Kessler (T-Mobile) - Injured back after crash at km 172, taken to Saint-Flour hospital after finishing stage for further examination. X-rays revealed a fracture of the ninth rib on the left side and a bruised lung.
Mikel Pradera (Illes Balears-Banesto) - Pain in left knee and right thigh
Thor Hushovd (Cr&eaute;dit Agricole) - Breathing trouble
Christophe Laurent (RAGT Semences-MG Rover) - Digestive troubles
Angel Vicioso (Liberty Seguros) - Abandoned due to severe pain in right knee injured in crash earlier in Tour
Alexandre Botcharov (Crédit Agricole) - Gastro-intestinal distress
Denis Menchov (Illes Balears-Banesto) - Left knee pain
Daniele Nardello (T-Mobile) - Insect bite
Sergio Marinangeli (Domina Vacanze) - Right knee pain
(All rights reserved/Copyright Knapp Communications Pty Limited 2004)