Tour de France News Extra for July 14, 2004
Edited by John Stevenson
Stage 10 preview: The real mountains begin
By Anthony Tan and Tim Maloney
"Tomorrow's going to be hard"
Photo ©: Sirotti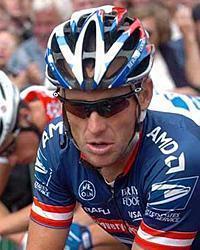 After a relatively relaxing 160.5 kilometres from St Leonard de Noblat to Guéret, easing the riders back in to the swing of things after their rest day in Limoges, Stage 10 marks the first real mountain stage of this year's Tour de France.
With not a metre of flat all day, the 237 kilometre stage was used for L'Etape du Tour a few days ago, and the most optimistic time schedule for Stage 10 calls for six-and-a-half hours' racing across the unrelenting climbs of Cantal.
"Tomorrow's going to be hard," said defending champion Lance Armstrong after today's stage that finished in Guéret. "Especially if the pace is aggressive like today and we do 240 kilometres and some bigger climbs, with holiday crowds along the way."
One Cat. 1, two Cat. 2 and five Cat. 3 ascents are on the program, which is expected to be run as Quatorze Juillet stages always are - in front of huge crowds out to celebrate France's national fête du velo on a national holiday.
One bumpy profile
Photo ©: CN/AFP

With the absence of the extreme heat of last July, the difficult parcours should cause less selection than usual. However, the double-barrelled ascent of the steep, narrow road up the Cat. 1 Col du Pas de Peyrol-Le Puy Mary (8.3km at 5.5%) after 173 kilometres followed by the Cat. 3 Col d'Entremont less than 20 kilometres later, before the day's final climb, the Col du Prat du Bouc-Le Plomb du Cantal (8.2km at 6%) after 205.5 kilometres, will surely do some damage.
The last 31 kilometres are all rolling downhill towards Saint Flour, which may cause some regrouping on the run-in. Maillot jaune Thomas Voeckler and his well-baked Brioches la Boulangère squad will have to withstand the onslaught of attacks that are sure to come from teams like Phonak, Illes Balears and Liberty Seguros, who are looking to put the first pressure on Lance Armstrong and Jan Ullrich.
Although the Quatorze Juillet will start with a Frenchman in the maillot jaune, Wednesday evening may see Jose Gutierrez of Phonak or his team-mate Santos Gonzalez changing jerseys.
Then and now: Etxebarria's ecstasy
David Etxebarria wins Stage 12 of the 1999 Tour de France
Photo ©: Sirotti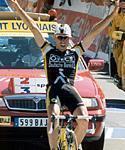 It's a few years since St Flour hosted a stage finish of the Tour de France, but one that Euskaltel-Euskadi's David Etxebarria will never forget.
The last time the Le Tour finished in St Flour (no rhyme intended), a tourist resort made up of some 8,500 people and situated near the Mont du Cantal and the Mont de la Margeride, was in 1999. It was Stage 12 of the Tour and followed a similarly-shaped parcours to tomorrow's stage, beginning in Saint-Galmier and taking the riders on a 197 kilometre journey across six Cat. 2 and 3 climbs through the region known as the Massif Central.
On that day, a break had gone after just seven kilometres, with Italians Massimilliano Lelli (Cofidis) and Alberto Elli (Telekom) the first to leave the bunch in their wake. Current maillot vert, rough 'n' tumble Aussie sprinter Robbie McEwen, had also gone across, but was off the back as soon as the break hit the day's first climb at km 22, the Col de la Croix de l'Homme-Mort. A series of attacks followed in an attempt to bridge the gap to the two leaders, but a vigilant peloton saw all but the lead duo back into the fold after 61 kilometres, their lead a slender 1'25.
Click here to read the full feature.
Competitions update: last chance for this pair
Whose shoes?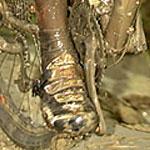 Entries will close this evening on our latest competition to win a pair of Specialized's high-end road shoes.
Specialized's Pro Carbon 04 road shoe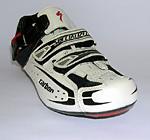 All you have to do is guess whose muddy feet are inside this pair of shoes and you could win the next pair of Pro Carbon 04 road shoes featuring Body Geometry design and super-stiff carbon fiber sole. For those of you who entered our first competition, the rider in question was none other than the Italian sprinter, Mario Cipollini. The winner of the first set of shoes was Brian Barber of Newtown, Pennsylvania.
Brian told us that he is "trying to kick start my year, again. I have a father battling cancer and (he) moved into a new house during the New Year which has slowed my riding down greatly. But the cancer is in check and the house is finally together so it's time to ride, no races this year but hopefully some next year."
Now, if you did enter the first competition and didn't win - no worries - enter this competition ASAP and then tomorrow, we'll have another mystery rider up with another pair of shoes to be won. Good luck!
Fancy a trip Down Under?
Photo ©: Mark Gunter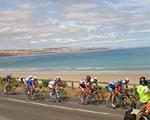 Speaking of competitions - fancy a trip to Australia next January? The organisers of the Jacob's Creek Tour Down Under are offering a trip to see the race in South Australia, right in the middle of the southern hemisphere summer season.
Australia's premier race is the Jacob's Creek Tour Down Under, which next year runs January 18 - 23, 2005. The JCTDU is always a huge but friendly event where fans can easily meet riders, and where the racers are happy to enjoy some Aussie sunshine when it's still chilly and damp in Europe. You can join them courtesy of the JCTDU organisation who will fly two lucky winners from anywhere in the world to see the 2005 race. The prize includes car hire and accommodation for the duration of the Tour and two JCTDU Club Tour memberships.
Also, please check our TdF Competitions page for details on several competitions that our sponsors are running during the TdF - there are some great prizes to be won.
(All rights reserved/Copyright Knapp Communications Pty Limited 2004)