Tour de France News Extra for July 14, 2004
Edited by Jeff Jones
Australian Round up
By John Trevorrow in Gueret
A desperate lunge pays off
Robbie McEwen (Lotto-Domo)
Photo ©: Sirotti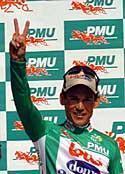 A final desperate lunge gave Robbie McEwen (Lotto-Domo) the narrowest of victories over Norwegian powerhouse Thor Hushovd and an equally fast finishing Stuart O'Grady. The breakaway pair Landaluze and Simeoni looked to have just done enough to hold off the charging peloton, only to be snaffled up with only 50 metres to go.
The margin may have been small but the benefit was great. With only two stages left for the sprinters to fight out, today's result extends Robbie's lead in the Maillot Vert classification to a handy 18 points over Hushovd, with O'Grady a further 5 points in arrears.
Five Australians finished in the top 14 of today's stage, with Baden Cooke (12th), Scott Sunderland (13th) and Allan Davis (14th) rounding out the quintet.
An obviously elated McEwen dedicated his win to the birth of his nephew Zac, delivered this morning to parents Cameron (Robbie's brother) and wife Ilana. Despite the win, Robbie has a major injury concern that began to flare-up during yesterday's routine training ride.
"I actually had real trouble yesterday in training. I had to stop five or six times and I was worried that I might not even start today. I landed right on the knee, but it's not just an injury from the crash. I've got some tendonitis in my left knee. Nick Gates had a similar problem so obviously it's a big concern. After crashing at Arras I was covered in bruises on my bum and my back. My muscles have tightened up and I've had to slightly change my pedalling style that has exacerbated the tendonitis. The other problem is the physio needs to exert pressure in certain places but he can't because there's no skin there."
Whilst the injury could yet affect Robbie significantly, he emphasised that his victory today was achieved with a body that is still very much capable. "I don't want it to sound like I'm a one-legged man winning stages in the Tour de France. I've still got some pretty good condition aside from the knee. I'll just have to see how it goes tomorrow."
Robbie observed that compatriot Stuart O'Grady might still be his biggest danger, owing to his penchant for escaping the peloton. "Stuey loves a breakaway. I was talking to him about it during the race today and he said he's going to have another go at getting away over the next few days. I guess I've got to hope they catch him before the finish."
Robbie fielded a question regarding the expiration of his contract at the end of this year. "I honestly haven't given it much thought. I've got more important matters to think about at the moment. Hopefully I can make myself a little bit more valuable over the course of the Tour. I've really got to think about just getting through the Tour. If the worst thing happens, at least I've got the satisfaction of two stage wins and being the quickest man on the Tour."
Robbie was glowing in his tribute to his current team, Lotto Domo. "When I do start to negotiate with a team, it will have to have riders like Marichal, Vansevenant and Vierhouten. They did a fantastic job for me today; they put it all on the line and just rode their backsides off. It's great how the team has faith in me, even though I'm not one-hundred percent."
O'Grady third
Stuart O'Grady (Cofidis)
Photo ©: Jon Devich

Stuart O'Grady was slightly disappointed despite his strong showing, as he genuinely felt like he could have won the stage with fortune on his side. "It was a tight sprint. I was forced into the barricades and I only got out in the final few metres. I got about ten pushes of the pedals in before the line. I just needed another five metres."
His best hope of wearing the green sprinters' jersey into Paris may be in securing some intermediate sprints in the mountains that will suit him slightly more than rivals McEwen and Hushovd. "I really think I'm not going to have as much trouble in the mountains as the other sprinters," he said. "Hopefully I'll be able to get some intermediate sprints somewhere in the mountains."
Although not a focus, O'Grady was entertaining thoughts of adding another yellow jersey to his collection. "The best thing I can do is try to get up the front. Boulangère are going to have to try to control it but they've been working pretty hard over the last few days. If the opportunity presents itself I'll go for it."
Stuart was a little perturbed at the attention given to what he saw as a minor incident that occurred after the finish in Saint-Brieuc between him and Scott Sunderland. O'Grady explained it as a spur of the moment exchange of words that has been grossly exaggerated.
Morning banter in the village depart
FDJeux.com's Matthew Wilson was spruiking his surprise victory on what was supposed to be a non-competitive conditioning ride during the rest day. "We did two hours, it was fairly solid. We even had a couple of sprints for some town signs and I beat Baden by about a nose. That can't be a good sign "
Matt's customary role as support rider for Baden Cooke seems to have been altered in light of the sprinter having performed below expectations thus far. "We'll just try to put someone in the break. There's no pressure on Cookie in the sprints because he doesn't think he has the form. But he'll give it a go anyway, you watch. We'll see what happens."
Scott Sunderland actually admitted to feeling slightly worse after the comparative ease of the day's rest. "It was good, easy enough. I feel pretty tired today though. When you stop like that and your body goes into recuperation mode the next day you feel it. It was just 50k's. We had a little look at the hills that we're actually going through today. It was okay."
Scott light-heartedly cursed the consuming nature of life as a professional cyclist on Tour. "I just went out, worked up a bit of a sweat then came back and had a hot bath and a massage. There's not much else you can do on a rest day. It's not like you can go shopping or play golf. It's not like the soccer players or the football players. You can't go out and do eighteen holes."
Baden Cooke was typically relaxed before today's resumption. "I went and did a couple of hours then lunch in town. Just took it easy. I feel a bit better today."
Of his own prospects he was hopeful without any real expectations. "There could be a break. It depends if the sprinter's teams are up for a chase, which they have been. So I think it's going to come back to a sprint. I feel a bit fresher."
Allan Davis was most overjoyed at the opportunity to relax yesterday. "It was awesome! I only did an easy 60k and then kicked back for the rest of the day. Hopefully one from the team will get in the break today and then we'll see what happens. I don't know what to expect tomorrow in the mountains. I think Mayo will have to make a really hard break. If he wants to win the tour he has to attack. Time will tell."
Mick Rogers didn't expect anything out of the ordinary in the last sprinters' day before the mountains. "Today will probably be similar to most days so far. Same old. The break will go, the peloton will chase it down and then there'll be a sprint finish." [spot on Mick]
"Tomorrow is the first real test and I have been looking forward to it. The first mountain stages are different. The riders are really nervous and I plan to stay near the front all day."
(All rights reserved/Copyright Knapp Communications Pty Limited 2004)