Tour de France News for July 14, 2004
Edited by Jeff Jones
A delighted winner
Robbie McEwen (Lotto-Domo)
Photo ©: Roberto Bettini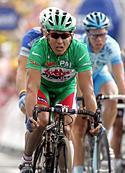 The ninth stage of the Tour finished in a bunch sprint, but it was looking unlikely with 1 km to go when breakaways Filippo Simeoni and Iñigo Landaluze still had 15 seconds of their once great lead of 10 minutes over the charging peloton. In the end, it seemed that Landaluze hesitated for 100 metres too long and the peloton was almost on his wheel when he jumped past Simeoni, eventually finishing 10th. Instead it was green jersey of Robbie McEwen (Lotto-Domo) that got through on the right hand side to win the stage with a well timed bike throw ahead of Thor Hushovd and Stuart O'Grady.
McEwen was justifiably delighted with his second stage win. "What a fantastic feeling to win in the green jersey," he told French TV afterwards. "After my crash a few days ago I'm still suffering a lot with my injuries and to still win the stage is fantastic. It was lucky we caught the two guys in the last 60 metres - it was unfortunate for them. I saw two riders coming from left and right and kept going to the line. I didn't want to throw too early. I had a lot idea that I'd won and it's a really good feeling."
McEwen admitted that today's stage "could be the last chance until the Champs Elysées" but that he is happy to have tightened his grip on the green jersey. "I've extended my lead today by seven points," he said. "All my main rivals are a little bit further behind, but the next days are hard for me."
Stage 9 full results, report & photos
Live report
Stages & results
Final start list
Tour FAQ
Brandt's counter analysis positive
Lotto-Domo rider maintains innocence
It wasn't all rejoicing in the Lotto-Domo camp today after Christophe Brandt's second urine sample returned the same result as the first one did on July 5: positive for methadone, a banned drug under UCI rules. Brandt, who was withdrawn from the Tour last Saturday, now faces disciplinary action from both the Belgian cycling federation and his Lotto-Domo team, with a possible sanction of six months hanging over his head.
"I am not stupid, I have not taken methadone," Brandt told Belgian television. "It doesn't do anything. It sounds laughable, but once again: I have not used methadone."
Brandt is mystified as to how the methadone came to be in his body. The drug is typically used to treat heroin addiction and withdrawal, and is itself highly addictive. Like other opioids, it also can provide relief from pain and a feeling of well being, but it is not considered a common drug of abuse for sportspeople.
As to the possibility that he was set up, the Belgian said that he "did not want to falsely accuse anyone or say anything that I would be sorry for. If you are thrown out of the Tour as a cheat and you see your photo everywhere, you only want the truth to come out."
Lotto-Domo has not yet sacked Brandt, as team manager Christophe Sercu wants to listen to his explanation after the positive test is confirmed by the UCI on Wednesday. "We will give the rider a chance to give his version of the facts," said Sercu. "We want to collect all the information first and then decide."
Sunderland on Hvastija's exclusion
Cyclingnews diarist Scott Sunderland has questioned the reasons for his teammate Martin Hvastija's exclusion from Tour de France, due to the fact that he is part of a doping investigation in Italy. The organisers of the Tour made it clear at the start in Liege that any rider under investigation would not be welcome at the Tour, regardless of innocence or guilt.
"There are questions," Sunderland wrote to Cyclingnews. "Why is Hvastija out when there's no evidence to show that he's guilty of anything and he's not even on the investigator's list until November 7? When people start making accusations, then it affects all of the peloton, especially Martin and Stefano, who right now are copping the brunt of all this. What's going on? Whatever happened to being presumed innocent until proven guilty?"
With Liberty for all
By Tim Maloney, European Editor in Gueret
Liberty Seguros have ridden very well so far this Tour De France, with leader Roberto Heras very well placed in 34th, and team director Manolo Saiz was cautiously optimistic, "Up until now, we've done well, except in the team time trial, which isn't normal for our team. And we've been working well to get to the mountains in good position. At this point, the time we've lost is acceptable. We got through the pavé and all the other things so far and we hope that's going to continue until the mountains. Up until this point, whenever there has been some problems or difficult parts, Heras has always been there. Our team has worked well for him every day to protect him and keep him in the best position and I think we can continue to ride this way. But the Tour really hasn't started. The mountains haven't started yet and we don't know yet how the real climbers are riding. The second half of the Tour is going to be very, very, very hard."
We asked Saiz about his new American sponsor, Liberty Seguros, a division of global insurance giant Liberty Mutual Insurance, and American rider Christian Vandevelde, and he replied, "We're happy to have Christian on the team. He's riding well and of course we are very happy with our American sponsor. We knew Christian when he rode for US Postal and although he had some problems earlier this year with his work permit in Spain, he's on the team and doing well."
Medical communique
Kurt-Asle Arvesen (Team CSC) - Multiple contusions from crash at kilometre 150
Paolo Bettini (Quick.Step-Davitamon) - Pain in left hand
Yuriy Krivtsov (Ag2r-Prévoyance) - Digestive troubles
Commissaire's communique
Michael Rasmussen (Rabobank) - Fined 100 CHF for hidden race number
Health checks
33 health checks were performed Tuesday morning before stage 9. Riders from Ag2r-Prévoyance, Quick.Step-Davitamon, Team CSC, and US Postal Service-Berry Floor were tested. No riders were declared unfit.
Stage 10 weather
The morning temperatures will be cool, with clouds early on before clearing in the afternoon. Temperatures will rise throughout the day, with cooler air greeting the riders at the summits of the climbs in the second half of the course. The maximum temperature expected at the top of the Col du Pas de Peyrol (Le Puy Mary) will be 18 degrees. Wind will be mild, from the north.
Stage 10 Preview
Lance Armstrong (US Postal Service)
Photo ©: Sirotti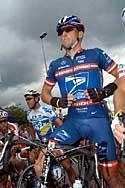 A massive stage across the Massif Central is on the menu for Quatorze Juillet with not a meter of flat all day. This stage was used for L'Etape du Tour a few days ago and the most optimistic time schedule for Stage Ten calls for six and a half hours of racing across the unrelenting climbs of Cantal. One Cat 1, two Cat 2 and five Cat. 3 ascents are on Wednesday's program, which is expected to be run as Quatorze Juillet stages always are, in front of huge crowds out to celebrate France's national fête du velo on France's national holiday.
With the absence of the extreme heat of last July, the difficult parcours should cause less selection than usual, but the double barreled ascent of the steep, narrow road up the Col du Pas de Peyrol-Le Puy Mary (8.3km/5.5% avg. grade) after 173km, then the final Cat 3 climb of the day after 189 km, followed by the Col du Prat du Bouc-Le Plomb du Cantal (8.2km/6% avg. grade) after 205.5 km will surely do some damage.
The last 31km of Stage 10 are all rolling downhill towards Saint Flour, which may cause some regrouping on the run-in. Can maillot jaune Thomas Voeckler and his well baked Brioches la Boulangère squad withstand the onslaught of attacks that are sure to come from teams like Phonak, Illes Balears and Liberty Seguros, who are looking to put the first pressure on Lance Armstrong and Jan Ullrich in this year's Tour De France? Although the Quatorze Julliet will start with a Frenchman in the maillot jaune, Wednesday evening may see Jose Gutierrez of Phonak or his teammate Santos Gonzalez changing jerseys.
(All rights reserved/Copyright Knapp Communications Pty Limited 2004)