Tour de France News for July 13, 2004
Edited by Jeff Jones
Ullrich waiting for second half
Jan Ullrich (T-Mobile)
Photo ©: Caroline Yang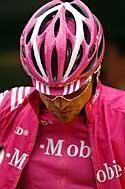 Considered Lance Armstrong's biggest rival for the yellow jersey, German Jan Ullrich (T-Mobile) is looking forward to the next half of the Tour which contains plenty of mountains and 70 km of riding against the clock.
"The real Tour de France effectively begins now with its real stages," Ullrich was quoted by AFP as saying on the rest day. "The 55 seconds that I am trailing Lance Armstrong by is not going to annoy me. It would be ridiculous for me to stay in my room and mope and hide my face under a sheet over such a small gap. I will not be prepared to whistle 'la paloma blanca' until the time trial in Besanįon, and contrary to some people I am very excited to see the mountain stages on the horizon."
Ullrich added that it was more than a battle between himself and Armstrong, saying that there are "several candidates" for the overall win. Apart from Phonak's Tyler Hamilton and Oscar Sevilla and CSC's Ivan Basso, Ullrich named Iban Mayo (Euskaltel), who he said "will definitely attack because even if the race will be tough for him to win now he can still envisage finishing in the top five and perhaps even the podium."
As for Armstrong, Ullrich said, "My impression is that he's very strong. I have noticed how he is on the bike. It is clear that I will have to be 100 percent focussed."
Ullrich considers himself in good form. "I felt it especially when I went to the front of the peloton to avoid crashing. Nonetheless, it is hard to say if I am actually either at 60 percent or 90 percent of my capacities."
Casagranda ejection: Saeco's response
Saeco's Stefano Casagranda was one of two riders ejected by the organisers of the Tour de France on the rest day after Padova prosecutor PM Paola Cameran informed Jean-Marie Leblanc that there was an ongoing doping investigation into Casagranda and his compatriot Martin Hvastija (Alessio-Bianchi). After stating in Liege 10 days ago that any rider under investigation - whether guilty or not - would be thrown off the Tour, Leblanc had no choice but to eject the pair.
Saeco's response was predictably one of disappointment and frustration. "It is difficult to understand what elements have made the presence of Casagranda disturbing after the rider was allowed to start the race in Liege ten days ago, on the contrary to his team mate Danilo Di Luca," the team said in a statement. "According to the evaluation made by the French organisers, being subject to an investigation by the Padova Procura ­ that is still not over and is goes back to at least three years go - threatens to affect the running of the race and Team Saeco can only take note of this.
"While not intending to defend its rider ­ it is up to him to clarify his exact position, the team asks if a similar decision does not become itself a reason to affect the Tour de France, obtaining the direct opposite effect to that set by the organisers."
Dumoulin out
Samuel Dumoulin (Ag2r) will not start tomorrow's ninth stage after breaking his elbow in a crash towards the end of Stage 8 caused by a dog running into the middle of the peloton. Dumoulin finished the stage, but subsequent x-rays revealed the elbow break, which required an operation.
Broken rib for Petacchi
Alessandro Petacchi (Fassa Bortolo) will be out of action for a month after breaking the third rib on his left hand side in a crash during Stage 5 of the Tour de France. Although Petacchi's shoulder was injured in the crash, the broken rib wasn't diagnosed until Monday, and team doctor Dr. Emilio Magni has ordered a month's rest for the super sprinter. As a result, Petacchi's Olympic ambitions are now finished.
Jens "turn it up" Voigt
By Hedwig Kröner
"He's crazy", says ex-teammate Anthony Morin about CSC rider Jens Voigt from Berlin. Morin should know. The two of them spent three years of their pro career together at Crédit Agricole.
"Jens used to get up in the morning, take a look outside the window and be perfectly happy if it was raining. With his German accent, he'd say 'Good day today! Others not motivated!' and be off to do what he likes best: attacking."
32 year-old Voigt turned pro in 1997, joined Crédit Agricole in 1998, but moved to Team CSC for 2004. This year marks Voigt's eighth Tour de France. Voigt started well in the first part of this season playing a big role in the victory of friend and teammate Jörg Jaksche at Paris-Nice. He then showed his own abilities at Critérium International and won two stages as well as the general classification for the second time. After a short break in the United States (which included the Tour de Georgia), it was on home ground that he continued to pay off the trust CSC's team leader Bjarne Riis had given him.
Appointed leader at Bayern-Rundfahrt (Tour of Bavaria), he won the race for the third time. But his designated fourth success - victory in the Deutschland Tour (Tour of Germany), which he had announced months before and which should have been his season highlight- unfortunately turned into a 18 second defeat behind 23-year-old Patrik Sinkewitz from Quick.Step-Davitamon.
No wonder then Voigt's been up front during the first days of this year's Tour de France, where he already won the most aggressive rider classification twice, on stages 1 and 3: he's got something to prove. A bad crash on stage six causing severe neck stiffness forced him to stick with the peloton until now, but there's surely more to come.
"In French, his first name 'Jens' became 'Jean'", explains Morin, "so we used to call him Jean Voigt, which sounds like 'j'envoie' and means 'turn it up'. That's exactly how he is."
Like in 2001 on stage 16 to Sarran, where he had tried to leave the bunch behind from the very first kilometre, finally succeeded, and won the stage.
"In the end, you need a little bit of luck", Voigt says, to get away successfully, as well as for victory. A very special moment, which made him forget "all the pain, all the suffering. For these 20 seconds of happiness I've worked 20 years."
But what does it take to calm him down? At the Tour de France, he likes to relax with his Gameboy: "I play all the time, morning and night, while getting a massage, on the bus transfer. Plus I read a couple of science fiction books."
The man just likes to keep busy, apparently.
Dutch TV audience high
The live Tour stage broadcasts on Dutch television station Nederland 2 have been very popular so far, with an average of 801,000 viewers tuning in each day during the first week. Last year, this figure was only 680,000 viewers per day. The most popular stage was the first stage from Liege to Charleroi, which was viewed by more than a million people in the Netherlands.
It should be pointed out that the Dutch do not have the option to tune into Belgian TV this year, as the Belgians are broadcasting via Sporza, a seperate sports channel that is not on the Dutch cable network.
(All rights reserved/Copyright Knapp Communications Pty Limited 2004)