Tour de France News Extra for July 12, 2004
Edited by John Stevenson
Australian round-up
Aussies swap green again
By John Trevorrow
Robbie McEwen
Photo: © Chris Henry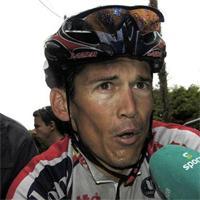 Robbie McEwen is back in the green points jersey of most consistent daily finisher after finishing fifth behind Thor Hushovd, while Stuart O'Grady could only manage eighth.
Hushovd is now looming as the major threat to the Aussie domination of the green jersey. He pipped McEwen in the first intermediate sprint, looked very strong in the demanding finale and is now right back in contention only 11 points behind.
And you can't discount the old master of the green, Erik Zabel who is now sitting in third spot after his third place in the stage, only one point behind O'Grady and 10 points from McEwen.
With 500 metres to go in stage into Quimper, McEwen looked to have the finale sewn up. Paolo Bettini had just attacked, opening a definitive gap as they sprinted over the testing climb past the one kilometre to go banner. McEwen was right on his hammer and had Bettini continued with his attack it was a case of put down the glasses.
But that was not to be and Bettini eased, obviously not wanting to give McEwen a free ride and he had no choice but to ease also and get back in the line.
McEwen was a little miffed at the timing of the first sprint in which he managed second place. "The first intermediate sprint was uphill and after only 14km. It's not much time to warm up and get things working a little bit. I had to go at full tilt uphill. I actually thought I had it won but I didn't see Thor coming from the left and he pipped me on the line. I knew that he was quite a few points behind before today so he wasn't the main worry. I just wanted to finish ahead of Stuart and take the green jersey back."
"At the stage finish I let myself get sucked in a bit by Bettini and I followed him. I don't reckon what was in the race book was correct. There were two extra corners in the finale that weren't shown and I was getting a little bit confused. Once Bettini eased up I had to as well. It was just too far out. I got back in the line, tried to go again but I was absolutely legless. In the final two hundred metres I was just riding for the points."
Although happy to be back in green, Robbie was well aware that Paris is still two weeks away. "I'd rather be in the lead than having to chase the points down," he said. "I got into that situation last year where I crashed whilst in the jersey and found myself 20 points behind. I had to make it up and that was really difficult. Now I've crashed again and missed out on 30 points and yet I've managed to get back into green. Yes it's only a slender lead and anything can happen."
Scott Sunderland finished well down the order in today's stage after having to drop back to help close a small gap that had stranded teammate Pietro Caucchioli. "I was more or less looking after Caucchioli for most of the day," he said. "Towards the end I got up the front to have a go at the stage. Then I heard from a teammate that the bunch had split so I had to go back and try to close the gap for Caucchioli. But I didn't feel as strong today anyway."
Morning banter in the start village
Looks like rain - and break-aways
Stuart O'Grady didn't have much time as he signed on late and didn't get into the village for his regular espresso. "Looks like rain - again," a relaxed O'Grady said. "I will need to keep up the front, especially in the last 50 km. I guess it will be a day of break-aways."
Baden Cooke's mood seemed to match the darkening skies of Lamballe, although he was hopeful of improvement in the near future in the form of some unusual methods. "I'm going a bit better," he said. "The first week I just wasn't feeling good at all. I had a full lactate every day. We sought out a health guru and he said my body hasn't been functioning real well. He just got me to cut a few things out of my diet. I was eating too much protein and meat and stuff like that. My body was just stopping. He gave me some other stuff and I feel like I'm freeing up already."
Cooke conceded that he had once again been short on power despite being well placed in what turned out to be a consolation sprint for eighth place in yesterday's stage. "I thought it [the break] might come back but then I just didn't have the legs in the finish."
Citing recent steady improvement in his condition, he was optimistic of a strong finish to today's stage. "The last three days I've been getting better each day so I think today will be a bit better again," he said.
Cooke predicted a frenetic pace for the relatively short 168km journey. "I think with a rest day tomorrow everyone's just going to open up the burners today, it's going to be flat-chat. They're not just going to let it go. It's going to be a rest day tomorrow so no-one's holding back."
Wilson wants "a bit of a go"
FDJeux.com's Matty Wilson was focusing on the dismal grey skies that have epitomised this year's Tour so far. "It's going all right," he said. "I felt pretty good yesterday. It's just another shit day, raining every second day. It's actually been like that the whole year, raining all the time."
His outlook on the fortunes of the team was more positive. "Things are going really well. I'm just trying to get in everything. Everyone's motivated so it's only a matter of time before we win a stage."
Wilson was doubtful about the prospect of in-form teammate Sandy Casar finishing in the top three in the Tour, suggesting he may be better suited to winning the maillot blanc. "Not for a place. Top ten maybe. Definitely for the young riders jersey as well. But you never know, he can do some surprising rides."
Like many others, Wilson was keen to be involved in a break when it eventuated.
"I might have a bit of a go today. I'll wait and see if something goes. If there's a Quick.Step rider in there… they can definitely go, so I'll see what happens.
Wilson recognised his recent good showing in the Giro d' Italia as an important part of preparation for the Tour this year. "I felt a lot more confident after the Giro," he said. "I went into it with some pretty average form and came out of it going well. I looked after myself really well afterwards so in the back of my head I know the body can do it."
Rogers still waiting for the mountains
Michael Rogers
Photo: © Chris Henry

Aside from stating the obvious regarding the weather, Quick.Step rider Mick Rogers was eyeing the small inclinations of today's ride as an entrée to the genuine climbs that are his strength "Today's going to be another hard day with all the wind and shit weather," he said. "Same old I guess. But it's pretty up and down today. A few little climbs, but nothing too serious. Like yesterday, it could split up, you never know so you've just got to keep at the front."
Rogers was comfortable with the lively pace of the peloton that saw it break in two on the journey to Saint-Brieuc yesterday. "I put the hammer down. It wasn't super hard to get to the front, but the guys at the back were puffing a bit."
Despite a tough first week for all riders, Mick's focus is squarely on the mountains. "Tomorrows a rest day then we get to the hard stages. I think a lot of guys are already tired. More so mentally than physically; you relax for ten seconds and all of a sudden you lose two kilometres."
Allan Davis looked to have recovered well from his crash two days ago left much of his backside painfully raw. "I'm alright, it healed up well, just a bit of bad luck mate," he said. "Yesterday I was a bit sore when I got up. But it goes on, I'm just getting through it day by day."
His explanation on the frequency of the crashes so far in the Tour centred on the mainly squalid conditions. "There's just that much bloody nervousness. With the wind and the rain, it seems everyone has to be at the front the whole day, trying to get out of the wind. Hopefully it clears up soon."
Davis was yet another rider to express some interest in being involved in a breakaway from the peloton. "I think a break will go today. Hopefully we can get someone from the team in it but if not we'll see what happens. If I'm there in the right opportunity I will give it a go. If not I can save a big effort for the end and I'll see what happens."
Davis played the card of consummate team man when asked about his own chances of crossing the line first on one of the flatter stages. "More of a harder day than a flat finish. I think that would be more suitable. We've got to look after Roberto most of the time anyway so I'll just take it as it goes."
(All rights reserved/Copyright Knapp Communications Pty Limited 2004)