Tour de France News for July 12, 2004
Edited by Jeff Jones
A successful Tour for Thor
Thor Hushovd (Credit Agricole)
Photo ©: Jon Devich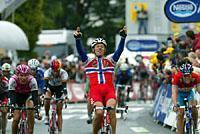 He has worn the yellow and green jerseys already in the first week of the Tour, and now he has a stage win to his credit. Norwegian Viking Thor Hushovd (Credit Agricole) sprinted to victory in a wet eighth stage of the Tour that finished in Quimper, on the western tip of Brittany.
"It was raining and it was slippery for the last 200 metres but I felt so strong. I passed McEwen in the last corner, then I had to catch Kirchen," said Hushovd, who easily passed the Luxembourg champion to take the win by well over a bike length.
Today's weather conditions presented no problems to Thor. "I like this weather", he said. "The rain, the wind, the cold...it reminds me of home. I was happy all day. In the last few stages I had bad luck. Yesterday I didn't do much in the sprint, two days ago I crashed.
"I was motivated today I was waiting for my day and finally I did it," he added, and thanked his lead out man Julian Dean for doing such a great job.
Finally, Hushovd does not rule out the green jersey, as he is only 11 points behind McEwen now. "For sure. I had one day in yellow and one stage win so I'm already happy. I'm in good shape so I'd like to get the green jersey in Paris."
Stage 8 full results, report & photos
Live report
Stages
Final start list
Tour FAQ
McEwen goes early
Robbie McEwen (Lotto-Domo)
Photo ©: CN

Robbie McEwen took back the green jersey today after finishing fourth in the bunch sprint. But the Lotto-Domo man found himself off the front of the pack with 1 km to go when he followed an attack of Paolo Bettini. But when Bettini saw him there, he knew that it would be pointless to continue and sat up.
In an interview with Sporza, McEwen said that he wasn't annoyed with Bettini. "No, definitely not. He went and I got on his wheel. I looked back and we had a gap, But of course, Paolo would not ride with me on his wheel. He had to wait for Boonen or he would have surely been beaten by me."
McEwen explained that, "The legs were not good enough today. I was dying. I'm glad to survive today's stage. I've still got pain in my knee and back from the injuries in crash. Still to get fourth place and taken the green jersey back was good."
Weather or not, Ullrich and Armstrong
By Chris Henry in Quimper
Jan Ullrich (T-Mobile)
Photo ©: CN

As they departed for the buses which took the riders to the Quimper airport for the rest day transfer to Limoges, Tour favourites Lance Armstrong and Jan Ullrich both had one thing on their mind: the weather. This year's Tour has been run in anything but summer conditions, raining almost every day and barely cracking 20 degrees. Spring classics specialists often rejoice at a tough day at the Tour, but after a week all minds seem to be in agreement that July weather is needed tout de suite.
"We're heading south now, so I'm hoping for good weather," said last year's runner up, Jan Ullrich (T-Mobile). "Not just because I like riding in good weather, but because it's less dangerous and more fun to ride."
Ullrich's near invisibility in the Tour thus far has prompted many to wonder about the German's mindset and his physical condition for the coming weeks, but his results have shown him to be in contention with the best, and the 1997 winner is confident. Relieved to have finished the first week generally unscathed, Ullrich set off for Limoges in 20th place in the general classification, but only 55 seconds behind his number one rival, Lance Armstrong.
"So far I'm happy," he said. "I haven't had any bad luck, like a lot of other guys, so I'm ready for the race to finally get to the mountains."
Lance Armstrong (US Postal Service)
Photo ©: Sirotti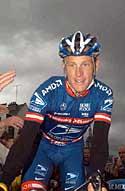 As for Armstrong, a second place in the prologue and victory in the team time trial have bolstered his hopes of emerging victorious for a record sixth time in the Tour. He too is ready for some sun, and despite some tumbles in recent stages, has not suffered any major problems throughout the first week.
"I can't complain. We're in a good position, we've got enough time on our main rivals," Armstrong explained after stage 8.
"It could have been worse, we could have had some crashes and lost time, there could have been splits in the final kilometre but we didn't have that. I feel good, I feel healthy, and now we start the next part."
"Everybody's sick and tired of the rain," he said, smiling. "I'm a little scared because we're going to Limoges, and I saw on TV that the coldest place in France was Limoges. Anything over last year when it was 35 degrees and you couldn't sleep at night because it was so hot."
Hamilton content with week 1
Tyler Hamilton (Phonak)
Photo ©: Sirotti

Having survived a very nervous and crash-filled first nine days, Tyler Hamilton (Phonak) is looking forward to the second half of the Tour, which will feature more of his type of terrain. "All things considered I'm happy with the way it finished today," Hamilton said after stage 8 today. "A couple of days ago we had a problem with the crash. I'm lucky we had a couple of flat stages afterwards to recover. The team, they rode fantastic as always."
Hamilton warned his teammates not to think about Monday's rest day. "I reminded them this morning that the rest day starts now, not during the stage. Sometimes when you let your guard down so to speak, if you start thinking about the rest day ahead of time, your legs follow your head, your brain, and it can make the stage very difficult if you start to relax. I just reminded everybody to keep fighting until the end of the stage and then you can relax."
Looking ahead, Hamilton commented, "Tuesday's stage is similar to today's: Short, about 160 km, not so many big climbs. But Wednesday is really when the second half of the Tour starts. So hopefully the team and I can recover well. My back's bothering me a bit but I think after a nice day tomorrow and a rest, it will be better."
Haselbacher defends himself
Rene Haselbacher (Gerolsteiner)
Photo ©: Olympia

After being accused by Robbie McEwen of causing the crash at the one kilometre to go banner in Angers (Stage 6), Rene Haselbacher (Gerolsteiner) has given his version of events. Haselbacher and the Gerolsteiner team maintain that his handlebars snapped, and that's what caused him to go down. The Austrian finished up with a broken nose and three broken ribs, and could not continue the Tour, and many other riders were injured in the crash.
Directly after the crash, McEwen (who was also involved) accused Haselbacher of causing it. "Haselbacher ran himself into the barrier," McEwen told Cyclingnews. "He did the same thing last year in a stage and took out Baden and me. I'm really pissed off. That's twice he's taken me out now."
But Haselbacher gave his view to Radsport-news.com: "I was passing Bernhard Eisel on the left. As I got out of the saddle I heard this crack and I was holding my handlebars in two pieces. Then I was thrown into the barrier. I probably broke my ribs on the foot of one the barriers. I was lying down, a doctor was holding my head in an upright position. then McEwen came and yelled at me and said 'You're doing the same shit as last year'. He shook his fist at me. Unfortunately I couldn't answer, because I couldn't breathe."
Gerolsteiner's team manager Hans-Michael Holczer was angry at McEwen's behaviour, which he felt was unjustified. "I informed the Lotto management and the Tour organisation of McEwen's scandalous behaviour," he said. "Whoever lets their base instincts run free, like McEwen, should be sent home."
More comments from Stage 7
Iker Flores (Euskaltel-Euskadi, 2nd)
"I knew that Pozzato was stronger than me in the sprint and it's true that I was a little cooked at the end. A victory would have been good for the team but since the team time trial we've rediscovered our fighting spirit. It's a good sign for the mountains."
Francisco Mancebo (Illes Balears, 3rd)
"I needed at least a kilometre to try to make an attack because I didn't want to arrive in a sprint with Pozzato. At least I won some seconds in the general classification. I don't really want to do too much before the mountains but I'm in good form and I still think I can arrive in the top five in Paris."
Laurent Brochard (Ag2r, 4th)
"Finally I got in the right break but I was knackered. I think that Bettini was watching me. I was missing a little bit but it was a good fight. I don't have any regrets and I'm satisfied because you had to have good legs to be able to go."
Sébastien Hinault (Credit Agricole, 5th)
"Mostly it's a disappointment because I was five kilometres from home and I really wanted to win. I tried throughout the stage to do something, particularly at the end since I saw the sprinters teams were not very organised. I knew the finale by heart but I may have watched Bettini too much and once the Spaniards and Pozzato went, I was not strong enough."
Iban Mayo (Euskaltel-Euskadi)
"My elbow was hurting in the first kilometres of the stage but it got better after that. It's annoying but I hope that things will get better. It's too bad that Iker Flores couldn't go all the way because that would have been good for the team."
Bjarne Riis (CSC director)
"We had planned to try to cause a split there (50 km to go). There was no secret there because it was along the ocean and there was a lot of wind. Unfortunately it didn't last long enough and we needed a few more kilometres to make it work.
"Since the beginning of the Tour we've always had a guy in the breaks which was always planned. So far we haven't had a victory but our riders are very motivated and they'll keep trying."
Stage 8 Medical communique
Samuel Dumoulin (Ag2r-Prévoyance) - Serious contusion on left elbow, will undergo further examination
Janek Tombak (Cofidis) - Multiple contusions on left side, including left elbow
Frédéric Finot (RAGT Semences-MG Rover) - Injured left shoulder
Sylvain Calzati (RAGT Semences-MG Rover) - Sore throat
Robbie McEwen (Lotto-Domo) - Knee pain from stage 6 crash
There was no commmissaire's communique today (rien a signaler).
Now, guess these shoes
Whose shoes?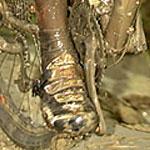 The next unidentified rider has been added to our competition to win a pair of Specialized's high-end road shoes. All you have to do is guess whose muddy feet are inside this pair of shoes and you could win the next pair of Pro Carbon 04 road shoes featuring Body Geometry design and stiff carbon fiber sole.
For those of you who entered the first competition - the rider in question was none other than the Italian super-sprinter, Mario Cipollini. We'll be contacting the lucky winner in the next 24 hours, so look out for a message in your inbox soon!
Previous News Next News
(All rights reserved/Copyright Knapp Communications Pty Limited 2004)