Tour de France News Extra for July 11, 2004
Edited by John Stevenson
Wusty TV tunes
By Tim Maloney, European editor
Marcel Wust
Photo: © Tim Maloney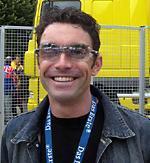 Marcel Wust was one of Germany's top sprinters until a crash in 2000 cost him an eye and his cycling career. Wust is an old friend of Cyclingnews and was one of the very first columnists for us, starting in 1998, so it was a pleasure to bump into him in the village depart before stage 7.
"I'm here at the Tour de France as an expert commentator for ARD, the German TV network that televises the French race in Germany," said Wust. "I'm not the co-commentator; I'm the guy who's there with the presenter talking about all the things that are happening, or could happen or why things are happening. Basically for me it's something that's good to do. After all, cycling is my sport and my inside knowledge. I try to transfer this into the living rooms of the viewers to give them more background. I think the more you understand in cycling, the more exciting it is."
We asked Wust if he's spoken to Jan Ullrich since the Tour started and he told us, "Actually I haven't talked to him since the Tour started. In our German TV team, we have almost 100 people and some of our guys have had a few interviews with him. Let's see how the Tour is going to go on, but in my expert opinion, when you ask me 'how is Ullrich' and 'what does he need to do to win', well my opinion is that Ullrich has to improve a lot to beat the man from Texas. Basically, Ullrich is in very good form, he's very skinny, he has a good team but in the TTT, we saw that Lance has a better team. We saw that Ullrich won the Tour of Switzerland, but when he won it, he was racing against five guys while at the Tour, there are thirty guys. If two weeks before the Tour you are getting dropped by riders like Totschnig and Jeker, you have to have some doubts that you can drop (Lance). But Ullrich tells us he's done everything to be in shape when the Tour really starts in the Pyrenees and the Alps. Maybe he is, but if he isn't, it's up to us to ask him some questions."
Without Vinokourov, Wust says, "T-Mobile is not as strong, especially in the TTT. Ullrich lost his strongest support rider and the tactics that Ullrich and Vinokourov could double-attack Lance. Now it's all on [Ullrich]. The loss of Vinokourov is probably the biggest shame for this year's Tour. So T-Mobile can't really do this double attack. It was exciting last year when they were racing against each other! But shit happens in life and that's a fair dinkum Australian saying, so shit happened to Vinokourov and that's life for T-Mobile at the Tour."
Pascal Lino: voice of experience
Pascal Lino
Photo: © Tim Maloney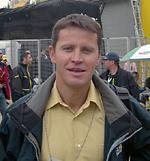 Pascal Lino was Maillot Jaune at the Tour de France for one day back in 1992 and was one of the most experienced French riders of his generation. Today, Lino drives assistant race director Laurent Bezault and has one of the best seats in the house to watch the Tour action.
Lino shared a few observations with Cyclingnews this morning in the Village Depart, explaining, "I'm very happy and proud to see Voeckler in the Maillot Jaune. It's always good for French cycling when a Frenchman, especially the French champion is in the lead. Perhaps Voeckler can keep the maillot jaune until the Pyrenees, as he won a stage at the Route du Sud that finishes at Plateau de Beille. I think the Tour organization is really happy for Voeckler and for the way Armstrong gave up the maillot jaune and a French rider got it. Generally this Tour seems to be going really well."
Armstrong wants earlier TT
Lance Armstrong thinks one cause of the crashes that have plagued this year's Tour is the lack of a time trial in the first week, with its steadying effect on the race hierarchy. "I think the race needs a time trial in the first week because the race is too nervous without it," Armstrong told the Reuters news agency after stage 7.
"It's safer for the event to establish some order in the group. We're still another week from figuring out who the hell is going to be at the front," he said.
Armstrong explained that just about every team was trying to keep its keep riders at the front and out of trouble, which had the reverse effect of causing the very problems they were trying to avoid. "There are guys here who think they can win and so their teams and their directors put a lot of pressure on them to stay out of trouble and stay up front," he said.
"It gets tough when you have nine Euskaltels, nine Phonaks, nine Postals, a bunch of CSCs and then the team that is leading the race as well. The road is only so wide."
The weather and the long stages had been hard too, making crashes more likely as riders tire. "Every day has been about 200km and that starts to grind on the guys. You could see that the peloton was tired at the end when we started to roll hard in the last 10 kilometres."
Brandt claims lab error
Lotto-Domo rider Christophe Brandt, sent home before yesterday's stage after testing positive for methadone, says he suspects a lab error is responsible. "I've had a dozen tests this year and they were all negative," he said on Belgium's RTBF television. "There are two possible explanations. Either it's a handling error at the laboratory ... or, well, we'll have to dig a little deeper and we'll do that after the follow-up test," he said.
"All products that contain methadone are clearly labelled, so if I'd seen that I would never have taken it," he said.
Brandt insisted he had always raced clean. "I have always tried to do my job properly," he said, "now I want to prove that I did not [take methadone] because I did not do it. I want to get back on the bike, because this is my life."
Brandt's team-mate Rik Verbrugghe expressed surprise at the positive test. "No one understands the situation," he said. "This is not a product that improves performance."
One of Lotto-Domo's directeurs sportif, Hendrik Redant, said, "This is very serious. We are all very surprised, especially with that product. Christophe has never had a doping problem. We now will wait for the counter-test."
Brandt returned a positive A sample test for methadone from a control on Monday July 5.
Voeckler hangs in there
Young Thomas Voeckler (Brioches la Boulangere) is enjoying his sojourn in yellow and is determined to hang on to the leader's jersey for as long as possible. And why not? While there's almost no chance Voeckler can hang on to the jersey when the race hits the mountains, in the meantime a French rider on a French team wearing the leader jersey in France's greatest sporting event is an instant hero in France. While the Tour may be the three weeks a year when the whole world pays attention to bike racing, at its heart it's still a quintessentially French event as evidenced by the preferential treatment given to French teams who are invited to the race over higher-quality teams from outside the host nation.
The 24-year-old has another incentive too: Voeckler's Brioches la Boulangere team does not have a sponsor for 2005 yet, and there's no better publicity than standing on the top of the podium every day in the Tour de France.
Nevertheless, stage 7 tested the determination of Voeckler and the baker boys. "The stage went off quickly and when the two-man attack went we were quite happy because none of the guys were contenders in the general classification," he told AFP.
"But with around 50km to go when we approached the coast it started to get a lot harder. We knew already that CSC might try the same stunt they had tried in Paris-Nice.
"But the Boulangere team worked well today. I'm very happy with the guys. We're trying to conserve as much energy as possible and we'll be trying to hold on to the jersey for as long as possible."
Simoni struggles but won't give up
Gilberto Simoni (Saeco) hasn't been having a great Tour de France by any standards. The victim of a crash near the end of the team time trial that caused him to be penalized 1:12 more than his team-mates, and also involved in the final kilometer crash on stage 6, the 2003 Giro winner has been struggling with battered morale and injuries.
In yesterday's seventh stage, Simoni was one of the many riders dropped by the fast start and almost abandoned, hanging on to his team car and complaining that his head was spinning, and he felt terrible. Radio Tour reported at one point that he had in fact called it a day.
However, with a pep talk from team manager Giuseppe Martinelli and the assistance of his team, Simoni got back to the peloton and afterward told AFP, "Now, I'm feeling okay. I'm hoping to continue but I'm really looking forward to Monday's rest day. Hopefully after that it will be a new start for me, and an altogether different race.
"I can't give up. I've done a lot of work this year, and put in a lot of hours preparing for the Tour."
Over 100 riders have crashed so far in this year's Tour as the combination of greasy roads, poor-to-abysmal weather and nervousness has meant a race with more than its fair share of crashes. Italian sprinters Alessandro Petacchi and Mario Cipollini have been the highest-profile casualties, both dropping out before stage 6 because of their injuries.
Simoni too is feeling battered. "I'm still sore everywhere, my back and my knee," he said. "My condition was good but then the crash [Friday] and the team time trial ruling just made me puke. I couldn't understand it. Today I was hoping that the stage wouldn't start too fast. Hopefully, I can refind my morale along the way."
(All rights reserved/Copyright Knapp Communications Pty Limited 2004)