Tour de France News Extra for July 11, 2004
Edited by John Stevenson
Australian round-up
Aussie showdown continues in green jersey contest
By John Trevorrow
O'Grady survives in green despite a bad day
Stuart O'Grady (Cofidis)
Photo ©: Sirotti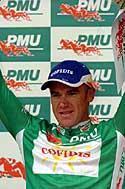 The two Australians who've come to the fore in the last couple of days survived today's fast stage intact. Stuart O'Grady managed to hang onto his Maillot Vert, while Robbie McEwen showed little effects of his numerous abrasions in the stage to Saint-Brieuc.
Seven riders escaped with five kilometres to go and managed to hang on to a 10 second gap. Thor Hushovd won the kick in for eighth spot whilst Scott Sunderland finished ninth, with O'Grady 10th and McEwen 13th, both squeezed for room in the final metres.
An obviously agitated O'Grady remonstrated with Sunderland immediately after the finish, and afterwards told Cyclingnews, "There are always problems with other riders at the finish. It's just hard. People get in the way. It just gets a bit messy in the sprints, a lot of desperation. Desperate riders do desperate things."
Did the incident make any difference? "No not really, I definitely didn't have the legs for a win, so I was lucky to get back up there today. I was paying for the efforts that I've made in the last few days and hopefully that's the bad day."
Finding himself in a position to get a decent stage placing, Sunderland didn't think he'd done anything wrong. "I don't know what I did to enervate them," he said in his diary. "Was it because I was actually participating in a sprint where I can finish top 10?
"The way I see it is if a guy like myself (an all-rounder) can be up there, there's nowhere in the rule book that says I can't be. There's also nowhere in the rule book that says sprinters have to get out of my way on the climbs, and believe me, sprinters do get in the climbers' way all the time!
"I know they are racing for the green jersey. I respect that. I just hope they stop spitting acid at everyone who beats them in the sprint. Hey, just like everyone there, I'm only doing my job, doing my race."
O'Grady was nonplussed at a day when he'd suffered for the previous few day's efforts. "I don't like feeling that bad. It gets very frustrating when you're pushing that hard and you miss the break and all of a sudden you're just chasing tail for the rest of the stage. It wasn't the green jersey that I was worried about it was just the overall classification. I felt a bit average today from the previous efforts of the last couple of days. CSC are specialists for throwing it in the gutter at the just the right time and I got caught out with quite a few other riders and we were just chasing our tails for the rest of the way. I've been going really well but unfortunately when you make a big effort in the Tour you have to pay for it sometime."
But he was ultimately relieved to still be wearing the green after being caught in the second of two pelotons until just twenty kilometres from the end. "I was just flat-out today. I had pretty heavy legs today after the last few days and it was very, very hard to get back. The guys rode their arses off to get me back and then in the finish I was just hanging in there."
McEwen wants one more point
Robbie McEwen actually hit the lead on points on the road courtesy of his two third placings in the intermediate sprints behind the two-man break.
"I got a few points while we were out on the road then I was actually feeling pretty good at the finish but I just got myself boxed in on the right-hand side," he said. "I couldn't get out, couldn't even do a sprint. I just had to follow the wheels in. I was trying to look for a gap to get through but there just wasn't one there."
McEwen seemed to rue missing out on the green jersey by the barest of margins. "[O'Grady] finished tenth and there were two blokes between us, so I miss out on the jersey by one point."
Despite pain in most parts of his body, Robbie's most important asset seems to be intact. "I feel okay," he said of the aftermath of the previous day's fall." My back is really, really sore. My knee hurts and my arse was hurting all day but I knew that was going to be the case. But I've just got to keep riding. Other than that my legs feel pretty good."
He elaborated on what treatment he could receive to accommodate the skin loss on his upper things. "Just sort of a one and a half leg massage. My support man Victor Popov is here and he can look after the problem areas."
On a personal note I couldn't resist asking Robbie if he had seen the kangaroo badge that I had given the King of Belgium in the press centre in Namur, shortly before Robbie's stage victory. "He showed it to me. He said, 'Look what I got, just before the finish!' I said that it must have been a sign."
Robbie seemed confident that he could figure prominently in tomorrow's stage finish, barring another successful break or being held up at the finish.
"I'll try again tomorrow. Hopefully we can catch them in the end. There are guys getting up there who are not in contention. I mean it's not as if we were sprinting for a stage win. I'm glad I was boxed in sprinting for the eighth place and not boxed in sprinting for the win."
Pre-race banter: O'Grady's green everything, Gerrans drops by, Rogers takes it easy
Stuart O'Grady could finally afford to smile as he relaxed pre-race in the village bathed in green. Still he could scarcely believe the rapid change of fortunes. "It's been a quick turn of events," he said. "It's just incredible. One day you're just going out, the next day you're standing on top of the podium and then the next day you're wearing the green jersey. It will be interesting to see how Robbie will go."
Leading the points classification seems to have renewed his energy. "I felt better. Before the crash at the team trial the other day I felt really good. I'm just really confident now that I'm getting better and better. I seem to have had my bit of misfortune and hopefully that's it. Who knows what could happen over two weeks of racing?'
He could not resist an old cliché when asked whether he was now firmly focused on wearing green into Paris. "I'm not going to really worry about trying to go for any bonus sprints. I'm not going to get obsessed by them… I've done that too many years and I've lost too many times. I'm just going to take it day by day."
His green jersey seems to have lifted the entire Cofidis team. "They were rapt. It's the first time Cofidis has actually got the proper team spirit, the first time that they've got the green jersey. So I came this morning with green bike, green socks green bloody… knicks." [that's Australian for shorts - Ed]
Was the bike painted over-night? "Yeah, we borrowed a can of paint from a local… No it was all pre-done mate."
It was a case of present and future when young Aussie hopeful Simon Gerrans, who lives in Angers, was seen congratulating Stuart in the village before today's stage. Because of his consistent form in France this year, Simon has received a Stagiere position with AG2R.
"It starts in September. I found out a couple of months ago. I was up in Norway last year with a team but that fell through. I didn't really have anything. Then I got this opportunity and I just grabbed it. I went through my resume roughly last week. Since arriving in Europe in February I've got twenty-four top tens, fourteen placings and two wins. So it's been really good."
Quick.Step's Michael Rogers was content to ease himself through a testing first week of the Tour in preparation for the fast-approaching mountain stages. He was asked if was looking ahead to the first mountain stage after the rest day. "Yeah I am. I mean they're all pretty hard stages. I think it's pretty long too. It's going to be pretty hard. A break's probably going to go away. With the race this year the breaks keep going."
He agreed with the sentiment that it would be the first real test of the Tour. "Yep, it will be, with all the climbs through here, certainly. It's the first real climb so the gaps will open up. You learn pretty quickly how you're going once you hit the mountains. Especially with a couple of big cat. ones. They're pretty hard to climb.
"I've been getting better everyday. Obviously the Tour this year has been a lot harder in the first week. Last year it was all big roads and no wind whatsoever. This year there's been wind and rain and crashes. All of that takes a little more energy out of you. There's still no real difference today but I think when we get to the mountains everyone will be physically tired and more so mentally tired. Because from kilometre one to the finish you just have to be up to survive."
Fdjeux.com's Matt Wilson, relaxing with a pre-race coffee, said he was feeling "better and better. I felt really good yesterday, better today. The sun's shining again. So hopefully the Tour starts today."
Wilson's team-mate Baden Cooke, who has been suffering in the sprints this year for lack of the strong lead-outs previously provided by Bradley McGee, said the day's plan of attack was "just to look after the legs and try to go a bit better than yesterday."
No propping in the sprint? "Well, it wouldn't have changed much but it might have changed a bit. Maybe I won't whack it in the 54 x 11 when it's uphill."
(All rights reserved/Copyright Knapp Communications Pty Limited 2004)