Tour de France News Extra for July 10, 2004
Edited by Jeff Jones & John Stevenson
Australian round-up
Tour crash-fest good and bad for down under contingent
By John Trevorrow in Angers
O'Grady takes green from McEwen
Stuart O'Grady (Cofidis)
Photo ©: Sirotti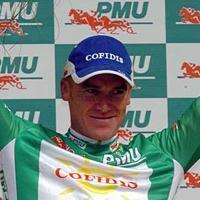 Stuart O'Grady (Cofidis) has grabbed the green jersey after finishing second to Tom Boonen into Angers, while Robbie McEwen crashed heavily only one kilometre out.
Two days ago O'Grady was down and out for the count in the battle for green. Now the popular Australian has the Maillot Vert on his back, two points clear of compatriot Robbie McEwen. "It does feel good but it's not the way to take it," he said after the stage. "Yeah, I have had my fair share of bad luck but I just hope Robbie's OK. It's just been such hell this tour, every day. It's just been an absolute nightmare out there in the finishes and I was just happy to be in front of that one."
Did you see what caused the crash? "No I didn't. I just heard the crunching of carbon and alloy."
The crashes seem to have been more numerous this year, with most riders being involved in one at one stage or another. "It's been so dangerous this Tour de France," said O'Grady. "It's been more nervous with the wind and the rain. Just the dangerous conditions. Unfortunately there have been huge crashes everyday. This year's Tour couldn't have gotten off to a worse start. So it can only get better."
On his form, O'Grady said, "First yesterday, second today - I can't complain. If you had asked me two days ago I definitely wouldn't have thought that I'd get a win and second place, that's for sure. Certainly I felt the best of any day in the Tour today. After yesterday's hard effort the form just seems to be getting better and better and hopefully it's a sign of things to come.
"I definitely didn't expect to be in green tonight. I knew it was going to a tough finish and I really was after the stage win but Tom definitely showed the back of his heels today. He was really strong and I was happy with second."
When asked about his green jersey ambitions, O'Grady remained realistic. "Well, I've hung onto it for a long time before and lost it in the last sprint, so it's not an objective to hang onto it, I guess it's an objective to win it. With my confidence up and belief in myself, I can really look at the stages maybe not as a pure sprinter but with the days where it's hard at the end. I'm looking forward to the stages with a few harder climbs at the end. Hopefully I can get over the climbs and take more points from the sprinters there.
"Like I've said from the start I'm just concentrating on winning stages. I was lucky enough to win yesterday and when you're going for stage wins the points come with it. So it comes hand in hand and the objective is for me to win stages here and if I'm wearing green at the end of the day it's a big bonus. But the main thing is to try to wear it into Paris."
McEwen goes down hard
Robbie McEwen crashed heavily just a kilometre from the finishing line in Angers. With his left buttock devoid of flesh and his right also severely gashed it took him all of one minute to hobble the five doors from his room to the team doctor. With a grimace he peeled away what remained of his lycra to reveal the sickening wounds.
"[Rene] Haselbacher ran himself into the barrier," said an angry McEwen. "He did the same thing last year in a stage and took out Baden and me. I'm really pissed off. That's twice he's taken me out now. I'm really sore. I honestly couldn't see anyone beating me otherwise. I felt fantastic and really thought that I would win today. It's just my style of sprint. Three hundred and fifty metres, uphill and out of a corner.
"I don't know how I'm going to be tomorrow. I can hardly walk at the moment. There is so much flesh off my left cheek. I reckon I'll have trouble sleeping tonight. I'm just going to have to see at the start and hopefully once we get a few kilometres down the road I might start to loosen up. I don't think you'll see the Lotto Domo team on the front. I would be happy to see a break go away and take out the major points to give me a day to recover. A break will go tomorrow and if my team don't chase it down it will probably stay away. We have been the strongest in chasing the breaks over the last couple of days. I had a similar thing happen last year. I had a crash in a stage and got no points and still only just missed out on the green jersey. And my form wasn't at its best. At least I'm only two points down and as long as I feel okay after tomorrow I'm in a good position.
Cooke comes close
Baden Cooke loomed up on the leaders with 250m to go and looked like a chance but his hesitation relegated him to fifth spot. "It's getting better," he said. "I felt good. I had the run at about 250-300 out to come at them and then propped. I should have just kept going. Whatever."
FDJeux.com Sports Director Marc Madiot was asked how Brad McGee had pulled up after withdrawing from the Tour. "I hope that he gets better and wins the Olympics!" Madiot added that he didn't know what the exact problem was. "Not exactly. We're not sure. It's him who is injured, not me. I am not in his body!"
Pre-stage comments
A few of the Aussies speculated as to how the day ahead would unfold whilst relaxing in the village depart in Chartres before Stage 6.
Baden Cooke sipped his coffee and pondered the day ahead. "I think there will be a break again today. It will probably take a bit longer than yesterday because everyone's sore that the break went yesterday so everyone will want to be in it today. So I think it will take about an hour to go cause everyone will be pulling back and going again.
"I'll just see. If I feel like I have the last few days then I'll probably just go out the back. But if I feel ok then I'll possibly get off the front. If it looks like the break's going to stay away then I'll try to go with it. With Petacchi pulling out and Boulangère have got a bit of a gap to play with, I think that the break will definitely stay away. It will make it a hard first hour I think.
"With the start I had to the Tour, like I said last night I just wanted to turn the page and start a new Tour de France today. That was my objective. I'm not thinking of the Green Jersey any more, I'm just thinking of winning a stage.
Stuart O'Grady looked very relaxed as he prepared for the stage ahead. "What a relief to finally win a stage. "I must admit that the legs feel a lot better today after coming off a win. It's great for the confidence and the morale boost. But just as important to see how happy the whole team was last night. We've been traversing through a hard period and everyone was just so happy last night. It's motivated everyone. I came here with the objective of wining a stage and now that's accomplished so I'm just going to take it day by day."
When asked if he could maybe grab the maillot jaune over the next week, O'Grady replied, "I don't know about that. If I'm on a big day, like I was on the Dauphiné, then it's possible that I could get over them. But then Voeckler's a gutsy little rider as well. But like I said I'll just see what happens."
Alessio-Bianchi's Scott Sunderland was his normal chirpy self, as he discussed the fifth stage. "It wasn't too bad. In the beginning the attacks were going and first Bertolini tried and then I went myself. Then the break went, with O'Grady and Casar and Maggie went after that. And then it was just more or less going on the wheels for the next one. Like Dekker tried a few times. If there was another break going across I had to make sure I was with it so we had two in there. Then they just closed it down and they were gone.
"Today I think the same thing is on the cards. The only thing it depends on is what the sprinters want to do. They can't let a break go everyday otherwise there won't be a sprint. We'll just see what happens. Our team tactics are that there are four or five of us who could get up the road. I feel good. It's gotta happen one day. I'm recuperating well so hopefully there'll be another Aussie winner!"
(All rights reserved/Copyright Knapp Communications Pty Limited 2004)