Tour de France News Extra for July 9, 2004
Edited by Anthony Tan
Big blow for Bäckstedt
Magnus Backstedt
Photo ©: Jon Devich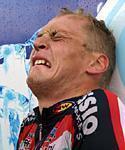 Faced with a similar situation in the finale to that of his winning ride in Paris-Roubaix, where he outfoxed his four other breakaway companions in the Roubaix velodrome to take the biggest win of his career, big Swede Magnus Bäckstedt was certainly one of the favourites for the win in today's fifth stage - so to finish fifth in a five-man break was a big blow for Bäckstedt and his Alessio-Bianchi team.
"I was exhausted at the end of the stage," said Bäckstedt after his 180 kilometre-plus breakaway. "It's always a pity to be leading the race and not to post the win. Tomorrow I'm going to recover my energy - then I will try again."
Team manager Bruno Cenghialta was understandably disappointed with the result but happy with the efforts shown by his team so far, vowing his team won't give up in their quest for a stage win: "The team is all right and they won't give up [to go for stage win]. We're going to engage in battle whenever we can," said Cenghialta.
Petacchi down but not out
Fassa Bortolo's sprint star Alessandro Petacchi was one of the riders worst off in the mass pile-up at Magny-en-Vexin during Stage 5, suffering multiple cuts and heaving bruising, but initial assessments have ruled out any fracture of his shoulder, Petacchi describing his injuries as "strong though bearable".
When asked to describe how the accident occurred, Petacchi said the crash was unavoidable. "At the time, the peloton was pulling quite hard, with US Postal, Lotto-Domo and some of my team-mates, he recalled. "It was a crash I wasn't able to avoid, and I landed strangely on my left shoulder... it felt like my shoulder dislocated itself and then returned back into place."
Due to the nature of his injuries, the prognosis calls for 10 days of rest for Petacchi's left shoulder and forearm to heal, however at this stage, the speedster from La Spezia has ruled out withdrawing from the race and will begin today's sixth stage from Bonneval to Angers.
Simoni wants to go home
Gibo wants to go home
Photo ©: Sirotti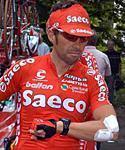 After crashing out on the penultimate corner in Stage 4's team time trial, Saeco team leader Gilberto Simoni ended up losing almost three minutes to the winning team from US Postal/Berry Floor despite five of his team-mates conceding only 1'30. The result has effectively annulled any chance of a high overall placing in the 91st Tour de France, the temperamental Trentino rider now saying his morale is "is in my boots" and would prefer to go home.
"I can cope with bad luck, but what can I do about race regulations? 120 guys finished behind me yesterday, but I lost a minute more than them," quipped Simoni.
"It's a stupid rule. I came here hoping to win the race but my morale is in my boots. I've never liked the Tour anyway. I feel really bad, I just want to go home."
However, contrary to his ill feelings for the rules and the race, Simoni did end up taking to the start on the fifth stage from Amiens to Chartres, finishing in the main group of riders 12'33 down on winner Stuart O'Grady from Cofidis.
"I'll be carrying on and we'll see what happens. But it's really difficult when it's like this," Simoni said.
Medical communiqué
Crash at km 2:
Rolf Aldag (T-Mobile) - Cuts on both knees, multiple contusions
Carlos Sastre (CSC) - multiple contusions
Crash at km 104:
Manuel Beltran (US Postal Service) - Cuts on left elbow
Michael Boogerd (Rabobank) - Multiple contusions and pain in left arm
Alessandro Petacchi (Fassa Bortolo) - Multiple contusions and injured left shoulder
José Luis Rubiera (US Postal Service) - Deep cut on left leg
Angel Vicioso (Liberty Seguros) - Cuts on chin and hands.
Crash at km 128:
Ludovic Martin (RAGT Semences-MG Rover) - Contusion on buttock
Crash at km 171:
Fabio Baldato (Alessio-Bianchi) - Cut on right hand
Numerous other riders suffered minor cuts, contusions
Crash at km 190:
Numerous riders suffered minor cuts, contusions
Commissaire's communiqué
Times were adjusted for two riders from Liberty Seguros following the Stage 4 team time trial. Angel Vicioso was timed at 1 hour 14 minutes 28 seconds, and Jan Hruska at 1 hour 22 minutes 41 seconds.
Michael Boogerd (Rabobank) was fined 50 CHF, penalized 10 seconds and penalized five points in the points classification for receiving a push from his team car in Stage 5.
Ivan Gutierrez (Illes Balears-Banesto) and Christophe Mengin (FDJeux.com) were each fined 30 CHF for drafting behind team cars.
US Postal Service directeur sportif was fined 200 CHF for failing to heed the instructions of the jury and fined 200 CHF for blocking the medical car during stage 5.
Maryan Hary (Brioches La Boulangère) was eliminated from the race for finishing outside the time delay. The delay was set at 5 hours 27 minutes 24 seconds. Hary finished in 5 hours 46 minutes 5 seconds.
Jolly good! Bobbies on Tour
Though unrelated to London's bid to host the Grand Départ of the Tour de France, a delegation of the city's police officers, or bobbies, will pay a visit to the Tour this year. The bobbies will enjoy a day at the Tour on Saturday's Stage 7, checking out the start village, the publicity caravan, and various stops along the route. The five Londoners will then join in the fray for the stage finish alongside their French colleagues, part of a week-long police exchange program between the two nations marking the centenary of the French-British "Entente Cordiale" treaty.
(All rights reserved/Copyright Knapp Communications Pty Limited 2004)