Tour de France Cycling News for July 9, 2004
Edited by Jeff Jones
Why the Chicken crossed the road
By Anthony Tan
Chicken cookin' at the 2003 Vuelta
Photo ©: Unipublic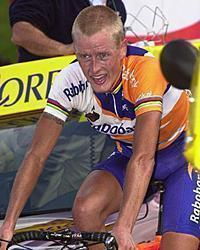 Clearly one of Rabobank's biggest future talents for the Grand Tours, 30 year-old Dane Michael "Chicken" Rasmussen is currently lying just one minute and 42 seconds behind new race leader Lance Armstrong on the eve of the fifth stage of the 91st Tour de France in 33rd place, and so far has managed to stay clear of trouble before he comes into his own in the high mountains yet to come.
Switching paths from the dirt to the road three years ago, Chicken's 'crossing' has proved both a safe and lucrative one. Not only that, but the 1999 world mountain bike champion's rise to the top echelon of road cycling has been startlingly swift.
Asked what has driven this success, particularly in 2003, Rasmussen puts it down to a combination of things: "Basically, every time I went to a race last year, it was my second time at that race, and that actually helps a lot in that you've ridden the same roads before," he said in an interview with Cyclingnews a few days before the Tour's official kick-off in Liège.
"Also, Rabobank gave me the opportunity to be the team captain in Setmana Catalana, Pays Basque and at also the Vuelta. Of course, it added more pressure on me to perform, but at the same time, it gave me more confidence, and I think that's what it came down to."
The past 18 months has seen Rasmussen well inside the top 10 at the Vuelta a España and two hors categorie tours, as well as winning the mountains classification prizes at the Dauphiné Libéré and Volta a Catalunya. And in that time, he won two mountain stages with great panache, his daring reminiscent of the glory days of a certain Italian by the name of Claudio Chiappucci.
So did he believe a good ride at the 2004 Tour de France was possible after his performance at the Vuelta?
"Yeah, I certainly believed it is possible that I can do something similar in the Tour," he said. "My goal, however, is to win at stage - that has a higher priority than GC - but we're going to look at the standings at the bottom of the Pyrénées because so many things can happen in those first 12 days... "
True, but Rabobank are expecting a lot from this lithe, lanky Dane.
About his rapid rise to the top of the pecking order (sorry, bad joke), Rasmussen says the situation of co-leadership with American Levi Leipheimer suits him just fine, easing the pressure on both should one fail to perform: "I think it's a win-win situation," acknowledges Rasmussen.
"We have two different riding styles; Levi is very calculating with his riding and he's very consistent - he's a diesel. I'm probably more explosive and I'll win and lose my time in a different way than he does. But I'm not going to lose time on purpose", he cackles... "I'm sure that won't be necessary!"
Look out for the full interview with Michael Rasmussen tomorrow on Cyclingnews.
Leblanc phases himself out
Tour de France director Jean-Marie Leblanc will begin to step down from the highest step of the Tour ladder next year, part of a planned transition of power to Christian Prudhomme. Leblanc has fixed 2007 as his retirement date, however Prudhomme will begin to take over the reins in 2005.
"Next year I won't be in the lead director's car, and Christian will give the start of each stage," Leblanc commented in l'Equipe. "I'll be in a different car, moving throughout the race. We'll do the same in 2006. It was always planned that Christian wold take his time to settle in at the head of the Tour, and that I'd be there to help him."
ASO wants answers on investigations
Following reports in French newspaper Le Monde, and continued confusion surrounding the subject in general, Tour de France organisers Amaury Sport Organisation (ASO) have once more set forth in an attempt to clarify just who does and does not figure as part of a police or judicial investigation. Sparked by the placement of Cofidis' David Millar under investigation just prior to the Tour start in Belgium, ASO decided that no rider under investigation would be permitted to start this year's race.
A number of investigations are ongoing in Italy, and Saeco's Danilo Di Luca found himself among the list of those unwelcome at the Tour, along with several other riders already suspended by their teams. Other names, however, have prompted further questions. Previous involvement in investigations brought up names like Zanini, Peron, Padrnos, and Hvastija, all of whom started this year's Tour.
Team CSC was quick to defend its rider Peron, who had been named in the Sanremo blitz of the 2001 Giro d'Italia but has since been cleared. The Tour organisers are looking for similar assurances from team directors and judicial sources in France and abroad, nervous that doubt hangs over the participation of several riders in the midst of this year's Tour.
Peron's case was closed in December 2003 and filed in March of this year, with no further need for questioning, something the team confirmed with the San Remo prosecutor's office.
"For us this case was closed when Andrea Peron gave us his explanation two years ago," team owner Bjarne Riis explained. "We have full confidence in Andrea and that is why he is still a part of Team CSC and that is why he [started] the Tour de France..."
Le Monde raised a flag about the participation of Zanini, Padrnos, Casagranda, and Hvastija, yet ASO has been unable to confirm the newspaper's allegations that these riders remain under investigation.
"We've hit a simple problem: something was written in a newspaper, but we have not been able to confirm it with the authorities," ASO president Patrice Clerc told l'Equipe. "We're still trying to contact the judges in Italy, but while we wait for these results I've asked [Tour director] Jean-Marie Leblanc to once again contact the team directors of those concerned. Right now I don't see what more we can do."
Calzati flies the flag
Sylvain Calzati made a valiant effort to show the colours of his RAGT Semences-MG Rover team in the finale of stage 4, breaking clear alone in the closing kilometres before being joined by several riders in a last ditch effort to foil the sprinters. The move didn't work, but Calzati didn't really expect it to. Most important at this point, he said, is to show that the team exists and is fighting for its own place in this year's Tour de France. With a good impression from the first week of the Tour, 23 year old Calzati is ready for more.
"The Tour is fabulous," he said simply. "It's the kind of experience that helps you affirm yourself and progress quickly. After the first crazy days, I think things will settle down a bit now, which makes me believe that more chances lie ahead.
"I wasn't expecting to do so well at the start," he added. "I did well in Belgium where the races are always rather special. Close contact riding where you have to know how to use your elbows... That was my first good souvenir of the Tour."
Calzati, who showed good early season form at the Etoile de Bessèges with Oktos-Saint Quentin, before making a mid-spring jump to RAGT, already expects more of himself. For him, the Tour is the best way to improve, and his opportunity to ride the Grande Boucle has raised the bar.
"Until now, I used to assess my performance on my level of fitness on the Etoile de Bessèges," Calzati explained. "I think I've now moved up a peg or two. This is my first year pro. Let's wait until year two to determine what's at stake. Above all else, I'd like to finish the Tour and draw attention to my team in the hope of being protected in week-long stage races such as Paris-Nice or the Dauphiné."
Seigneur out with stomach problems
French TT champion Eddy Seigneur (RAGT-Semences) had to call it a day after the team time trial, as he was dropped by his team and finished outside the time limit - the only rider to do so (dropped riders got their own time in the TTT). The reason, according to his team, was stomach problems.
"I'm sad for Eddy who is out this evening with stomach trouble," said team director Jean-Luc Jonrond. "I'd really counted on his getting better. Unfortunately the whole team had to get up at half past seven for a surprise blood test. That didn't do Eddy much good, who put on a brave face after the thoroughly miserable night he'd just been through. We have to look on the bright side now. We're chuffed with the performances of Gilles Bouvard and Sylvain Calzati who did really well in Belgium."
Cyclingnews TdF Fantasy prize list confirmed - 33 chances to win!
The prize list has been finalised for Cyclingnews' Tour de France Fantasy Game, and we are pleased to announce that this year's Grand prize will include a 10 day trip with Bikestyle Tours to any of the 2005 Grand Tours as well as a GIANT TCR Advanced frameset and Speedplay Tyler Hamilton Signature Zero pedals. In all, there are 33 opportunities to win prizes this year! The prize list is as follows:
Grand prize: Giant TCR Advanced frame, Bikestyle grand tour 10 day Grand Tour Trip, Speedplay Tyler Hamilton Signature Zero pedals
2nd prize: Bontrager Race XXX carbon wheels
3rd prize: CycleOps trainer & Speedplay CSC Zero pedals
4th prize: Bontrager Race X lite wheels
5th to 7th place prizes: Zero Gravity brakes
8th -12th place prizes: Salsa shorts
Daily prize: 21 pairs of Rudy Project Tour de France edition sunglasses.
There is no disadvantage in entering a new team now that the Tour is under way. You have as much chance as any other team manager of winning the Giant TCR Advanced frameset in T-Mobile colours. For more info go to: http://fantasy.cyclingnews.com/game/rules.htm#joining.
If you have finished building your team/s but not entered them in the competition yet, time is running out. You must register your team for the competition by 09:59 French time (GMT+2) July 9th. To play all you need to do is pick a team of 15 riders to race and select 9 riders each day during the tour. You can join up until stage 6 begins. It's a great way to follow the Tour.
To register your teams for the Tour go to http://fantasy.cyclingnews.com.
Good luck!
(All rights reserved/Copyright Knapp Communications Pty Limited 2004)