Tour de France News for July 8, 2004
Edited by John Stevenson, Chris Henry & Jeff Jones
Posties swing together for dominating team time trial victory
Armstrong takes yellow; new rules limit damage to Hamilton and Ullrich
Postal celebrates
Photo ©: Olympia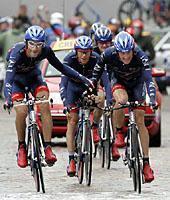 Lance Armstrong will wear the yellow jersey of Tour de France leader today for the 60th day in his career after his US Postal-Berry Floor team annihilated all opposition in the team time trial. Covering the 64.5 km from Cambrai to Arras in 1:12:03 (an average speed of 53.71 km/h), Postal was 1:07 faster than second-placed Phonak and Postal riders now occupy the entire top five on general classification.
Under the new rules setting the maximum time gaps for riders who finish with their teams in the TTT, Postal's margin is only worth 20 seconds to Lance Armstrong over rival Tyler Hamilton and 40 seconds over Jan Ullrich, whose T-Mobile team was fourth, 1:19 down on Postal.
Lance Armstrong, however, was not complaining about the rules. "There's no point in discussing that," he said after the stage. "It's the rules and I can't change them, we can't change them; we get 0:20 and 0:20 is what it is. I think the only consolation is that when you see [USPS] 1:07 on the next team, at least you have the consolation that you know your team was very strong. You leave with 0:20, but you also leave with the knowledge that you have the best team in the race."
Despite coming out on top, Armstrong said Postal's assault on the TTT had started slowly. "We got off to a little bit of an unlucky start, said Armstrong. "[The rain] was on and off all day and when we started it was pouring. We were very conservative to start. A guy out on the road at the 10km mark told us we were 30 seconds down on T-Mobile and I thought 'Oh no'. But we turned it around and that's a sign of a great team. It came over the radio mid way though, 'C'mon guys, you've gotta get going.'
"I was confident. This is the best team time trial I've ever done. All the guys, Eki, George, all of them, were unbelievable."
Jan Ullrich
Photo ©: Mitch Clinton

Jan Ullrich was not disappointed with his performance today, but nor was he delighted. "Our team was strong today and with the weather, we didn't have too many problems," he said. "After 20km, we lost 0:30 because we waited for Klöden after a wheel change. Now I'm 0:55 behind Armstrong and I'm not worried, and as we saw in the Tour of Suisse, every second is important. But for me, the Tour is not decided yet."
Tyler Hamilton was happy with his team's runner-up spot, but a bit bemused by all the time lost from four flats and a broken handlebar for Santi Gonzalez that needed a bike change. "I'm happy with the way the team rode today - they were very strong and we wanted to win. So I'm disappointed for them we had so many problems," said Hamilton.
The Hollywood script for Lance Armstrong's sixth Tour de France victory would probably see him battling to defend the yellow jersey all the way from here to Paris, but he admits that's unlikely. "I suppose I would like to hang on to it," said Armstrong, "but it's probably not in the best interests of the team, we have to preserve them for the final half [of the race]," he said. "If the sprinter's teams are interested in keeping the race together, you never know, but no, we're not interested in defending the yellow jersey at this early stage in northern France."
However, that Hollywood script would definitely have Armstrong cheered on all the way to Paris by his girlfriend, and Sheryl Crow was in attendance today as well. Like most relative newcomers to cycling (and not a few old hands) she was impressed by the high-speed precision riding in the team time trial. "It was the most unbelievable thing I've ever seen," said Crow. "They looked like a bobsled, so smooth. It was very exciting.
"I just know that they have prepared so hard for this. I remember Lance coming in a couple of weeks ago and he was so pumped up because they'd just done a TTT out in training and he said it was so effortless and smooth.
"Today they totally delivered."
Crow's man Armstrong expressed sympathy for expected rival Iban Mayo (Euskaltel-Euskadi) who is now 5:27 adrift on general classification after being delayed by a crash in stage 3. "It was really, really bad luck, and those guys crashed at the wrong time," said Armstrong. "I'd never seen anything like it in the Tour de France. Unfortunately for him there was a big pile-up, and nobody is going to stop because everybody's nervous. I feel sorry for Iban. I think it's unfortunate but I don't think his Tour is finished and he'll be a factor in the mountains, especially the Pyrenees."
Stage 4 full results, report & photos
Live report
Those team time trial rules explained
Stages
Final start list
Tour FAQ
Cofidis rides its race
Cofidis
Photo ©: Sirotti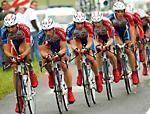 There's no doubt a dark cloud hung over the Cofidis team in the lead in to the Tour de France, the result of an ongoing doping investigation implicating numerous riders, most recently team leader David Millar. However the team entered the Tour with more cards to play than just Millar's, most importantly with Stuart O'Grady as a contender for stage wins and the green jersey competition. More bad luck hit the team with the loss of Matthew White before the race even began, though a timely phone call and a police escort across Flanders swept Peter Farazijn in as a last minute replacement.
Trouble continued with Fréréric Bessy, who did not start stage 3 due to injuries sustained in a stage 2 crash, and Jimmy Casper, who crashed in the stage 2 sprint, but Cyclingnews nonetheless found directeur sportif Francis Van Londersele in a good mood while his team prepared for Wednesday's team time trial.
"This is not a day for us, so we'll ride our own race," Van Londersele said, shrugging his shoulders at the dismal weather at the start. "We'll ride well, we'll ride seriously, but there's no pressure."
When asked for his thoughts on the new Tour regulation setting the maximum time loss in the team time trial at 2'30, Van Londersele had mixed reviews for the change.
"Under different circumstances, I might have objected more," he said, a subtle reference to the loss of time trial specialist David Millar. "Now it's a benefit for us."
Stuart O'Grady has shown himself well in the bonus sprints so far, and Van Londersele is confident his new recruit can find success in this year's Tour. O'Grady too suffered a fall during the second section of pavé in the hectic stage 3 final. The Aussie was back up without injury, but effectively lost his chance to dispute the bunch sprint.
Alessio-Bianchi celebrations scuppered
Alessio-Bianchi
Photo ©: Sirotti

Yesterday was the 120th anniversary of the founding of Italian bike manufacturer Bianchi, and the Alessio-Bianchi squad turned out on special bikes and wearing commemorative skinsuits in the hope of marking the occasion with a victory in the team time trial. Sadly, it was not to be as two crashes and a puncture skewered the plan. The team of Paris-Roubaix winner Magnus Backstedt and Cyclingnews diarist Scott Sunderland finished in the middle for the rankings, 2:57 down on Postal.
Fabio Baldato and Martin Hvastija crashed after 10km, and Magnus Backstedt punctured with 10km to go. Team manager Bruno Cenghialta was nevertheless pleased with his riders. "Our boys reacted to the bad luck with an extraordinary determination," he said. "I'm sure that without those crashes and that puncture we could have fought for the win. For such a united team like ours, to win the TTT would have been the best award and a good way to celebrate Bianchi's 120 years."
Voigt and Piil square off
They may be on the same team, but Jens Voigt and Jakob Piil have their own competition going in this year's Tour. The two CSC rouleurs, never afraid to attack, have animated the first week of racing with a number of breakaways. Voigt featured in lengthy escape in stage 1, grabbing bonus seconds in an early attempt to challenge for the yellow jersey. After his move was caught, Piil sparked a counter attack along with Belgian Marc Wauters (Rabobank), and the duo rode impressively to hold off the field longer than most would have expected, even if their effort fell victim to the inevitable chase from the sprinters' teams.
Not to be outdone, Voigt attacked once more in stage 3, almost from the drop of the flag. With another Rabobank man for company, Bram De Groot, Voigt stayed away for nearly 170 kilometres, reaching the first section of pavé ahead of the field. In three days of racing, Voigt, Piil, and Voigt again claimed the Tour's daily prize for most aggressive rider, awarded by a jury including Tour officials and journalists at the end of each day. With one ceremonial blue jersey (which is not worn during the following stage, though the rider's number is blue) clearly not enough, Voigt explained Tuesday why he attacked so early in stage 3.
"I had to go early because I knew if I didn't, Jakob would," Voigt explained after the stage. "I had to make sure I was the first one to attack."
No doubt the friendly rivalry between the CSC duo, both former stage winners, will continue throughout the Tour.
Velo on the mend
By Tim Maloney, European editor
Marco Velo (Fassa Bortolo)
Photo ©: CN
Cyclingnews saw Fassa Bortolo's Marco Velo in the Village Depart today in Cambrai and asked him about his topsy-turvy tumble that flipped him out of the Tour de France yesterday. "We were approaching the first pavé section yesterday and it was really nervous," Velo explained. "I was in third or fourth position and just in front of me, Noval (USPS) and Mayo (Euskaltel) hooked their handlebars and crashed in front of me. To avoid them, I had to go off the road and ended up in the drainage ditch. Unfortunately in the bottom of the ditch was the bottom of a bottle that had broken off and I landed right on it. I knew my collarbone was broken, but the glass made a deep cut in my shoulder that needed an operation last night to close two veins. The doctors put forty internal stitches and forty to close the cut externally. I'm going home today to Italy and hope to be back on the bike for the end of the season."
Hamilton: "Why are there cobbles in the Tour?"
"Cobbles shouldn't be part of the Tour de France," Tyler Hamilton said in an interview after stage three. Hamilton survived the cobbled stretches of road but he wasn't a happy camper afterwards.
"It was survival, nothing more," he said. "I just bounced from cobble to cobble but managed to stay in the front group. I have to thank my team mates a lot; they worked very hard to put me in a good position before the cobbles. Why are there cobbles in the Tour de France? It's not like there are big climbs in Paris-Roubaix!"
Boonen: "I hesitated"
"Today, not winning is my own fault," Tom Boonen told the Belgian press after Tuesday's stage three, won by Robbie McEwen. "One second of doubting was fatal. I didn't want to take any risks. Five hundred metres before the line, I put it in the highest gear; afraid the chain might jump again. I normally never do that. But I was too nervous about having the same mechanical problem as in the previous sprints. It was way too early of course; after that I couldn't get it going, the eleven was too much.
"I was on my own in Armstrong's group," Boonen continued. "Bettini, Zanini, Knaven, Rogers and Bramati were held back in the second group because of the crash. That made a lot of difference in the sprint no doubt. I realized I wouldn't be able to pull this one of on my own.
"Richard Virenque played pilot for me in the preparation for the sprint. That isn't his task normally. But he really did all he could. I was in Kessler's wheel and waited for the Fassas. I thought they would come past anyway. When Nazon and Kirsipuu slid past; I drifted along. Suddenly McEwen appeared on the left and I hesitated a fraction. That killed my chances. Own fault; I should have used their sprint."
Commissaire's communiqué
Fassa Bortolo was penalized one minute for pushing among team members during the team time trial, and an additional minute plus 200 CHF fine for pacing behind the team car.
Eddy Seigneur (RAGT Semences-MG Rover) finished the team time trial in a time of 1 hour 37 minutes 54 seconds, outside the time delay of 1 hour 30 minutes 4 seconds. Seigneur has been eliminated from the Tour.
Medical communiqué
A number of crashes marked the team time trial but no riders reported any serious injuries.
Stage 5 weather forecast
More rain is expected for Thursday's stage 5, expected to start mid-stage and continue through the afternoon. A moderate south-westerly wind will start the day, growing stronger with possible gusts up to 50-60km/h. Temperatures are expected between 15-17 degrees.
(All rights reserved/Copyright Knapp Communications Pty Limited 2004)