Tour de France News for July 7, 2004
Edited by Kristy Scrymgeour and John Stevenson
Nazon: "We are really riding in the Tour"
By Jeff Jones
Jean-Patrick Nazon (right) out-sprints Erik Zabel
Photo: © Sirotti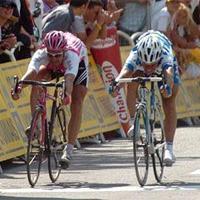 Jean-Patrick Nazon (AG2R Prévoyance) became a hero in his country today taking the first stage for the French in this year's Tour de France handing credit to his teammate Jan Kirsipuu for giving him the confidence to go for the win.
"I'm very happy he worked for me today as I did for him in the past," he said. "I was expecting him [Kirsipuu] to come to me today and when he did he told me that he thought it wasn't his day so he would help me in the sprint. I was very happy and very confident when he told me that. That's why I want to thank him especially today."
His family had also calculated that based on previous stages, it was his turn to win today. "I got a call from my brother Damien before the stage and he said that I was fifth and third in the first stages, so today I have to win," he said. "I just listened to him and I want to thank him for that."
About today's stage, Nazon said that it was like riding in a World Cup event for him today. "I was keeping Armstrong and Ullrich's wheel all day and I didn't crash so that was nice. In the sprint I saw the shadow of a rider on the left and I was a bit scared. I didn't know who he was, but after the finish I saw it was Erik Zabel. I was very happy the line was just there - 10 more metres and it would have been Zabel today."
On going for the green jersey, Nazon was non-committal. "The green jersey is something very difficult. You must be there every day. The Tour is very long, three weeks and you never know what can happen."
Finally Nazon said that he was very excited to be the first French rider to win a stage this year. "I'm very happy because today we are actually in France for the first time. Now I think that we are really riding in the Tour."
Stage 3 full results, report & photos
Live report
Stages
Final start list
Tour FAQ
Consolation for McEwen
By Jeff Jones
Robbie McEwen wears his consolation prize
Photo: © Sirotti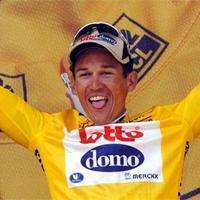 Robbie McEwen (Lotto-Domo) was excited to take the yellow jersey today, saying it was a bit of a consolation for not winning the stage. "I would have rather have won the stage," he explained, "as I would have got the jersey anyway. I was trying to win; I wasn't especially concerned about taking yellow."
"I was a little bit far back with 1 km to go," he said. "I came well out of the wheels on the right, but Nazon went past. The temptation when you get passed is to sit up and stop sprinting, but I knew if I kept going I could salvage something and to get the yellow is great."
McEwen went on to say that he is very prepared for the Tour as compared to the Giro d'Italia. "Really, at the Giro d'Italia I finished second three or four times but I was able to win a stage and was satisfied with the way I came away from it. I wasn't totally prepared for the Giro in the same way as I am for the Tour so I didn't come away frustrated at all. The important thing at the Tour is that I'm at or very close to 100 percent."
"Before the first section of pavé I was probably in about 16th position, so maybe not quite close enough to the front. The speed on the cobbles was no problems and I was passing a lot of riders, pretty much cruising across. That was one of the easier parts. But doing 60 km/h beforehand was harder."
On defending the yellow tomorrow, "It's a little bit of a pity because it's the team time trial tomorrow and for sure I'm going to have to give the yellow jersey up," said McEwen. "It's great to have it but if you're not wearing it in Paris it's no different wearing it one day rather than wearing six days. It means that the team doesn't have to ride in front all day and it takes pressure off them. As a team we'll enjoy having the jersey and just go out and ride the team time trial. We'll try and have a good day and get on with the Tour the day after tomorrow. That's what it's about for us - we're not here for a good performance in the team time trial."
The important thing for McEwen is the green jersey. McEwen won the points jersey classification in 2002, but had to give it up on the final stage of 2003 to his compatriot, Baden Cooke. "The thing with the green jersey competition, especially in the first three days, is that the bulk of the points are coming from the stage finishes," said McEwen. "Also in the first days it's very difficult to finish in the front. If you have a crash or bad day you miss a lot of points. Who knows, I could have a bad day and miss 30 points. Nothing is a surprise in the Tour. I'm not surprised about the other riders' performances - it can turn around quickly."
(All rights reserved/Copyright Knapp Communications Pty Limited 2004)