Tour de France News Extra for July 6, 2004
What lies ahead
Lance Armstrong press conference, Namur, July 5, 2004
After stage 2 in Gembloux, Belgium, a relaxed and confident Lance Armstrong and directeur sportif Johan Bruyneel sat down with a small group of journalists to answer questions about the Tour so far, and what lies ahead. Cyclingnews' European Editor Tim Maloney was among those present.
Lance Armstrong
Photo ©: Jonathan Devich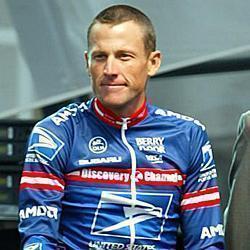 Question: How is this year's Tour so far? Is it harder than last year's?
Lance Armstrong: So far? Ummm… no. I think the first two stages have been completely normal. Very fast, very nervous… dangerous finishes as we see every day. After today, I think it changes.
[Stage Three] is something we've never seen [referring to pavé stretches] and then you have directly the team time trial. Tomorrow is going to be a very interesting stage, I think.
Q: It's the first time [in many years] that the Tour de France is going on the pavé, like a little Roubaix. Are you worried?
LA: Yeah, I think everybody is worried, because it's… even the riders who are good on the pavé have to be worried. It's always dangerous; you have to be in the front, if you get stuck behind a crash or something like that, you can almost say that your Tour is finished. We saw that before in '99. [1999's stage three, Challans-Saint Nazaire where a mass crash on the slippery marine causeway of le Passage du Gois played havoc with the Tour peloton].
Cyclingnews: Have you spoken to Jan Ullrich yet?
LA: Yeah, I've said 'hello' and just simple things…
CN: How's he look to you? We've heard a lot of comments about how good Ullrich looks this year… really cut and in great shape this year.
Lance Armstrong before stage 2
Photo ©: AFP

LA: He always looks good in the Tour in my opinion… he looks the same. The way somebody looks doesn't really mean much.
I guess Jan falls into the trap of people always judging the way he looks; is he fat or is he skinny; that's what they always say. So when he's finally really, really skinny they say 'oh my god' he's skinny… but at the Tour, in my opinion, [Ullrich] is always pretty skinny. A kilo here, a kilo there… he's close.
CN: Some observers are expecting to see a showdown between USPS-Berry Floor and T-Mobile in Wednesday's team time trial.
LA: Uhmmm… I think there'll be other teams close… I think; I don't know about CSC, perhaps CSC will be close. I even think Phonak will do a good ride… and then there's always the teams that surprise. Fassa Bortolo, I think, will do a good ride also…a lot of strong riders there, a lot of rouleurs.
Q: What do you think about CSC in the [team] time trial?
LA: I know [CSC directeur sportif Bjarne] Riis is really passionate about this. They have some big engines with Peron and Voigt and Basso and Piil… Maybe Piil should take it easy for a day; the team time trial's going to be a little bit difficult. No, [CSC] will be good. And they practice a lot… they're always doing team time trial training, so they'll be tough.
Q: Can you give us some idea about the specific work you did to prepare for the team time trial?
Lance Armstrong (2nd R) & girlfriend Sheryl Crow (R)
Photo ©: AFP

LA: Yeah; we didn't do very much… we never do a lot. The hardest part is finding the specific order of the riders. And you have to find the balance of the size of the riders, the big ones… and you have people like Azevedo and Padrnos, and then you have to weave in the strength of the riders. Who should go where in the rotation… and then also, obviously, some riders don't have much experience with [team time trials] like Noval; he's never done one. And he's also very strong, so he tends to accelerate too much, so we have to also teach him to not go faster but go longer. So we try to do that, but really we only did four specific trainings…
Q: When?
LA: Over the last couple of weeks - and I'm the only [rider] who's seen the course - after Criterium International. But it's a pretty simple course, actually.
Q: And what is the role of the climbers in the TTT? To hide?
LA: To… not to hide! Last year, Roberto [Heras] and Triki [Beltran] never missed a pull. They pulled the whole time…so [the climbers] role is to never drop the speed. They should [take their] turn, but it the speed starts to drop, they should turn out.
Johan Bruyneel: You asked me the same question this morning [to French journalist]…
French Journalist: Yes!
LA: It's the same answer?
French Journalist: Yeah!
[laughter]
LA: See! [whistles a high and low note while gesturing back and forth between him and Johan]
Q: Lance, will you use a single line or a double line in the TTT?
LA: No, we will do single line… we played with a double line. If the other teams are listening, [double line in the TTT] is the best thing to do. Tell the other teams to do double line… until they blow up! It's a lot harder… it's fast, but for some reason, I don't think it's the fastest. If you really need to go… I guess if you have a strong crosswind, you could do [double line], or if at the end if you tried to make up ten or fifteen seconds, you could switch to [double line]. But from the start, it's too hard.
Lance Armstrong
Photo ©: Olympia

Q: How important is the team time trial?
LA: It's important; it's a lot less important now than it was last year with the new regulation. [Armstrong is referring to the Tour De France's new regulation that says the maximum time loss on a team trial stage is 2'30"]. But it's still important. The facts are that one team will lose no time and another team will lose three minutes. So that says a lot. If I lost three minutes today, ask me how important that would be. It would be really important! So with the new rules, the time gaps are going to be set, so it's important for [USPS-Berry Floor] to have some climbers' teams be beaten by teams that we don't really pay much attention to. For example, a Euskaltel gets beat by Francaises des Jeux, Ag2r, Fassa Bortolo; teams that aren't on our radar screen necessarily, but if they get past then they automatically start to lose [Armstrong makes chopping motion with hand to indicate stage ranking] twenty, twenty, ten, ten, ten, five, five, five (seconds)… so then they start to move down [on general classification].
CN: Question for Lance and Johan… scenario: if USPS-Berry Floor wins the time trial and you take the Yellow Jersey, what's the strategy going forward from there?
LA: Well we wouldn't defend it, I don't think… [looks at Bruyneel, who shakes his head]. No, we wouldn't; the good thing about the team time trial is you have a team that does a good prologue and you have a team that does a good team time trial, then you can play the tactics of the riders being high on the classification; if there are breakaways, then you can put a George in there or an Eki, and the guys that did good prologues, then we can keep the [yellow] jersey within the team. You see it every year… the team that wins the team time trial, all they do is trade around the yellow jersey. It just goes from one guy to the next guy… it happens all the time. So that could be an option.
Q: Do you think you will have the yellow jersey after the time trial?
LA: Well if the team wins, then I will definitely be in the yellow jersey. But… I don't know and we have to do [stage three]… and I'm nervous about tomorrow. So… um… we'll see. It's not important to have the jersey after the team time trial. It's nice to have it; it's what you come to do, but if you have to wait until the Pyrenees or later, it's okay too.
It isn't easy being green
Photo ©: Sirotti

Q: When would it be important for you to have the yellow jersey? Is there a key stage?
LA: Paris. It's important there… [chuckling]… doesn't matter. It just depends more on how the race is coming. Look at two years ago… we didn't have the jersey until the very end. I think we had a good idea that ultimately we would have it; the end is all that matters…the final lap on the Champs Elysees.
Q: Is it true that the Tour really begins at La Mongie?
LA: Maybe before that; I don't know the stages before that, but they're tricky. (At La Mongie), these are the big, big mountains; the high mountains. And even La Mongie; this stage is not so difficult. The next day is really, really, really difficult. It's perhaps the start of the real Tour.
CN: Can you compare stage 13 [Lannemezan-Plateau de Beille-205.5km] to stage 14 [Bourg-d'Oisans-Le Grand Bornand]?
LA: Similar. Up and down all day. We did [Stage 13] and it's 5,200 meters of climbing. So…
Q: Is this a Tour for grimpeurs, or maybe is better for a rider like you… more complete?
LA: Umm… I don't know… I don't know. To me, the Tour is always for, in the last, with all my experience in the Tour the last ten or twelve years, the Tour is made for the strong guys. The climbers, they can shine, but they don't necessarily win.
Q: Can you talk about Ekimov? What does he bring in terms of character to the team?
LA: [Eki] is unique, 'cuz I think a rider, not just in the team but in the peloton, they grew up with Ekimov with being sort of this person, this guy from Russia, gold medals all of his life and how was the first eastern European who came over and was very, very successful… so he's a bit of an idol, myself included. But Eki, he's a funny guy… I think he's like an American; he talks slang and his English is perfect… we spent almost the whole month of April together. We did Georgia and after that, I was in LA and he came out there for about two weeks and he and I trained together and I just love to train with him 'cuz you can do eight hours a day and he's like "okay".
[Eki] came back every day from training, I was like "where's Eki?" " Oh, he's down at Baja Fresh." Baja Fresh is this Mexican place. Every day; he would go to Baja Fresh. I'd come back. "Where's Eki?" " Oh, he's down at Baja Fresh." Gone. Baja Fresh. The same place, every day. Down on Sunset Strip. He just loved it, this guy. One day, Eki came down with me; I had to do this shoot... down on Venice Beach. And (Eki) got lost. And I thought "oh no, he's toast, this guy… he's getting a tattoo or something, no cell phone, a kid from St.Petersburg..." Not a kid anymore, he's a good example on the team. He's very serious. And you see, if you watch the stages, he still does the job, better than anybody. He can ride on the front all day long. He can ride fast, he can ride long, he can do everything. The guy's got… he always has morale.
Q: But you had a retirement party for Ekimov.
LA: Yeah, but he couldn't do it. He tried to retire, but…
CN: Can we roll that question up to the entire 2004 USPS-Berry Floor Tour de France team?
LA: We had bad luck Sunday with two small crashes, but I think the teams better than… maybe the best one we've ever had. I see Pavel [Padrnos] better than he was last year, Chechu better than he was last year, Floyd obviously better than he was last year, with his [broken pelvis] problems last year. The team is strong. Yeah.
Q: What do you think about the Millar affair?
LA: No comment.
Q: What about the statements Manolo Saiz made about you?
LA: Can I ask you a question? Are these new comments or the same comments he says every year?
LAAAAANCE
Photo ©: Elmar Krings

Spanish Journalist: Maybe it's the same comments.
LA: I think it's the same comments… I think they just took the tape, they pushed stop, they pushed rewind and they pushed play. Stop, rewind, play. Stop, rewind, play… the only thing I can say… Manolo says that I'm not good for cycling but to yell on TV at the Tour of Spain that you're going to kill somebody's bitch mother, that's not good for cycling, so…
Q: With Tuesday's pavé, how did you prepare for that?
LA: We went to look…
Q: Do you think they have a place be in the Tour?
LA: Most people say they don't have a place in the Tour.
Q: Do you believe that?
LA: [Sighs] I can see both sides… it's hard, because I really think some people's Tour will be finished Tuesday. Huh! And I could be one of those people. I'm not dumb enough to think that I couldn't be. And that would be a shame. But at the same time, the cobbles are a big part of French cycling. And if you look at Paris-Roubaix, they are what they are; they're a beautiful thing and so if you look at it like that, then they should be a part of the Tour De France. It's been a long time, but they did it before. I don't know (laughs) Ask me tomorrow! I may have a very strong opinion tomorrow.
Q: Before the Tour, you said 'this will be the hardest Tour for me. Are you convinced?
LA: I say that every year.
Spanish Journalist: [Laughing] Like Manolo Saiz?
(General laughter)
LA: Stop, rewind, play! Good answer… ummm… I think the competition will be the toughest. The course is tough, but I think the competition will be more… will be deeper than other year. You see in the early stages, a lot of the riders with all of their teams around them, everybody wanting to be in the front, everybody fighting for position; you can see the field is full.
Q: And if Ullrich is behind you since the prologue?
LA: No, this doesn't matter… fifteen seconds is nothing. Basically the same time… doesn't change anything. Vediamo [we'll see].
At that, USPS-Berry Floor media manager Jogi Muller called an end to the festivities and Lance adjourned to the hotel dining room with his teammates for a tasty dinner of pasta with curry sauce and fillet steak cooked by Chef Willi.
(All rights reserved/Copyright Knapp Communications Pty Limited 2004)