91st Tour de France - July 3-25, 2004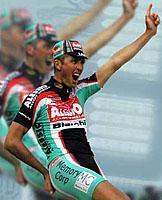 Scott Sunderland
Photo: © Memory Corp
Scott Sunderland's Tour Diary
Cyclingnews' longest contributing diarist Scott Sunderland is taking part in his second Tour de France in 2004 as part of the versatile Alessio-Bianchi team. Scott's role will be mainly to help Pietro Caucchioli, but he also hopes to have a few opportunities for stage wins. Once again, he'll be providing his highly experienced viewpoint on the Tour, its riders and anything else.
Stage 15 - July 20: Valreas - Villard-de-Lans, 180.5 km
What a difference a day makes
Feelin' good
Photo ©: Roberto Bettini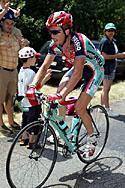 I felt 100 percent better than yesterday. It's incredible what 24 hours can do. I had good legs in the beginning and the first couple of Cat. 3s were digested very easily. We rolled out of town and we did four kilometres before the first attack went. That's a record. But we only had 1.5 km neutral today - all the other days have been 4-6 km, so I guess it evens out.
Bruno Cenghialta asked me to stay with Caucchioli today because a few of the others were bit tired. So I was riding in the wind a lot, looking after him. Then Rabobank started riding in the front and they brought back a breakaway after about 45 km. Caucchioli said 'I see you have good legs, do you want to go in a break?'. Bruno said I could as long as Møller stayed with Caucchioli. By that stage another break had gone and it was already 15 or 20 seconds. I bridged across and it took everything. Then I realised that bloody Virenque and Rasmussen were there! O'Grady and Hushovd were there too, but only trying to get the sprint points. So everyone else was working for these guys.
On the Cat. 2 climb, after the feed zone, Dufaux lit it up at the bottom, as he's a teammate for Virenque. Then it started splitting up. Honestly, I didn't have the morale to smash myself to stay with them. I went over top not far behind, but we didn't really drop down a descent. It was downhill, but I was pedalling 53x14 or 13. The group with O'Grady and Hushovd did everything to come back to the leaders, and Dufaux said he was just going to wait for the bunch.
I came down and hit the bottom of the 1st Cat. climb where I was caught by USPS. I hung in there for as long as I could... then Ullrich attacked and the tempo went up. I went out the back and said 'see ya later'. I thought I'd save my legs for the upcoming days.
Otherwise I feel good. My legs have recovered well in 24 hours. Caucchioli's still got this cold so he's going to need a bit of help in the next few days. It's vital that someone is with him so I need to have the best legs I can have. Noè has a sore wrist and the other guys after having some problems too, so basically it's up to myself and Claus Møller to look after Caucchioli. It's a lot of work, but I'm OK with that. I'll keep fighting on, and maybe make Friday the day I can get the escape right.
The morale's good. I feel good after the stage and the massage is going well. I'm just lacking a little bit of that top end climbing speed that I had last year in the Giro. I didn't really do the work necessary for that, as I was really only coming here to do the escapes.
Anyway, the start of the last week has started OK. I need a little bit more luck and better legs and we'll see what happens. The most important thing is that I'm trying; I'm giving it 100 percent. If finish the Tour with that, I've got no complaints.
I was getting plenty of cheers on the mountains today, even a few "Go Scotty, great diaries, go man!" - which was really cool.