91st Tour de France - July 3-25, 2004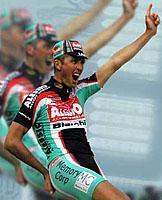 Scott Sunderland
Photo: © Memory Corp
Scott Sunderland's Tour Diary
Cyclingnews' longest contributing diarist Scott Sunderland is taking part in his second Tour de France in 2004 as part of the versatile Alessio-Bianchi team. Scott's role will be mainly to help Pietro Caucchioli, but he also hopes to have a few opportunities for stage wins. Once again, he'll be providing his highly experienced viewpoint on the Tour, its riders and anything else.
It's easier to win Lotto
Tour de France Stage 11, France, July 15, 2004
Scott Sunderland (Alessio-Bianchi)
Photo ©: Sirotti

When we started off today, there were a lot of the big hitters at the front to keep it calm. That wasn't going to happen. We were already going uphill at kilometre zero and after 2 km, the first attack went. We did a fast downhill, then a gradual climb of about 3 percent for about a couple of kilometres. I was moving up thinking, 'It's going to go'. I could see people starting to drop and the peloton was totally strung out. We came over the top of the first mountain climb and there were only 25 of us left: Armstrong, Ullrich, Mayo, Hamilton, Caucchioli, Virenque...but no yellow jersey.
As soon as it settled down, I hit them. A got a couple of guys with me and I went bang again - I thought this was the moment. We kept going for about 6 km. Bartoli, Piil, everybody was trying to get a break to go. But then it went downhill for a bit and Boulangère and US Postal were doing a lot to control things. Two or three guys, OK; but five or six was closed down. This went on seemingly for ever.
We did that bit of a climb after 48 km and Moncoutié and Martinez just sort of chipped off the front and nobody did anything. Then we started the downhill and a few of us started trying to get away again, but because it was downhill, USPS and Boulangère could just get straight on the wheel. Finally, Flecha ended up getting away in the corners after being set up by a teammate. He went away and the group got closed down by USPS, Boulangère and Phonak. They had to work hard because after 55 km on a really heavy start I had a 47.8 km/h average!
Goodbye Magnus
There was a group with McEwen and Magnus Bäckstedt out the back and unfortunately Magnus had some problems with his back. He hurt it after the Giro and it's not right. We went up a Cat. 2 climb after the feed after he abandoned after the top. He's thoroughly disappointed, but at least from the team's point of view he's done what he came here to do. There's not much more left for him in the Tour anyway: the stage from Carcassonne to Nimes and Champs Elysées. For the rest it's just suffering. He's done his job for the TTT and to keep Caucchioli and Noè out of the wind in the first week.
It is a disappointment when you start a big race - you always like to finish. Besides that he's a good mate and we like to have him around. I hope he can get his back sorted out so he can prepare prop for Hamburg and for the Olympics.
Sticky roads
Today we literally stuck to the road. With the warm temperatures (over 30 degrees), the roads were melting all the way to the finish.
We came into the sprint and I got a bit too far behind. I had to start my sprint 100m too early. I came with a bit of speed around the left hander up the hill and I tried to continue it up the side. Then Bettini started his sprint, then Hushovd...then I started losing places. I needed a bit more of a head start and I was in a bit big of a gear, but that's the way it goes.
McEwen pulled his foot and nearly crashed. If he had, he would have taken out O'Grady who was on his wheel. It created a bit of a gap that I managed to get into. McEwen did bloody well to recover to finish third. But Erik Zabel got some valuable points for the jersey, so the competition is not finished yet!
All in all it was OK. I feel pretty good with it. I had much better legs than yesterday and I was banging away at the start but I reckon it's easier to win Lotto than it is just to get away in a break. We'll see what happens. There's only three more stages that I can possibly do something.
I'm recovering well. David, my osteo has done a great job keeping me riding my bike. It makes a big difference and I'm really happy with him.
Here comes the heat
The warm weather is here at last, and it's very welcome. It's the first time this year that a lot of us ridden in the heat, so for quite a few of us it was bloody hot today. Tomorrow's going to be very hot too. But the good thing is that even though we're doing the hard racing, the muscles are getting softer with the heat.
I expect fireworks tomorrow from the Spanish guys. With Armstrong I think he might put down his authority too. He looks pretty comfortable and he knew the finish today. The way USPS went down the last 5 km...they were flying. That's when I got out of position with guys hitting the brakes. USPS went flat knackers through the corners and a few of the GC guys lost a bit of time.
If Armstrong can win tomorrow, I don't think he'll hold back. By the same token the Spanish guys won't either. Mayo can't wait until Alpe d'Huez to take back 5 minutes on Armstrong. Mancebo as well - he looks comfortable.
At the moment I'm staying in an old restored castle and there's a nice big 25m pool. Gerolsteiner and FDJeux.com are here so everybody is enjoying the evening in deck chairs. It's been a long day with the transfer after the stage and we didn't get dinner until 9pm, which means none of us will be in bed before midnight.
Anyway, tomorrow's another day. See you then.
Scott