Recently on Cyclingnews.com
91st Tour de France - July 3-25, 2004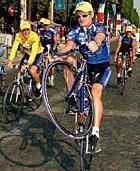 Floyd in action
Photo: © AFP
Hangin' In There: The Floyd Landis Tour Journal
During the Tour de France in 2002, Cyclingnews welcomed Floyd Landis as a reporter. The talented, gutsy, 28 year old former mountain biker had ridden his way to a start in the Tour as a key part of Lance Armstrong's USPS squad, and Landis went on to distinguish himself as an important member of the now legendary "Blue Train" at Le Tour.
Floyd also endeared himself to Cyclingnews readers for his unique take on an American rookie's life in the Tour De France peloton. 2004 has Floyd return with his exclusive journal "Hangin' In There."
Stage 9 - July 13: St Leonard de Noblat - Guéret, 160.5 km
Stage 10 - July 14: Limoges - St Flour, 237 km
Stage 11 - July 15: St Flour - Figeac, 164 km
Stage 12 - July 16: Castelsarrasin - La Mongie, 197.5 km
Let the games begin
Hey all you guys on Cyclingnews,
Floyd and George on the Tourmalet
Photo ©: Sirotti

It's been a while since I've been able to write a diary... things get kind of hectic here at the Tour, so let me bring you up to date. We finally finished with the rain and now the weather is nice. On rest day in Limoges, we got up at 9 and went for a hard ride for two hours. Lance always goes hard on rest day and it's better because you feel better when the racing starts again. Limoges was a nice place; to me the big cities are nothing. The rolling green countryside around there reminds me of Central Pennsylvania, where I grew up and first stated riding. I'm still reading Lonesome Dove; it's a pretty good book.
On the day before the rest day in Lamballe, my room-mate Jose Azevedo was awarded a horse. When he heard, he was all excited. He came in the room the night before and said, "Good news". I asked him what the news was and he told me he was getting a horse! I thought he was kidding but sure enough, the next morning, he got it. He has a friend with a ranch who lives close by and Jose thinks his daughter will like it. It's a giant horse, like a work horse. It's gigantic. It was scared at the start with all the people and the noise and everything. The one guy that was holding it had a rough job, but Jose is happy. He loves that horse. He's a good room-mate, Jose'. He sleeps like a champ! Music-wise, we get along good. I have an iPod and some speakers so we listen to music. I try to put on stuff that he enjoys, like U2. So we've been getting along well and our music choices are more about trying to relax after the stressful days.
So at the risk of complaining too much, the transfer was a rip-off. The first plane left Quimper early and we had to wait over two hours for the plane to leave! It was supposed to leave around 8 but it ended up leaving around 10:15. We didn't get to the hotel until like 11:30! Something went wrong and it was unbelievable how long we sat there. There was nothing to eat, we just sat on the floor in this dinky little airport and waited. It was a joke. We were waiting with Quick.Step and CSC.
We were glad to get phase one of the Tour over... it was real chaos with all the rain. I was really fortunate because I was practically the only guy on the team who didn't crash the first week. I like to think my bike handling skills are good but of course, a lot of it is luck to stay upright. If a crash happens in front of you, or a big dog runs out in front of you like Samuel Dumoulin's, there's nothing you can do. It's just random.
The first week of the Tour had completely different weather than any other Tour I've ridden, so that made it more stressful for everyone. It's not easy anywhere in the peloton. It's just been more mentally stressful than before; physically I feel good, but the rain made it worse. During the stages, we stay close to Lance to keep him out of the wind and just generally be with him. He's good at staying up front so it's not like we have to take him back up very often. There's not much chit-chat out there during the race, especially with all that rain. That just made everybody angry.
Ullrich always looks strong and so does Roberto Heras. He's been lucky in the first week but I still think he's going to lose a lot of time in the long time trial at the end of the Tour. But he can climb well for sure, but whether he can actually put time on Lance, I just can't see it now. I've been seeing Christian Vandevelde with Heras; he rides for the Liberty Seguros team and I always say 'Hi' to him; he's a nice guy. We've been seeing less of Mayo and Euskaltel this week; at the beginning of the Tour, they were always up front, but since he lost all that time on the stage to Wasquehal, he's been less visible. I guess he broke his bike at the foot of the tough Cat. 1 climb Wednesday and the whole team dropped back to get him back on. That didn't sound like much fun.
Since Limoges, the racing has gotten progressively harder at the Tour. We've had to ride on the front and keep control because there have been a lot of attacks since Wednesday. There was a steep climb that day [Stage 10] which caught me and a lot of people by surprise; I was hurting then. It was a long day on the bike; over six hours of racing, but at least the sun was shining. My parents arrived that day from Pennsylvania, so it was good to catch up with them. Thursday [Stage 11] was more of the same; hard up and down hills all day on rough little roads. There were a lot of attacks in the first hour or so, then things settled down for us. But Lance is good, the team is good and we're ready for the mountains.
Until Next Time,
Floyd
Stage 9 results
Stage 10 results
Stage 11 results
Stage 12 results