Recently on Cyclingnews.com
The current time in Athens is 21:19 on September 23, 2023
28th Olympic Games - JO
Athens, Greece, August 14-28, 2004
Athens Tech, Tuesday, August 17, 2004
Aussie hopes ride on home-grown bike
By John Stevenson
Two of Australia's great hopes in tomorrow's individual time trial will be aboard machines built by Coff's Harbour, Australia frame builder Peter Teschner. As well as constructing bikes under his own name for many years, Teschner has built high-end machines for companies such as Fuji, and has enjoyed a long relationship with many top Australian riders, supplying bikes for Graeme Brown and Ryan Bayley among others. He's also in the fortunate position of having a very close relationship with tubing maker Easton, and the development work he's done with the US aluminium specialist features in these frames.
Leading female rider, Oenone Wood, will be riding the same time trial frame that carried her to victory in this year's Australian championships. As it happens, this frame was originally built for another rider for the 2002 Commonwealth Games, but it happens to suit Wood perfectly.
Oenone Wood on the way to victory aboard a Teschner at the Australian Road Championships in January
Photo ©: Mark Gunter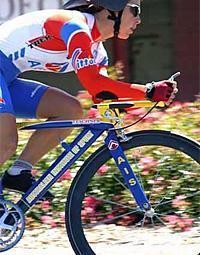 Wood's frame is built from Easton GX2 and UltraLite Race aluminium/scandium alloy tubes. Teschner has been working with Easton for several years, helping to refine the company's tube sets, and he's responsible for several of the details of the shape of the aero tubes. For example, the long axis of the down tube tapers to 50mm at the head tube. That's not just for aesthetics. All the Australian Institute of Sport time trial bikes use a front derailleur shift lever on the top of the down tube. On a very small frame with a short head tube and a untapered down tube, you start to run out of space between the down tube and top tube, and are forced to put the lever further down the frame - the tapered tubes provides a bit more space.
Other features include full internal guides for the rear derailleur, and internal milling to save weight in areas such as the head tube and bottom bracket. In fact, Teschner even goes so far as to remove unnecessary material within the joints. Instead of just drilling a 2cm hole in, say, the head tube where the top tube fits (necessary to allow air in the tube to expand during welding), Teschner removes portion of the head tube that's the same shape as the top tube, but just a couple of millimeters smaller. Repeat that for every joint and you're losing a significant number of grams.
But these aren't rarefied custom-everything frames by any means. The area that is often a bugbear with aluminium frames, the rear dropouts, uses standard Columbus components that fit into Teschner's own frame ends. If one gets damaged in transit or a crash, a mechanic should be able to get hold or a replacement just about anywhere.
Teschner is justifiably proud of the work he's done for Wood and another member of the Australian team, who we can't name due to an issue with his professional team's equipment sponsor.
Giant rolls out 26 at Athens
Jason McCartney's Giant
Photo ©: Ken Lefler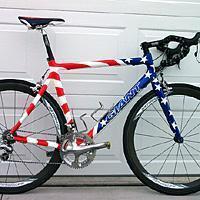 No fewer than 22 cyclists and four triathletes will be aboard Giant bikes in the various disciplines at Athens, from mountain biker and 1996 gold medalist Bart Brenjens, to trackies Danny Stam and Robert Slippens and from Alexandre Vinokourov in the road race to Dede Barry in the time trial.
And of course, given that there's plenty of surface area on a monocoque frame like Giant's, the temptation to go to go patriotically mad with the paint job was too good to resist for a couple of riders. Health net's Jason McCartney (USA) and Gordon Fraser both rolled out at the road race on frames painted in their national themes, as these pics show.
Gordon Fraser and his frame
Photo ©: Giant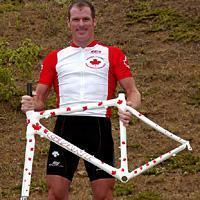 McCartney's bike, incidentally, was assembled by his long-time friend, Iowa bike shop guy Ken Lefler. It's a 2005 model, as you can see from the oval seat tube and the head tube area that's less faired compared to the 2004 bikes.
Giant's Olympic roster
Marcio May (Brazil), Gordon Fraser (Canada), Santiago Botero (Colombia), Edwige Pitel (France), Carsten Bresser (Germany), Lado Fumic (Germany), Manuel Fumic (Germany), Andreas Kloden (Germany), Erik Zabel (Germany), Jan Ullrich (Germany), Daniele Nardello (Italy), Sergei Yakovlev (Kazakstan), Alexander Vinokourov (Kazakstan), Bart Brentjens (Netherlands), Danny Stam (Netherlands), Robert Slippens (Netherlands), Hayden Godfrey (New Zealand), Greg Henderson (New Zealand), Sergei Ivanov (Russia), Dede Barry (USA), Jason McCartney (USA), Kristin Armstrong (USA)
Plus triathletes: Peter Robertson (Australia), Frederic Belaubre, (France), Wieke Hoogzaat (Netherlands), Marc Jenkins (United Kingdom)
Cervelo's nine ride out
While it's not surprising that a global mega-corp such as Giant is well-represented at the Games, no fewer than nine riders will be aboard bikes from Canada's Cervelo. Cervelo is, well, let's just say not quite as big a company as Giant, but consistently seems to punch well above its weight thanks to the fanatical attention to detail that founding designers Gerard Vroomen and Phil White bring to their task.
Most of the Cervelo riders at Athens are members of the CSC team of which Cervelo is bike sponsor, but three other riders - two Canadian, one from the US, will also be aboard CSC's at one point or other. Lyne Bessette is due to ride a new Cervelo P3 SL - the new, 100g lighter version of Cervelo's classic P3 time trial frame - in tomorrow's women's time trial, Eric Wohlberg rode his R2.5 in the road race and Mirabella will be aboard a track version of the P3 SL for the individual pursuit.
Cervelo's Olympic roster
Lynn Bessette (Canada), Eric Wohlberg (Canada), Erin Mirabella (USA), Bobby Julich (USA), Nicki Sorensen (Denmark), Jens Voigt (Germany), Frank Høj (Denmark), Lars Michaelsen (Denmark), Kurt Asle Arvesen (Norway) and Frank Schleck (Luxembourg)