The current time in Athens is 15:26 on September 30, 2023
Olympic Cycling News for August 27, 2004
Edited by Chris Henry
Medal consolation for team pursuiters
Australian team pursuit qualifiers
Photo ©: epicimages.us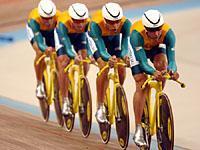 Following appeals by both the British and Australian Olympic committees, the International Olympic Committee (IOC) appears ready to award belated gold and silver medals to members of the two nations' team pursuit squads who rode in the qualifiers but not in the final round of competition. In Olympic cycling team events, only those who ride in the finals normally get medals, unlike swimming, where heat swimmers in relays are also rewarded.
Australia beat Great Britain in the final men's team pursuit on Tuesday, but medals were awarded only to the final round quartets. Australians Graeme Brown, Brett Lancaster, Brad McGee and Luke Roberts took gold ahead of Great Britain's Steve Cummings, Rob Hayles, Paul Manning and Bradley Wiggins. Left out of the medal ceremony were Aussies Peter Dawson and Stephen Wooldridge and Britons Chris Newton and Bryan Steel. Bronze medal nation Spain used the same four riders in all heats.
"The decision not to give medals to any team member that progressed the team to the finals is disgraceful," Phill Bates, a former board member of Cycling Australia, told Cyclingnews. "It does not happen in any other sport." (see previous story)
Wooldridge was so distraught at being omitted from the final four that he couldn't bear to go to the velodrome for the gold medal match. Dawson went to the track but described the experience of watching the team win gold without him was the hardest thing he'll ever do in his life.
Wooldridge said Friday that getting a medal was a consolation, but didn't erase the pain of not riding the final.
"It's a bit of a weird thing and hard to explain," said Wooldridge, 26, from Sydney. "I'm really happy, but it's not as if you've crossed the finish line and then been awarded the medal. Don't get me wrong though. Peter and I are really, really happy. We've been recognised for it and it's a great thing."
Medals are expected to be presented to the four riders at the athletes' village in Athens on Sunday.
AAP (Cyclingnews contributed to this story)

(All rights reserved/Copyright Knapp Communications Pty Limited 2004)