Recently on Cyclingnews.com
The current time in Athens is 14:25 on November 29, 2023
28th Olympic Games - August 14-28, 2004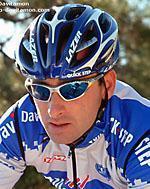 In action
Photo: © Quick-Step Davitamon
California Dreamin' - The Paolo Bettini Diary 2004
He's from California, down near the beach, but this guy's no surfer dude. Paolo Bettini is from La California, near Cecina on the Tuscan coast in Italy.
The Quick.Step-Davitamon rider had a fantastic 2003 season, winning his second consecutive World Cup, this time with three wins in one season - a feat unequalled by any other rider - plus an Italian championship and the world number one ranking. For the 2004 Olympic Games, Bettini is back on Cyclingnews with his exclusive English-language diary.
Athens, Greece, August 16, 2004
A dream becomes reality
Hi all my friends at Cyclingnews,
Paolo Bettini (Italy)
Photo ©: AFP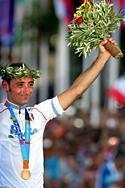 You know, there just aren't words to describe what I experienced Saturday in Athens. What a tidal wave of emotion! I've become an Olympic Champion, a dream that I've had for years. It was a perfect race in every aspect. I think we can say that the Italian team was the strongest in the race. Sure, I crossed the finish line first, but ideally, the medal is shared all of my teammates. They were splendid teammates, who got in the break at the midway point of the race, who covered my back when I made my attack. With three laps to go on the climb, I attacked but not all out, to see who would respond and how. I could see right away at that point that the other big favourites were having trouble staying on my wheel, so on the next lap, I made a hard, decisive attack to make a selection.
When I saw Vinokourov open a gap and start to slow, I just kept going all out. The only one who stayed on my wheel was a Portuguese rider, Paulinho. To be honest, I didn't know him but in my radio earpiece, Ballerini back in the Italian team car said "Be careful; he's a good rider." Above all, his advice was to not underestimate this guy. I told myself I had already had enough second places so far in August and even if Eddy Merckx had been in the break with me, I wouldn't have lost.
Bettini and Paulinho
Photo ©: AFP
Paulinho and I rode and worked together until the final kilometre, when we started to check each other out. It was to be cat and mouse for 900 meters while the group was coming up very fast from behind. I tried to keep myself calm and make Paulinho go to the front with 700 meters to go. I got on his wheel where I could check his moves up front and turn around to see what the group was doing. Right at the moment when I had turned around to see what the group was doing, Paulinho jumped! When I turned around and saw him get out of the saddle and start sprinting, I went after him and thought that I must ride the sprint of my life and not make any mistakes. I had too much rage inside me to lose.
When I caught and passed Paulinho with 200 meters to go, at that point, I realized I was going to win the Olympic Road Race. Months and months of hard work and sacrifice passed in front of my eyes in that moment; I thought of the faces of my girls Monica and Veronica, of my family and everyone who's supported me. It was an indescribable moment and even now, two days later, I just can explain it. Now that I'm home, it will probably sink in when I'm just relaxing around the house. Monica didn't videotape the race; she usually doesn't in kind of a superstitious ritual that I guess we'll continue until the end of my career.
After the finish in Athens, I jumped into a round of media interviews and congratulations and then it was onto the podium, another emotional moment for me with the l'inno di Mameli echoing all about. At that moment, all of the folks at home who were watching me and who were celebrating the moment with me. An Olympic Gold Medal is really something special that I won not only for myself but for Italy!
Bettini and Ballerini
Photo ©: AFP

That evening, we were the guests of RAI-TV for their evening show and at Casa Italia, around midnight, we had some spaghetti olio aglio peperoncino. Then the usual joking around began with the team. The best prank was when we found a big jar of Nutella and smeared it on Paolini's head...hey, it was a new kind of hair gel that Luca actually liked a lot! But I didn't go to crazy partying, because now that I'm back home in Italy, it's time to think of the Championship of Zurich next Sunday, after which I'm taking about 15 days off.
At this point, I don't want to leave anything to chance when it comes to the World Cup. If I have to watch someone else win it, I at least want to give my all to try and win it first. OK thanks for reading and thanks for all your support!
Ciao,
Paolo