Recently on Cyclingnews.com
The current time in Athens is 09:06 on November 29, 2023
28th Olympic Games - August 14-28, 2004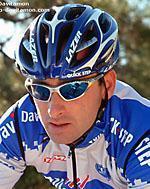 In action
Photo: © Quick-Step Davitamon
California Dreamin' - The Paolo Bettini Diary 2004
He's from California, down near the beach, but this guy's no surfer dude. Paolo Bettini is from La California, near Cecina on the Tuscan coast in Italy.
The Quick.Step-Davitamon rider had a fantastic 2003 season, winning his second consecutive World Cup, this time with three wins in one season - a feat unequalled by any other rider - plus an Italian championship and the world number one ranking. For the 2004 Olympic Games, Bettini is back on Cyclingnews with his exclusive English-language diary.
Athens, Greece, August 12, 2004
Olympic Village Welcome
Hello again from Athens,
Paolo Bettini (Team Italia).
Photo ©: Sirotti

Well, here we are at the Olympic Village and man, I can tell you, it's a great feeling. Yesterday afternoon, after we arrived from Italy, we went to check out the Olympic road race course and I really liked it a lot. It's nervous, with a short, hard climb and lots of turns that go right and left without a moment of rest. And the roads have all been repaved recently so it's as smooth as a mirror. So much so that you have to be really careful not to skid in certain points - all in all, it's a course I like a lot and will make you stay in the front at all times to remain in contention. It's a short course, only 13.2km, which will make for a stressful race. I also like the last kilometre, a big, wide street that has a gradual uphill of about 2% gradient. I'd love to be in the final sprint on that kind of finish!
After we checked out the course, we went back to the Olympic Village. It's beautiful - in the 2000 Olympics in Sydney, we were staying far away from the other Italian team members, but here in Athens, we're all together. It's magic. Just walking around, you can meet the champions of any sport. At "Casa Italia", there are already a lot of people here and last night after dinner, we raised the Tricolore flag of Italy. It was the same for all the delegations and this marked the official opening of the Olympic Village. Then it was time for bed - after such an emotionally charged day, I had to recharge my batteries
Ciao,
Paolo