The current time in Athens is 18:17 on December 9, 2023 - For current weather, click here
28th Olympic Games - JO
Athens, Greece, August 14-28, 2004
August 27: Women's Mountain Bike, 2hr 15min
Pezzo wants three but Dahle stands in the way
The women's cross-country mountain bike race opens the final phase of the the Athens cycling program on Friday and the men's Saturday. John Stevenson looks at the favourites on the off-road to gold.
Gunn-Rita Dahle on her way to another World Cup win at Calgary
Photo ©: Colin Meagher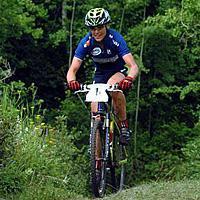 The women's mountain bike race holds the promise of a highly unusual double as defending champion Paola Pezzo seeks to claim a third Olympic gold after winning the inaugural event in Atlanta in 1996 and successfully defending her title in 2000 in Sydney.
However, Pezzo has been away from top-level racing for almost all of the intervening time; a new generation of riders has filled the gap and pezzo won't find it easy to land her third title.
Pezzo has been busy having a son, Kevin, who born in late 2002. Typically female athletes come back strongly after childbirth (nothing you can suffer on a bike compares, apparently) but Pezzo will need more than just toughness to land a third Olympic gold medal. She faces serious competition from Germany's Sabine Spitz and Gunn-Rita Dahle of Norway. Spitz is the reigning world champion, while 2002 world champ Dahle has been all-but-unbeatable this year, winning all five of the World Cups that she's started.
Lining up alongside those three, the women's field contains the deepest array of talent yet assembled for an Olympic mountain bike race. Canada has two strong contenders in three-time world champion Alison Sydor and rising star Marie-Helene Premont. Spain's Marga Fullana has shown time and again that when it really matters to her, she can annihilate the best in the world, as she did to win the world's on home soil in 2000. With the criticism that's been leveled at the Spanish Olympic cycling team for a lackluster performance so far at these games, Fullana may well pull out a redemption ride.
Russia's Irina Kalentieva has turned in some strong rides this year, finishing second to team-mate Dahle at the Madrid World Cup and winning the one World Cup at Schladming, Austria that Dahle skipped.
Start List
1 Gunn-Rita Dahle (Norway)
2 Mary Mcconneloug (USA)
4 Ivonne Kraft (Germany)
6 Alison Sydor (Canada)
7 Irina Kalentieva (Russia)
8 Maja Wloszczowska (Poland)
9 Sabine Spitz (Germany)
10 Kiara Bisaro (Canada)
11 Marie-Helene Premont (Canada)
12 Elsbeth Van Rooy-Vink (Netherlands)
13 Magdalena Sadlecka (Poland)
14 Lisa Mathison (Australia)
15 Anna Szafraniec (Poland)
16 Barbara Blatter (Switzerland)
17 Barbel Jungmeier (Austria)
18 Janka Stevkova (Slovakia)
20 Jenny Mccauley (Ireland)
21 Elina Sofocleous (Cyprus)
22 Mette Andersen (Denmark)
24 Robyn Wong (New Zealand)
25 Laurence Leboucher (France)
26 Jaqueline Mourao (Brazil)
27 Marga Fullana (Spain)
28 Jimena Florit (Argentina)
29 Maria Ostergren (Sweden)
30 Paola Pezzo (Italy)
31 Yanping Ma (China)
32 Yukari Nakagome (Japan)
33 Karen Matamoros (Costa Rica)
34 Katrin Leumann (Switzerland)